On the doorstep of the Chipping Norton set, Wilderness is fast establishing itself as the most high-end and rarefied fixture on the summer festival calendar. A cross between a sanitised Glastonbury and a particularly genteel village fete, its air of mild refinement and privilege makes Latitude look like Altamont.
At its core, Hix, Angela Hartnett and Raymond Blanc supply fine-dining experiences; on its fringes, Will Young is talking on mindfulness. It's really not aimed at diehard music fans, as is evidenced on Friday afternoon as chattering drinkers peer curiously through the blazing sunshine at pale, awkward Icelandic electro-auteur Ásgeir spieling out his spectral folktronica.
Backed by beats and strings and resplendent in headgear that suggests a 22nd-century Cleopatra, Björk plays the most uncompromising festival headline set imaginable. She draws mainly on her harrowing recent breakup album, Vulnicura, and it is emotionally stunning. But only when she plays old tracks such as Army of Me and the techno beats kick in do the crowd fall on them like parched souls in the desert desperate for water.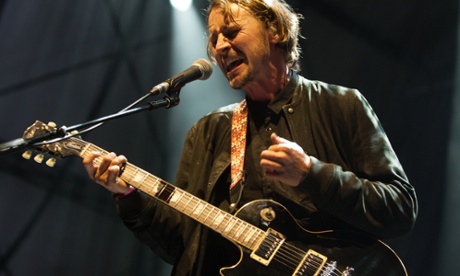 This restraint stands in stark contrast to Saturday, when Hercules and Love Affair's louche gay disco, Caravan Palace's camp melding of Daft Punk and Cab Calloway, and Róisín Murphy's erotically charged pop noir all make for crowd-pleasing dance sets. At 74, headliner George Clinton is not the force he was, but remains the most frabjous pensioner extant.
After Sunday's cricket matches and children's sports races, Perfume Genius's fey but dramatic electro-pop proves a beguiling slow-burner, and Francesca Lombardo is a vivid torch siren. Ben Howard's recent musical journey can best be summarised as binning his inner James Blunt and embracing James Blake, and his cagily brooding closing set dispatches the Wilderness massive home to Surrey and west London content.