"Goosieees!" cries Rose Buck, the queen of the geese, and the five greylags that think she is their mother waddle to the side of her buggy, idling at the end of a gliding club runway deep in the Cotswolds. Engines rev, the buggy scoots away and, as Rose lets out a shrill, terrifying "ske-WAAARK!" akin to the mating call of The Woman in Black, the geese take off, flying directly beside the buggy in graceful formation. Racing alongside them, strumming their single Get Low at double speed while hoiked on the back seats of a bright blue convertible, ducking as the geese fly within inches of the windscreen, are a clearly enraptured Stornoway, the sublime alt-folk Oxford band whom so many assume are from the remoter extremes of Scotland.
"They're imprinted geese," singer Brian Briggs explains back in the glider club planning room in a break from filming the video. "When they hatch, the first thing they see and hear is a human. Being the intelligent animals they are, they immediately assume that sound and those legs belong to their mum, so they follow the human around."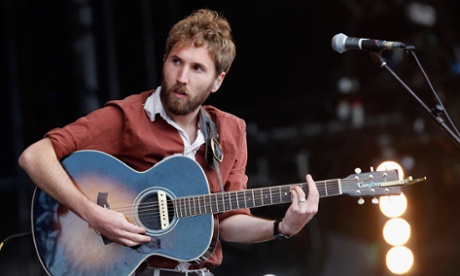 As a dedicated student of all things feathered, Briggs is in his element. This son of the celebrated palaeontologist Derek Briggs was once a biology graduate tagging grey tits in Wytham Woods in Oxfordshire, "learning how to hold the tits – sorry, I can't say it without laughing", or racing around the southern coast saving oiled guillemots for the RSPCA. He met multi-instrumentalist and fellow Oxford student Jon Ouin and started Stornoway while studying for a PhD in ducks.
"I think every person at some point in their lives has wanted to fly," he says, head in the clouds. "It fires the imagination, the idea of flight. And I feel if you tap into what the birds are communicating, you can learn so much. I learned these birdcalls and songs while working in Wytham Woods, and if you understand what birds are out there and what their alarm calls are and singing and marking territories, when I'm outside, I feel a bit more involved in what's going on."
So you go out into woodland and talk to the birds? Briggs shifts awkwardly. "Only on my own."
Stornoway's 2010 debut Beachcomber's Windowsill, the sophisticated, richly crafted modern folk record that everyone mistakenly told you Mumford & Sons had made, hinted at Briggs's twitching tendencies with the upbeat Watching Birds, but on their brilliantly evocative third album they have gone the full Oddie. It's titled Bonxie after the seabird also known as the great skua and features field recordings of birdsong, notably the red shanks and green shanks wading through the stirring opener Between the Saltmarsh and the Sea.
"It describes the relationship between the marsh and the sea and uses that as a metaphor for two lovers," Brian says. "It's like With or Without You, but if you replace Bono with a superficially brain-like maritime habitat. Every line is told from the perspective of the marsh and how the sea comes in and does its thing – 'you wash my hair, you feed my horses' – and leaves again. It's the marsh having a sing-song."
Bonxie is the Stornoway album most redolent of their knack, in a live setting, of bringing nature indoors. Their lush rustic folk and pop songs, brushed with squeeze box, double bass, banjo and brass, have given candlelit churches and vast rock halls alike the feel of being tossed by a sea squall or stranded at nightfall on Scafell Pike, and Bonxie is so attuned to the natural world that Bear Grylls could probably survive on it for a month in the wilds of Snowdonia.
The Road You Didn't Take uses a hillside hike to explore life's lingering regrets. Heart of the Great Alone, inspired by a Herbert Punting photographic exhibition, holds up the solitude of Scott's Antarctic expedition as a mirror to the dislocated human condition. And the stunning four-part harmonies of delicate shanty Josephine evoke the twilight campfire sing-along of your wildest wilderness dreams.
The album was funded by a PledgeMusic campaign that offered fans who pre-ordered the chance to go zorbing or birdwatching with the band, and which more than doubled its target in four days, a sign of the steady, unheralded rise that has seen them quietly sell out big venues.
Briggs puts its grand rural settings down to his move from Oxford to Gower in South Wales, within cawing distance of the sea. "I can see the tides coming in and out," he says. "It's quite a landscape, so that has come into it. I tend to do my writing in my campervan at home. It's like an escape pod for me. It's a bubble that won't be disturbed that I can really get absorbed in song writing. It's my little writing den, the equivalent of my shed." Briggs even lived in his campervan in the grounds of the studio while recording Bonxie with Pixies producer Gil Norton. The rest of the band camped.
Onstage, this endearing anti-rock charm is enhanced by Briggs's awkward demeanour, which renders his dry asides and retelling of stories he's cut from local papers utterly hilarious. "One that made me laugh a lot was a story from a shop where a woman was overcharged by £5 for her bananas because the shop assistant's breasts were so big that they were weighing on the scales," he says. "I like animal ones, too. A cow was convicted in Paris in the 17th century for sorcery."
On the subject of unfathomable witchcraft, talk turns technological. Stornoway are conscientious objectors against all things internet, having written 2010's We Are the Battery Human decrying how we've all become the isolated, caged slaves of Zuckerberg. Then, attempting to emulate the Flaming Lips, laptop squiggles crept into last year's mini-album You Don't Know Anything, led by Briggs's letter of intent to his first-born When You Touch Down From Outer Space – a song of "trepidation about the arrival of an alien and thinking about what I'm gonna show the alien when it arrives". Now, since Briggs's move to Wales, the band has scattered across the globe, bassist Ollie Steadman decamping to east London and his drumming brother Rob to New York to get a degree and take drama classes in the band's down-time. Stornoway, against all their best intentions, have become a Skype band.
"We love laptops," Ouin admits sheepishly. "We do things by committee on email."
"But the CDs are actually carried to each other by pigeons," Briggs adds. "I actually think the internet might be our best hope. Without technology, there's probably no hope of changing the attitude of whole countries quickly enough. There's more scope for science to become accepted more quickly and therefore it gives me a bit of hope in a time when it feels like looking ahead is pretty bleak, environmentally speaking."
Don't worry, Brian, the superintelligent AIs will slaughter us all long before the Gulf Stream packs up. "Did you hear about those machines that are flesh-eating?" Briggs frowns. "Robocop-style battle robots that can fuel themselves by eating human flesh. On the battlefield, it's the handiest fuel source. And I'm scared of Google Glass, so I'm glad that's failed."
Either way, in the brief time they have left Stornoway are grabbing life by the tail feathers. They have put behind them the semi-comic underdog rivalry with Mumford: "It got into a weird out-of-hand joke at one stage," Briggs laughs. "I think in one interview Ollie said he was going to kill Marcus Mumford or something. It was a bit weird, given how stratospheric they subsequently became. We're aiming for Villagers now, because they released their album on the same day as us."
New songs such as Lost Youth and Get Low advocate embracing the uncertainties of middle youth with the call to "keep dreaming", while Love Song of the Beta Male is arguably the first Nerd Power anthem. And they have also been trying to ingratiate themselves with their biggest heroes. Van Morrison? Paul Simon? Neil Young?
"We got a note from David Attenborough the other day," says Ouin as a trained starling that Rose has brought in for another section of the video lands, Snow White-style, on his shoulder.
What did he say?
"'No, I'm not going to come to your gig.'"
Bonxie is out now on Cooking Vinyl.