En route to this weekend's Coachella festival in California, Tom Jenkinson's load was lighter than usual. The British electronic artist, aka Squarepusher, is marking the culmination of a 15-year-long extended tinkering with the bowels of his laptop setup. His stage show doesn't feature a mountain of gear this time around, as Jenkinson has now completed the long process of downsizing his equipment setup to a virtual alternative inside his laptop.
"It's principally running inside the computer," Jenkinson says of the new software. "It's a very complex, quite messy, homemade Heath Robinson affair, so what's happening is scarily complicated, but in terms of the hardware I'm taking out, it's all in one box. It's quite labyrinthine inside."
All that tinkering was working toward his new album, Damogen Furies. Sonically, it combines elements from contrasting compartments of his career, hard crunches co-existing with synth-orchestral lushness, setting up a powerful tension. Smoothness and hardness share space, as untamed emissions scamper chaotically across more linear constructions. Dirty, distorted drama jackknifes into retro near-cheese. Clipped jets of sleaze are arrested, delaying the climaxes before bounding off once more, like jazz fusion gone awry. It's all been created using the new micro processing setup, with Jenkinson still reluctant to get his bass guitar out of its case. It's a continuation of his last album, Ufaubulum, which featured no live instruments, and his last EP, which was written by Jenkinson but performed by a band of robots. Despite that experimentation, his music has been lumped in with some in the EDM movement, partly, it seems, for his out-there aesthetic and the fact he wore an LED mask than was faintly reminiscent of EDM killjoy Deadmau5.
Yet, despite that, Jenkinson still feels he needs to introduce himself to festival crowds. "For Coachella I assume that I'm going to be playing to lots of people who are either unfamiliar with my work, or have only got a very basic grasp of it," Jenkinson says.

"I'll be looking to make the sets composed of material that's to the point, and I'll leave out bits that require more focused attention."
Jenkinson has been wrestling with the problems of adapting, simplifying, and reducing the number of instruments that it's feasible to take out on the road. Matters were getting out of hand in recent years. "The last album was using a 96-channel mixing console, and old synths that simply wouldn't withstand being moved around the world. There's no way you can put that on the road, unless you're Prince, and have that kind of budget available. You have to adapt in a way that you feel retains integrity to the material."
For the current wave of dates, which also includes an appearance at the UK's Cheltenham Jazz Festival in early May, Squarepusher is traveling with the same setup he used to record the new album, thereby making no compromises in the live realisation of its contents. "The challenge, for me, in taking something from the recording studio to the stage, has always been how to retain flexibility, but also retain enough of the sonic character of what was happening in the studio, so that it's a reasonable representation."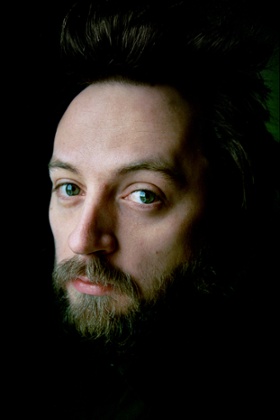 During the last 15 years, parts of previous albums have been created using earlier versions of this self-crafted software. "It enables me to remix and rewrite the pieces as the tour progresses. If you come to one of the later dates, I very much hope you'd hear something quite different."
Jenkinson expects a concentration on his uptempo, manic and aggressive aspects.
Sound synthesis, sample playback, processing and mixing are all juggled within the bowels of one machine, only made possible by the ever-increasing processing power of modern computers. "There are certain failings. I'm trying to pull together all of these elements, and it mostly works, but there are bits of it that don't work properly, or are a bit clumsy. Its idiosyncratic nature leads to some interesting results that I wouldn't necessarily predict. It's got that level of complexity where it can surprise you."
There's a philosophical as well as practical element to his circuit bending. It gives him a chance to take control.
"I'm trying to get away from the claws which tech companies put into artists through equipment. Your actions as an artist are guided by the way these devices are set up, with an architecture that's apt to be used in certain ways. I'm always trying to fight against those tramlines, though of course I'm now going to be tramlined by my own devices!"
That desire for control was on display during his last tour. Jenkinson was clad in an LED-shimmering helmet, with brain-jellying rapid-fire visuals draping both himself and all of his equipment array. This time, he's taking things a step beyond, hinting that he's heading for entire-body illumination.
"I was trying to address some of the concerns that have always been present, in terms of being a live performer. I don't like being stared at! I think that my own visual presence is something that's unnecessary to the show, and yet I'm required to stand there, so I'm trying to transmute my presence into something that I find to be an interesting way to display images. Basically, I'm turning myself into a canvas."
Jenkinson continues to battle for his individuality, having a markedly strong allergy to conventional marketing practices. "I've always objected to the process that the music industry holds dear, whereby the appearance of a musician is used as a way of selling that musician's work. It's blended into the cult of personality that's generated around the musician.
"That is just immaterial. When I vanish onstage, behind screens and masks, this is my stand against that tendency of the industry. In the early days, I dealt with it much more primitively. I used to set up behind the PA stacks, but promoters never felt particularly enthusiastic about that. My current approach is trying to negotiate creatively with that problem."
Squarepusher's wriggling against any kind of restraint extends to his album and composition titles, which frequently feature invented words. Of course, Damogen is his own creation, but coupled with Furies, it allows plenty of space for the consumer's imagination to flourish. "I enjoy giving a small gateway into a piece, by virtue of the sound and the look of the words. A title can do a minimal amount of the work that lyrics do in other people's music."
Speedy working practices are desired, and the latest set-up allows him more of a hands-on immediacy. "My favourite way is to imagine an idea, and then try to manifest it with the gear. For me, it's all about keeping the thing moving. There's any number of dangers associated with taking large amounts of time over pieces. They begin to decay, becoming tired and uninteresting. It's best to keep moving. One of the things I love about music is the capacity to generate a new response every time you hear it, and I try to make music that's capable of that reinterpretation. I don't want to make a statement that stays static, and remains rooted in the era in which it was made. I'm trying to retain that element of surprise and excitement for myself, as a listener."
Jenkinson mourns the tendency for artists to be coerced into becoming brands. "The process is a two-way thing. You can use branding to your advantage, but it bites back. For me, it's about making music which represents what I see as the key attributes of a human being: fluidity, change, imagination, spontaneity, joy and fun, rather than these mechanical, static, repetitive, cyclical traits that are forced onto artists."
With Damogen Furies, Jenkinson has made a statement and might be one step closer to figuring out how to disappear completely.
Squarepusher headlines the Gobi stage at Coachella Friday night; then on tour