Young school kids are idling home at the end of the working day in Soweto. Adults are jumping on and off buses. People are eating McDonald's at the Maponya Mall, or buying live chickens and brightly coloured popcorn from an open market. There's a small game of football on a litter-covered field. At the crossroads, next to a small shelter that doubles as a hair-braiding salon, an impromptu soundsystem has been set up in the back of a truck. A crowd of curious people has formed next to it, waiting for a performance from a band from the other side of the world.

That band are Edinburgh's Young Fathers. The Mercury prize-winners arrived in South Africa for a week-long tour the night before and have been on a treadmill of interviews and meet-and-greets ever since. This, however, is their first performance in the country and it's not quite what they're used to.
"Imagine doing this in Drylaw, just turning up in a car park," says Graham Hastings, better known as G.
His bandmate Kayus Bankole is alongside him. "You'd get people chucking cans at you or some shit," he says.
The third Young Father, Alloysious Massaquoi, is off on the other side of the side of the road delivering an ice-cream to one of the women at the braiding booth.
At this point, no one knows quite what to expect. The band are without their usual equipment, although someone has managed to pull together a makeshift drumkit, and the crowd, now about 60 strong, is largely silent. Finally, after a warm-up by local pantsula dancers who throw themselves around in the dirt, the band emerge stern-faced and with only the briefest of introductions. For the next 20 minutes G, Kayus and Ally perform songs from the Mercury-winning Dead and new album White Men Are Black Men Too. They sing, they rap, they howl in unison at the sky. They skulk around each other; they explode into dancing that's somewhere between demonic possession and household electrocution. By the end of this unlikely PA, some of the crowd are cheering, others are bemused, but everyone's eyes are on the band.
In a way, this Soweto show sums up Young Fathers. They're a serious band, both in the attention they pay to every aspect of what they do and the fact that they don't smile much. They're a band who do what they like, be it making music that's confrontational and not quite of any one genre, or spending time playing to small crowds in South Africa when they could be building their profile in Europe. They also stand out, both because they are a mixed-race group that's keen to address the subject of identity, and because they increasingly sound quite different from almost any other proposition in music right now.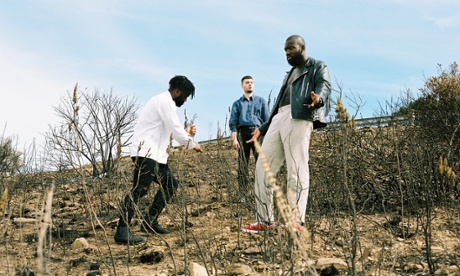 Even though few people had heard of Young Fathers before last year, they have been around for a long time. Now 27 years old, G, Kayus and Ally first started recording together at the age of 14. They met at an under-18s hip-hop night in Edinburgh's Bongo Club. By the time they left their teens they were being marketed as Scotland's premier hip-hop act (and sometimes were to be seen posing in tartan shirts) only to then get stuck in a record deal that failed to produce. Two albums sat unreleased for years. It was only when they changed manager (to a savvy veteran by the name of Tim Brinkhurst) that they pursued a new approach, upping the amount of music they recorded and releasing it for free online, mixtape-style. The EPs Tape One and Tape Two followed, staking out a blueprint of what the band described as "white boy beats, black boy rhythm". A deal with Big Dada records came after that and so, quickly, did Dead. A year later and Young Fathers are back with an album that moves their sound on dramatically and, in its title alone, shows they're not about to avoid addressing topics that most of their peers would happily leave alone.
Following the Soweto show, we relocate to downtown Johannesburg and a neighbourhood called Braamfontein. It's like the gentrifying area of the city, except it seems to be gentrifying from nothing. The band do a Q&A with a group of young people all interested in making it in music. It's on the sixth floor of a high rise but all the lifts are out and, as we walk up, I notice the plumbing's been ripped out, too. When we get there, though, the room is full of engaged and enthusiastic people peppering the band with questions about their music, their identity – national and ethnic – and how these things come together. At one point Kayus says: "I may come from Scotland but I feel more comfortable here."
Race has inescapably informed their new album. The title White Men Are Black Men Too is taken from a line in their song Old Rock n Roll. Driven along by a cacophony of howls, trilling bells and a four-note guitar hook that reverberates around your head like metal on a filling, the chorus sings: "Some white men are black men too/ Nigger to them, a gentleman to you". It's a provocative statement, because of the N word, but also because it's challenging us to question prejudices associated with the colour of someone's skin and ask whether, in certain contexts, those prejudices could easily flip around.
"Look at the group, this multiracial group," says Ally, who wrote the song. Quiet and thoughtful, he speaks with authority when it's his turn. "Look at the songs on the album and we're putting something out there that needs to be said: that the walls need to be broken down. As soon as you talk about issues of race, people shut down. But we want to talk about it. What is a black man: what do they look like and what do they act like? What is a white man? And everyone is part of that, everyone is involved."
"I think for me it embodies more than race," adds Kayus. "It also feels about sexuality, it also feels about class. It's common [that] you say something and the response is, 'It's just black and white.' But everyone knows the truth is never like that."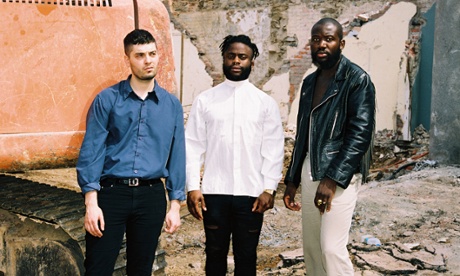 Young Fathers are sincere about wanting to start a dialogue. Everywhere we go while we're in South Africa, first in Johannesburg, then in Cape Town, they are constantly talking to people. Sometimes it's the media or promoters, representatives from brands and labels, but more often it's just ordinary people they've bumped into. The first time I meet the brooding, charismatic Kayus he's deep in conversation with a young man I take to be a friend; in fact it's a cameraman from a local news station. Things the band glean from these encounters illustrate their conversation ("Antoinette was telling me this the other day…"). The openness of the trio is striking but it also makes sense, because you can hear it in their music.
Of all the topics they don't like to talk about with journalists (and generally they don't like talking to journalists at all), the one they like least is what genre they belong to. "They try to put us under leftfield hip-hop, alternative, all that shite," says G, the most readily animated of the group and also the white boy responsible for the beats. "It's a lie, that's not true!"
To be fair to journalists, though, describing Young Fathers is not an easy task. They may have come from hip-hop but they don't live there any more. Dead was as much sung as it was rapped and the latter is almost entirely absent on White Men… It may still be constructed around loops and beats, but their sound now seems to be inspired by music much older than the technology. Take a track such as Rain Or Shine, which sounds like a gospel choir conducted by Ian Curtis. Or Nest, which mashes together Phil Spector-style production with the sparse R&B vocals of Frank Ocean. If there's a point of reference that makes some kind of consistent sense then perhaps it would be Massive Attack (with whom Young Fathers have recently been recording), but it's not an easy thing to pin down at all.
"We've been the new kids on the block. We've been experimental, weird and wonderful, and credible; now it's just doing something else – being a pop group," is how Ally describes it. "We've always had the pop sensibility, we've always balanced sweet things against dark, but this time we just wanted to simplify it, make it a bit easier for us and people to get what we're doing quicker. To get there quicker. That was the basic simple element where the rhythms drive your song and, as with the words on top, narrow it down to what you want to say and just fucking repeat it."
But you'll not see Young Fathers talking to Cortana any time soon. Theirs is still abrasive, challenging music that requires you to approach it with an open mind. They're aware that the result of this is that they might not get played on radio much. They've had interactions with big-name producers, according to G, whose advice has been "the woman driving home listening to Radio 1 doesn't want to hear that". But the band make music fast and in the digital age that's an advantage.
"We always go into the studio and try to act on a feeling," says Kayus. "If you think about that feeling too much, though, if you overanalyse it, it loses its purity. Also, we get bored easily."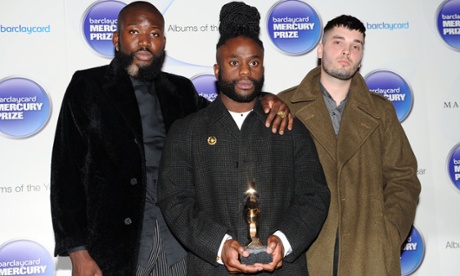 "You've got to remember that we've been recorded for nearly 14 years and we've done enough painstaking… plus it's just more fucking fun," says G. "Every time you write a new song you get your first hit of something new. As soon as we go in the studio I have the mics on straight away, everything is ready. That's why people listening to our music might think that it's not technically perfect but, for us, it's not about technique. You don't listen to the blues or Motown and go 'That's a bit distorted'. Being too clinical will just fucking kill it."
In the time I spend with the band, one of the things I pick up most clearly is how relaxed Young Fathers are in their skin. Their apparently surly demeanour (commented upon in the aftermath of their Mercury win and mocked by some Sun journalists) is not so much a barrier against the world as an assertion of their reluctance to conform. In person, they are charming, funny and giving. Neither are they in this to get rich. They are three friends (alongside manager Tim, their backing singer Lauren and indie-loving sound man Grimy) who have been around the block often enough to know what they're good at and what they want.
On our last day in Cape Town we go to get their photos taken. The photographer wants to shoot the band on the side of Signal Hill, part of the famous range that flanks the city. There's been a spate of forest fires, and with the scorched earth and the blue sky behind it, it might work. I get in the van with the band and we drive up. As ever there are people singing and Kayus is performing a rap of, by the sounds of things, Nigerian provenance. In the front seat I watch Ally, hunched over his iPhone. He is lost in thought, recording short phrases on the phone and playing them back to himself. Slowly he selects the bits he likes and looks to add percussion. He claps his hands, bangs an empty drinks can on the frame of the van door. Again he listens back, edits, selects, and by the time we get to the top of the hill he has what to my unsophisticated ears sounds like the basis of a song. Ally pockets the phone and the trio bounce out of the van. They gaze out over the glistening Atlantic Ocean. Then they turn back towards the photographer and get ready to scowl.
Young Fathers were in South Africa as part of the British Council's Connect ZA programme. White Men Are Black Men Too is out on Big Dada on Monday 6th April