Last summer the music magazine Clash ran an article with the forlorn headline, "Whatever happened to Jamie T?" It was a question worth asking, given that the popular London musician had been largely unheard from since he finished touring his second album back in January 2010. Jamie T met the NME that month, having been named the year's best solo artist at its annual awards; he gave an interview to the Norwich Evening News in which he was asked where he saw himself in five years' time, answering, "I really don't know, man"; he played a scattering of summer festivals. Then 24-year-old Jamie Treays, a gobby and excitable singer-rapper-writer from Wimbledon, who made two of the most rousing, feverishly original British records of the last decade, disappeared.
In 2012 a Facebook group was set up, the concerned administrators of "Where Is Jamie T?" establishing clear lines of inquiry: "All we want is to hear 1) Is he OK? 2) Any more music coming? 3) What happened?" Last January a writer at Vice assessed the available evidence – Twitter mentions and indistinct photographs, mostly – and felt able to confirm "he's definitely still alive". An anonymous poster on absolutepunk.net summed up the mood among fans, a sort of wounded bafflement that an artist so inventive and energetic and required, given the numbing EDM-isation of British pop, should go underground. "I can only assume he's having some kind of artistic crisis," the fan wrote. "Or is just minted and lazy."
"Certainly not minted," Treays tells me, slowly, giving the matter proper consideration in a boxy rented studio in east London. The studio's windows, open to let out smoke from his red Embassies, look out on to bus-busy Hackney. There's a can of Febreze on the sill, and Treays's handwritten lyrics sheets are taped to walls or else scrunched in piles on shelves. "Certainly not lazy," he says. "I write more songs than anyone I know. I've never stopped writing…"
He sits on a squeaky, suffering office chair in front of a desktop computer, its hard drive loaded with 180 complete or near-complete songs. He put aside 168 of them on the way to finishing his third album, Carry On the Grudge, which comes out next week, somewhat later than most industry-watchers would have guessed. To take two examples, Lily Allen and Adele were contemporary arrivistes when Jamie T first made a name for himself in 2007, and in the time he's been away Allen has had room to retire, be missed, then un-retire, and Adele to establish herself as a commercial force to rival Apple. Meanwhile Treays wrote his 180 songs in private, only now feeling able to release a dozen of them. He's not minted, not lazy. Was he suffering, then, an artistic crisis?
"To some extent, yeah," he says. "A crisis of confidence. I always knew what I wanted to say. But I struggled at points to write anything I'd deem releasable."
On the wall behind his computer Treays has mounted a framed photograph of the Queen, snapped at the tail end of her brunette days – 1986, the year he was born. Treays is now 28, no longer the angular, floppy haired, slightly furtive-looking kid who was NME's best soloist of 2010. He carries a clear extra stone, I'd guess, under his tan jacket, and his hair, these days a coolly oiled-back tuffet, grows a little higher up the forehead than it did.
Treays hasn't sat down with a British journalist for almost five years and apologises for his awkwardness. After long hours in his own company, finishing his album, he's wearily rousing himself to undertake the necessary show jumping trials of its promotion. "I don't want to be someone who says, 'Oh, I don't do interviews.' I don't want to be that guy." He plucks at a guitar while he speaks, and revolves on his chair, sometimes resting his red-socked feet on a nearby Midas mixing desk, sometimes folding over his guitar, looking pained. "But talking about myself is not something I enjoy."
Regardless, it's ridiculously good to see him out in the open again. I became a Jamie T fan, immediately and thoroughly, when I heard his 2007 debut, Panic Prevention. That scratchy, urgent record, part-rapped, part-sung, told stories of unchecked teenage misbehaviour, and unchecked teenage pride, even while it made sensitive explorations of the crippling panic disorder that Treays suffered from. This strange pairing – arrogance set beside frailty – as well as its canny sampling, its fun and funny lyrics, made Panic Prevention a debut well worth the excitement it caused. And later, in 2009, I agreed with the general critical opinion that second album Kings and Queens – weightier, more substantially produced, Treays's lyrics just as twisty and contrary but showing adult poise – was a small masterpiece.
"I was exhausted," says Treays, thinking back. "I've been doing this, music, since I was 15. And being a solo artist, it's all on you at the end of the day. I got to a point, maybe 23 or something, where I felt like I needed a break. I was waning. Wasn't sure what I was doing any more. I thought: fuck this, and cut it off."
There followed a strange period for Treays, lethargic months interrupted by serious personal problems to overcome. Feeling stifled by Wimbledon, where he'd always lived and worked, he rented a new studio in Hackney. His mates from home had moved away to take jobs or go to university. "I've got fewer friends now. It's just time, people going their separate ways, nothing horrendous." When he first leased the Hackney studio, and before he moved to live there too, the hour-long train journey from Wimbledon was weirdly satisfying. He'd never done a commute before.
"I loved being young in music," says Treays, "and I loved being brash with it. I loved that look people gave me – 'Who's this young [upstart]?' And then I no longer felt it applied to me."
His tastes were altering. "What you consider powerful in music changes. When I listen to albums now I find it isn't necessarily the fastest song on the record that gets me. When I was a kid, listening to [Blur's self-titled album] Blur, Song 2 was the one, the dog's bollocks. Now it's Beetlebum every time."
The songs Treays had built a career on were typically belligerent, unblinking, fast. It left him stranded when these qualities no longer seemed compelling. He wrote tracks, some of them making the cut for Carry On the Grudge, that were more sung than rapped. One, Love is Only a Heartbeat Away, borrowed from Damon Albarn's the Good, the Bad and the Queen, another, Zombie, from The Rocky Horror Show. On the sly, at acoustic nights around Wimbledon, Treays even did the odd live show. Appearing as Jamie, and rarely recognised, he trialled the new, gentler work such as Love is Only a Heartbeat Away, probably the most sentimental song in his catalogue. Love, it goes, is "best saved for the darkest of your days".
Treays's father had been diagnosed with cancer, and while he was undergoing treatment Treays got involved in a fight over a stolen pint in a Brixton pub – "the last thing my dad needed". It led to a long court case, Treays being charged with GBH. From a newspaper report: "Mr Treays… told jurors he aimed for the head as he was scared and 'wanted to make sure' [the man he was arguing with] went down." The jury found Treays had acted in self-defence and he was cleared. "It was very stressful. Having to ask mates to be character witnesses at your trial in the Old Bailey… Certainly it made me step back. Think about things a bit."
In his studio, meanwhile, he wasn't getting much closer to a completed third album, "just a bunch of tracks, nothing cohesive or understandable". Bosses at Virgin, his label, would call. But people there kept getting sacked, says Treays ("I think I've had five or six bosses in the past five years") and soon he "wasn't badgered for shit. After three years, no one calls." He had done what he said he would – cut it off – and for a time Treays seriously considered "knocking it on the head, leaving it at two albums".
His manager advised him to keep working. He told Treays: don't fret about time passing. When this thing finally comes out, nobody's going to remember who you are anyway.
As a child, Treays's parents, a chartered surveyor and a secretary, sent him to a private school in Surrey - a posh place that did absolutely nothing to change his committed sarf London accent. He left, to study art at a sixth-form college, by which time he was playing bass in a punk band. Despite their youth, the band got a regular gig at a Soho bar because Treays convinced the owner he knew Joe Strummer's daughter, and might even be able to get Strummer himself along to the club. Lies, lies.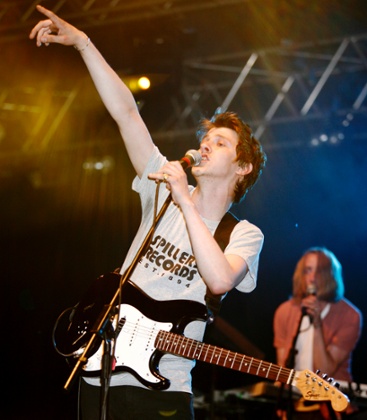 The Clash were formatively important, though. Treays's parents owned a few Pretenders records, maybe an Elvis box set; his older brother liked Offspring. Treays spent his youth amassing better and wider influences: Beastie Boys, Bruce Springsteen, Tina Turner, Desmond Dekker, Billy Bragg, and most importantly the Clash, whose fury and chippy humour would later sound through much of his work. Albarn was another early shaper, and the musician himself took an interest in Treays when his solo career kicked off. Albarn invited Treays to do the occasional support slot, contributing to a pleasant buzz. When Virgin signed Treays to a five-album deal in 2006, Albarn's Gorillaz colleague, James Dring, helped produce his debut.
While finishing that record, Treays gave an interview in which he was asked what instruments he played. His answer was transcribed as: "Vox, bass, guitar, keys, drums, logic." For that last he meant Logic, capital L, the Apple software for mixing and arranging music; though in fact, when Panic Prevention came out, the other definition would have made as much sense. Treays seemed able to wield logic in his songwriting with considerable dexterity. His lyrics were crisp and clever and always made sense; whatever the pleasure to be found in Lily Allen's Smile, or Adele's Hometown Glory, he was way ahead of his peers as a songwriter.
Treays conjured "the nameless… swapping infections", drinkers ordering "dimple whiskies" (perfect), smokers exhaling "from the lungs to the ceiling". "I spend late nights," told Treays, "trying to pick up love/ Off the floor where the other brothers leave it be/ But it's stuck down hard/ It's like chewing gum…" What a precise and beautiful little trapping of the teenage male's sad, spotty stalk for a pull! Panic Prevention went top 5.
The follow up, 2009's Kings & Queens, went to No 2, but despite its successes Treays was beginning to show signs of frustration with the music industry. Less so than Lily Allen, or another London contemporary, the rapper Plan B, there aren't deliberate political messages at the core of Jamie T songs. They tend to be roundabout tales of flawed individuals, or of his own individual flaws. Journalists kept wanting him to offer up youth's-eye-view soundbites, though. Anything to say about the Tory leadership, or banking? In a tetchy exchange, shortly before he finished his last tour, he told the Quietus: "I never wanted any fucking social commentary fucking hung around my head."
"It's all ended up being a little bit hard on me, mentally," Treays says now. He hasn't given a proper interview in ages, and, in a way, the afternoon we meet, he gives two. He chats, and his guitar, strummed unconsciously underneath, communicates too. With cheerful runs up and down the strings, for instance, when we consider Adele's startling successes ("There are countries with smaller populations than records she's sold"); with barbed picks when he diverts me from questions about girlfriends ("That's an area that's mine, mate, to be honest"); with an abruptly halted pattern when he wonders, mid-anecdote, if he's betraying the confidence of a famous patron.
Keen to build a different sound for his new album, Treays says he sought advice once more from Damon Albarn. The frontman had overseen several dramatic reinventions of Blur, and Treays asked him what it was like, for instance, moving from the Britpop of Country House to moody Beetlebum. "He told me to write from the heart. To not give a fuck what anyone else thinks. He said that was the only way I was gonna get a record that was…" That was? "I think he might have said 'As good as mine'," says Treays, laughing, then frowning, then quickly back to strumming again.
It's only fitting that Carry On the Grudge (which is Albarn-good, by the way) ends with the sound of fidgeting. After the last melody has faded, Treays sniffs loudly; we hear the squeak of him wriggling on his chair. He is a restless man, always flinching, swivelling, plucking. The effects, he tells me, of that panic disorder from his teens. It never really went away, never really got any better. "There ain't nothing like the drop of a record," he says, "to flare up anxiety."
There's a temptation when considering musicians to think: but they dealt with that a few albums ago, didn't they? As if art, for artists, wasn't only cathartic but a fix – give the matter a tune and be done with it. Panic Prevention delved boldly into Treays's panic disorder and he went as far on one track as to sample a self-help CD he'd been sent. Then Kings & Queens came along. It was confident and brash, and I guess I thought at the time: good for Jamie T! Cured.
No. "You think some things are going to leave you but unfortunately they're never the things you want to leave. [The panic disorder] goes away and it comes back," he says. "It's something I think you live with." He took medication for the condition during the making of Kings & Queens but came off the pills. "Rather go through it, really. I don't like the idea of numbing feelings."
His long disappearance after that record makes more sense in the context of a condition that can be "debilitating as fuck… Meeting new people, strangers, things like that freak me out on bad days. On good days I'm fine. But on bad days, can't leave the house."
"I feel great after I've got through it, though. It's the simple things that can really make a day." Simple things like completing a successful social interaction? "Yeah." Has ours been one of those, I wonder? "It's complicated," says Treays. He speaks carefully. "It's not about successful or not. It's about whether I can stay in this room. And have a conversation with you. Or whether I have to leave."
There's a disturbed, powerful, unforgettable song on Carry On the Grudge that Treays has called Peter. It's about a man called Jamie who hears a voice, Peter's, in his head. "Peter doesn't like this song… Peter doesn't like my friends." "It's to do with having parts of yourself you don't particularly like," Treays tells me. "Do you suppress it? Or live with it?" The new album, he says, is all about learning to live with yourself as you are, carry on whatever the grudge.
He's a man who, at a constitutional level, cannot always bear meeting new people, or facing faces. Yet he chose to spend his young life clambering up in front of hundreds of them. He's now about to go back on tour and do the same again. Why? "I've always been a musician, my whole life. Wasn't going to go any way else. I do wonder, sometimes, how healthy it is for me… if I should have chosen another occupation. But hey-ho."
Is he OK?
"Um. Yes. Yes, I am."
Carry On the Grudge is released on 29 September