Ever one to plunge in even when the danger flags are out, Simon Rattle brought two wildly contrasting concerts to the Proms last week, each played with dazzling brilliance by the Berlin Philharmonic. In this world-leading ensemble every musician is an artist-gymnast of supreme skill. Rattle demanded everything of them. They delivered.
The second Prom – a staged performance of Bach's St Matthew Passion – provoked controversy that, nearly a week on, continues to simmer. Acquaintances are still asking were you there, what did you think, what was it like. The answers are: yes; I began infuriated then yielded to its powers; it was like no other performance of this work I have encountered.
The choice was always risky: out-of-season Bach (the work tells the Easter story) played in the cavernous Albert Hall on modern instruments with a jubilant freedom towards notions of stylistic authenticity. To add in a staging by the radical American director Peter Sellars (already performed, available in HD online and on DVD but new to the UK) for a religious oratorio in which the usual action is only "sit" or "stand" was plain hazardous.
Audiences take ownership of this work, especially in Britain where the strong non-professional choral tradition means many have sung in it, often from childhood, as choristers in the "ripieno" choir (here boys and girls from Winchester Cathedral) which sings the long, high line in the opening chorus and joins in the chorales. Outside in the sunshine beforehand, you could see people in the prommers' queue going through dog-eared vocal scores in preparation. Any performance therefore speaks not only to a collective presence – the 6,000 there that night in miraculous silence – but a myriad of private memories and individual pasts. This is a sacred masterpiece but also a sacred cow.

Sellars, famous for setting operas in a swimming pool, outer space or an LA freeway, acknowledged this in his sober approach. The chorus was seated on white "stone" blocks, a visual echo of Jerusalem's Jewish cemetery on the Mount of Olives, as well as the Holocaust memorial in the orchestra's home city. The Evangelist (Mark Padmore) takes on a complicated but never quite clear role as emotional pivot, sometime narrator, sometime enacting the suffering of Christ. The wraith-like Padmore already resembles an El Greco saint but pours ordinary, tortured humanity into each word or phrase. Christus (the vocally graceful Christian Gerhaher), placed far up at the back of the stage, sounded misty and distant. Camilla Tilling, soprano, chose quietude and inner anguish as her stance, whereas Magdalena Kožená, a now golden-toned mezzo, was physically expressive, rushing back and forth and with the looks of a renaissance Mary Magdalene. While this worked in turbulent moments, her lamenting Erbarme dich was restless, even if violinist Daniel Stabrawa provided balm with his beautifully played celestial solo. He, like other obbligato soloists, left his usual seat, played from memory and interacted with the singers. Eric Owens (bass baritone) almost fought with the emphatic solo violinist (Daishin Kashimoto) in the answering solo violin aria, Gebt mir meinen Jesum wieder (Give me back my Jesus). This is daring territory for orchestral musicians and added to the urgency of the performance.
The expert Berlin Radio Choir, trained by Simon Halsey and singing without scores, the clarity of the two orchestras which Bach demands, sitting in their own defined floor space with Rattle moving between the two, all added depth and a sense of shared exploration. The heroic continuo players – cello, lute, two organs and double bass – steadied and supported and illuminated throughout. If you were new to the work, the dim lighting made the programme text almost impossible to follow and the action – as several have commented – confusing or alien. I understand why one friend, a Bach lover and scholar, left at the interval and was still seething days later, or why a fellow critic considered the whole to be near "ludicrous". I expected to be in that same camp. Instead I was overwhelmed.
As for the first of the Berlin Phil's Proms – Rachmaninov's Symphonic Dances and Stravinsky's The Firebird – no reservations, only superlatives. These two grand orchestral showpieces revealed the orchestra at its most flexible and virtuosic, with Rattle the magician conjuring maximum concentration and energy from all. He is not particularly balletic on the podium. Most of the time he relies on shaping the air with his left hand to coax more, or less, or to stress the seamlessness of a phrase, opening and shutting his mouth in a variety of fish-like gestures or letting his characterful eyebrows do the work.
Stravinsky's ballet for Diaghilev's Paris 1910 season began with almost icy, dry precision, melting as the score grows into a scorching climax. The Berlin Philharmonic can play so softly you have to scan the stage to see if anyone is moving. The strings' glissando harmonics, just one of Stravinsky's aural adventures here, were as quiet as a rustle of silk, and Stefan Dohr's final horn solo sang out as if from another universe. As for the Symphonic Dances, these players made this usually enjoyable but unsatisfactory work sound as radical as Stravinsky in harmony and colour, as if these two Russians in exile were close artistic associates instead of polar opposites.
Sandwiched between these two concerts, Birmingham Contemporary Music Group gave an all-Birtwistle programme at Cadogan Hall conducted by Oliver Knussen. The early Verses for Ensembles (1968-69), hard, glittering, invigorating, calls on the spirit of Dionysus, while the mysterious layers of Meridian (soloist Hilary Summers), and the harp-dominated, airy playfulness of Dinah and Nick's Love Song honour that opposite muse-god, Apollo. BCMG did a magnificent job. The overworked ears of their founding patron – Simon Rattle – should have been tingling.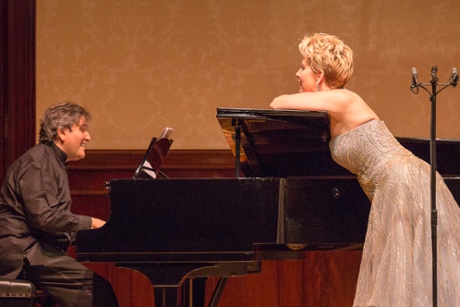 Which leaves only a few lines for the pleasures of the world's deservedly favourite mezzo, Joyce DiDonato, and the world's decidedly favourite conductor-cum-cocktail-pianist par excellence, Antonio Pappano. Not that he needed quite those smoochy skills to accompany DiDonato in Haydn's ambitious, agonising Arianna a Naxos. Their recital, given twice, opened the Wigmore Hall's new season to thunderous applause. Both performers were funny and versatile, with Pappano leaving DiDonato to make the jokes, yet in his silence being just as comic himself.
I wasn't quite enamoured of the programme, on aspects of love and encompassing Rossini, some glutinous Santoliquido and a selection from the American songbook. Some other musical meat was needed. Yet they delivered it all with consummate wit and intelligence, and witnessing Pappano at the piano is always unmissable. DiDonato is about to take up residence at the Barbican. Book fast. Expect fireworks.