Ever one to split opinion, Richard Strauss is abused as vulgar, retrograde and opportunistic, or praised as radical, sensitive and one of the most imaginative orchestrators of all time. The only unanimity, almost to the point of cliche, is that he loved the female voice. He even married a soprano, the formidable Pauline de Ahna. His enthusiasms, however, at times led him into the murkiest corners, from which he emerged artistically triumphant, if to many noses whiffy.
Whichever way you shake them, the two works that first established his operatic career are inspired by subjects rotten to the core: Salome (1903-5) a girl who takes pleasure in kissing the severed head of a prophet and Elektra (1906-8) a woman obsessed with avenging her father's murder, leading to a family bloodbath.
Both featured in the BBC Proms last weekend on successive nights as part of the Strauss 150th anniversary – the most shattering, gut-wrenching and noisiest pair of concerts in the 2014 season, and certainly among the highlights of the musical year. Each had a star cast, a superb orchestra and a conductor for whom this music holds no fear.
Based on Oscar Wilde's play, which Strauss first saw directed by Max Reinhardt in a tiny upstairs theatre in Berlin, Salome caught the mood of the 1900s. This was the era of the dancing Salomes – Maud Allan, Loie Fuller, Mata Hari – who embraced the subject's erotic if uneasy mix of liberation (they had an excuse to take their clothes off) and exploitation (men could ogle them). Attempts to ban first Wilde's play and then Strauss's opera merely enhanced the reputation of both. It made Strauss his fortune.
Donald Runnicles conducted his Deutsche Oper Berlin orchestra – he is music director – and soloists led by Nina Stemme, always a phenomenal performer but here in her element. Strauss dreamed of a singer who could act 16 yet had the voice of Wagner's Isolde, a role in which Stemme currently reigns supreme. Her Salome had an almost uncaring nonchalance, a physical ease and vocal abandon which made her final love-in with the head unbearably and revoltingly heartbreaking. If those adjectives are not normally aligned, it reflects the ambiguous impact this opera makes.
No fan of the tenor voice, Strauss gives Herod (Burkhard Ulrich) a shrill, challenging, chattering vocal line in which the singer can only sound weak and vindictive. His entry, around halfway through this one-act work, is announced by serpentine, insinuating woodwind. It is hard to think of a more odious character in any opera. Doris Soffel's Herodias had villainous hauteur and, like Stemme, acted the role with a freedom not available to the supporting singers, who mostly sang from behind music stands, some hardly daring to look away from their scores. Not that it mattered. This was a fabulous performance, made all the more thrilling by the outsize Deutsche Oper Berlin orchestra who, liberated from an opera pit, showed every nuance and subtlety of Strauss's dazzling orchestration. Runnicles marshalled his forces and ensured a careful sense of balance despite the players' unfamiliarity with the Albert Hall and the devilish demands of the score. You could hardly ask for more.
Semyon Bychkov made his Covent Garden debut conducting Elektra more than a decade ago. He has always made a speciality of digging deep into particular works, recently Wagner operas, but he certainly knows his Strauss too, and that intimate knowledge pays off. He did his best to exhaust the inexhaustible talents of a blistering cast, the BBC Singers and the BBC Symphony Orchestra in a compulsive account of Elektra which equalled the previous night's Salome in quality and drama.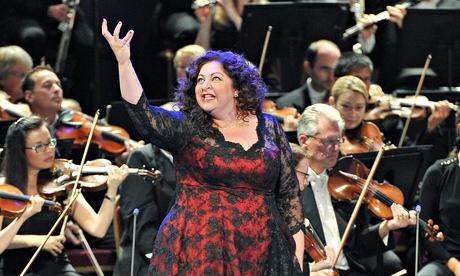 Those who saw Christine Goerke in the Royal Opera revival of Elektra last year were already full of anticipation. If possible, she was even better, throwing herself depressively around the stage, filling all corners of the Albert Hall with her moans and cries as if it was the size of a small chamber hall. Gun-Brit Barkmin, beginning gently then unfurling ferociously, was a powerful, thrilling Chrysothemis. Johan Reuter (Orestes), Miranda Keys (Overseer) and Iris Kupke (Fifth Maid) stood out, but the mezzo Felicity Palmer, as a world-weary, merciless Clytemnestra, was in a league of her own.
Her career began, as a soprano, more than 40 years ago. Endlessly versatile, this incomparable performer has sung everything from baroque to Messiaen. Strauss could have been kinder to his older operatic women and given them nice lullabies to sing. But Palmer, who turned 70 this year, would have found that tedious. Clytemnestra is a nasty, frightening, murderous, hysterical viper. The magnificent Palmer was unbelievably believable. So perversely we have to thank Strauss for creating a role that keeps this national treasure on the stage for as long as possible.
• This article was amended on Monday 8 September. Gun-Brit Barkmin sang the role of Chyrsothemis not Clytemnestra in Elektra.