For a year after Sebastien Grainger, drummer and singer in Death From Above 1979, met the woman who would become his wife, his mother kept photos of his ex-girlfriend on the wall of her house. "I'd be like, 'Can you take those down now, please?'" Grainger says, "and she'd go, 'But she was such a great girl and I really loved her parents.'"
Comparable was the situation with his band, a dance-rock two piece, after he and bassist Jesse F Keeler broke up in 2006 with just one album out, 2004's much-loved You're A Woman, I'm A Machine. Grainger subsequently released solo records, Keeler made dance music in a duo called MSTRKRFT, but people kept asking about Death From Above 1979. "It really was like breaking up with a girl," Keeler says. "I wanted to move on, but everyone would ask, 'How's she doing?' I'd reply, 'I don't fucking care!'"
The split was acrimonious. The pair had grown to hate one another and, in the five-year period before they re-formed in 2011, there was no contact between them at all. They didn't listen to each other's new records. Keeler gave up playing his bass. When he took it out of its case for the first time since Death From Above 1979's final gig in November 2005, it had the same strings on it. It was also, he says, "permanently warped".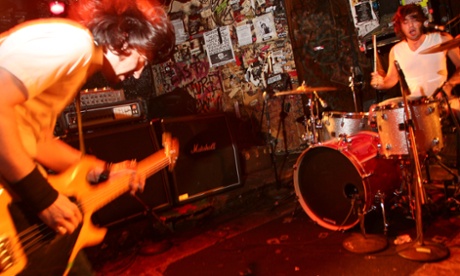 Today, the duo are not only back together, they're in London pushing a second album, The Physical World, to be released on Tuesday, 10 years after their debut. When they first reunited, they refused interviews, leaving fans none the wiser about why they re-formed and what went wrong before. It seemed typical of a band that, first time round, could be aggressive to the point of boneheadedness. In 2004, New York's DFA Records sent them a cease-and-desist order, forcing them to add the "1979" to their name. They responded with an all-caps blitzkrieg: "FUCK DFA RECORDS FUCK JAMES MURPHY WE DECLARE JIHAD ON THEM HOLY WAR ENDING IN THIER DEATH AND DISMEMBERMENT."
Journalists got short shrift, too, and I fear the worst for this interview when they say they've come straight from the airport, jetlagged. Then, as I sit down to join them, Grainger notices a question I've written down. He says: "'How much did we get paid to play Coachella in 2011?' What the fuck?"
DFA 1979 were always more pernicious than the dance-rock bands they were compared with – closer, perhaps, to other noisy two-pieces such as Lightning Bolt than they were to Yeah Yeah Yeahs or the Rapture – but their songs were also sensual and romantic, which helps explain You're A Woman, I'm A Machine's enduring appeal. It combined a sonic malevolence with tenderness: a punk-rock torch-song album for the young and horny. "I will never hurt you, lover," sings Grainger on Going Steady, while on an early, obnoxious song called Dead Womb he reveals a desire to conform: "We're looking for wives/ So tired of sluts coming up to us in clubs with their cocaine."
"It wasn't meant to be hateful song," Grainger says, "I just liked saying outrageous things." And as for declaring jihad on DFA Records, he says, "That was our attitude then and we now know that [label boss] James Murphy wasn't involved in the cease-and-desist. He was on honeymoon. Their lawyer dumped it on us…"
"…and we exploded," Keeler says.
Now aged 35 and 37, Grainger and Keeler are older, wiser and – it turns out – happy to answer every question the Guide throws at them. Coachella didn't pay them to re-form; the band approached the festival and, though they played the main stage, they were paid a side-stage fee. They also speak articulately about their falling out.
Prior to forming Death From Above 1979, Keeler, whose father was a guitarist in an early incarnation of Steppenwolf and played in Parliament on their Chocolate City album, worked for a company that sold diamonds, then became its stockbroker, affording him a house – an old funeral home – before he'd made any money from music. He has an insane work ethic and it was matched by Grainger when they hit the road. They said yes to everything, putting intense pressure on the band – and their friendship.
"We didn't think about ourselves," Keeler says. "We'd load our stuff in, play the show, pull it out, and drive five hours to the next show."
"A suicide mission," Grainger calls it.
"Then people started giving a shit about the band," Keeler says. "We were getting recognised on the street and… drinks were free!"
Grainger wasn't a big drinker, but within their crew, he says, "There were was a faction that wanted to get fucked-up. Me and the tour manager were doing clay masks and watching shit on TV, and then there was the party bus with Jesse on it. That drew us apart."
"Also, we weren't making new music because we were always on tour," Keeler says. "It was like we became our own cover band. I felt like Sebastien was sick of it, and I was behaving like I was..."
They admit they were terrible at talking things through and, as Keeler says, "Most of the writing we do is psychic. Songs are written without us speaking."
It was only in late 2010 that they started to speak again, with Grainger initiating the reconciliation. He sent Keeler an email and they met in a diner in Toronto where they used to eat after hitting the local bars.
"I had no ill feelings towards Jesse," Grainger says, "but I felt like I had a loose end. The hardest part was communicating. Even when I said, 'Our band might be cool to think about again,' it was a great relief."
They knew the group had grown in stature since they'd split, yet nonetheless had doubts about re-forming; but they played a comeback gig at South by Southwest the following March and caused a riot. One angry fan who couldn't get in punched a police horse outside, cops rammed the stage and the gig was shut down. The band were delighted. "I wanted to get arrested," Grainger says. "I felt fearless."
It's that fearlessness which the band bring to The Physical World, a cleaner, poppier album than their debut, but a highly political one, particularly on latest single, Government Trash.
"I'm happy that song came out just as crazy shit was happening in Ferguson, Missouri," says Grainger. "The second verse was written while watching Boston being occupied by police after the marathon bombing. What the fuck was going on? That shit happened at the G20 summit in Toronto in 2010, too; kids got thrown in jail for absolutely no reason."
Their point is clear: of course they re-formed for the money, but they also feel that music in 2014 needs them. "Things have become too earnest and soft," Grainger says, and Keeler intuitively understands him.
"Making political music three years ago may have seemed ridiculous, but it's got to a point now where music needs to have a harder feeling," he says.
And how are they getting on? Great, they say, because they now think of their band as a third entity, separated from – and bigger than – themselves. "We can respect, observe and back off the band if we need to, which we didn't do before," Grainger says. "We don't have to be in it all the time and that helps us appreciate it more."

The Physical World (Last Gang/Fiction) is out on Tue