Verdi's sixth opera, I due Foscari, begins in sorrow and ends in tragedy. This blunt emotional journey, set in Renaissance Venice, never lets up on anguish. Fate drives the action. Still a young man, Verdi was mourning the recent deaths of his wife and two children. Raw feeling, rather than psychological depth, was his preoccupation. The music, containing the seeds of his later scores, glints darkly and offers just enough in the way of grand choruses and distinctive arias to hold our attention.
Foscari has not been seen at the Royal Opera House since 1995. Requiring three top-class voices, and with so many greater Verdi alternatives to choose from, it is rarely done. ENO last staged it in 1978. Luckily Plácido Domingo wanted to add the role of Francesco Foscari, the morally weak, octogenarian doge, to his baritone repertoire in this late Indian summer of his glorious career. Via an international co-production directed by Thaddeus Strassberger and designed by Kevin Knight, the work has arrived in the UK having opened in Los Angeles in September 2012.
With Antonio Pappano conducting and the gleaming Italian tenor Francesco Meli as the Doge's son (you need only know that the troubled parent-child relationship, vital in nearly all Verdi's operas, dominates), expectations were high. Pappano's Verdi is becoming the stuff of legend. He might not like to hear this, since he treats every new venture as risk, exploration, discovery. So if it wasn't a given that he would conduct a perceptive performance, it was at least likely – and proved the case.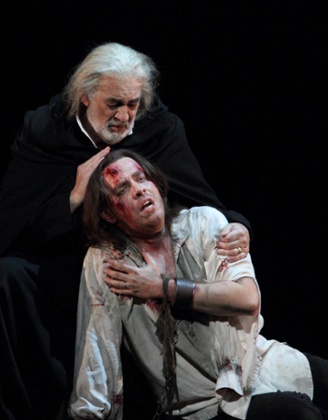 The ROH orchestra relished every nuance of the score. Some accompanying devices may be prosaic, but there are also displays of great delicacy and invention. The instrumental writing is at times so vivid – two atmospheric passages for viola and cellos stand out – you wonder how the landscape of musical history would have looked had Verdi written symphonies and string quartets instead of two dozen operas.
If only the performance had not been lumbered with such a chaotic staging. As if trying to please all four partners – LA, Valencia, London, Vienna – it was a jumble of abstract and literal, so cumbersome and old-fashioned as to obscure the clarity of a straightforward plot. With scrims and video projections, redundant onscreen narrative texts and filmed images of a murky, blood-stained lagoon, the setting was more or less 15th century. In the carnival opening of Act 3, fire-eating acrobats tumbled out of the jaws of a winsome lion of Saint Mark. Canal detritus, heaped in one corner, was an unsubtle reference to the political corruption of Venice. All was suggestive, as well as obscure.
Domingo himself, when not dressed in splendid ceremonial crimson, looked a curious cross between Saint Benedict and the Abbé Liszt: black cassock and long silver locks. His stage presence remains mesmerising, though the role offers little beyond a range of sad, sadder, saddest expression. The voice is light, still lacking the resonance of a true baritone, as if drained of shadow or hinterland, leaving only the pared-back essence: refined, intelligent, a little fragile. For once, as Domingo has said, at 73 years old he is younger than the role he is playing. If he can grow into the part over the next decade, we should count ourselves lucky.
As Jacopo Foscari, the handsome Meli confirmed his growing star qualities, despite having to sing mostly from a cage-cum-crate, at times suspended from the flies. His tender, impetuous Act 1 aria, in which he longs for return to Venice from exile, stood out. His fellow Italian, the soprano Maria Agresta as his wife, Lucrezia, was powerful, steely and passionate, if needing more warmth. Whereas Domingo has gone down in voice from being a tenor, Agresta has gone up having started as a mezzo. She and Meli's love duet, and their grand, anguished ensemble with Domingo, were high points of an intriguing but frustrating evening. See it in cinemas on 27 October, or listen on Radio 3 on 3 November.
Downstairs in the Linbury Studio, injustice at the nameless hands of fate was played out to a different tune. Music Theatre Wales, in a co-production with the Royal Opera, Theater Magdeburg and Scottish Opera, gave the world premiere of Philip Glass's The Trial. With a libretto by Christopher Hampton, this new chamber work for eight singers plays up the black comedic element of this tale of a man who finds himself on trial without knowing why.
Kafka's novel, written in 1914 and with a brutal ending, can be seen as a prophetic parable of our own times. This aspect was played down. Glass has spoken of his sense that Kafka was a dramatist manqué, which will not be everyone's reading of the novel, though the composer and librettist make a strong case. In the first half, dialogue is sharp, quick and relentless. The familiar repetitive structures in the 12-strong ensemble, the excellent MTW Ensemble conducted by Michael Rafferty, are spare and restrained, the timbres notably mellow – the small forces include bass clarinet, cor anglais, bass trombone and marimba.
In Michael McCarthy's production the setting, designed by Simon Banham, alludes to surrealism and Magritte: men in suits with bowler hats and exaggerated gestures indicate a manic normality gone awry. In the second act the music becomes more lyrical, culminating in two potent arias amid the growing urgency of the score and building to a forceful climax. Despite the earlier unevenness, those final moments render the whole convincing. Catch The Trial on tour or try it first on Radio 3 on Saturday. You might find yourself captive.