With artwork featuring an astronaut being attacked by a giant alien centipede, song titles such as Vape And Pillage, and a mantra of "Fuck. Get High. Destroy", Oozing Wound might sound like a stereotypical thrash metal band. But while the Chicago trio – singer-guitarist Zack Weil, bassist Kevin Cribbin and drummer Kyle Reynolds – play on the tropes of Beavis & Butt-head's genre of choice, they do it with a knowing wryness. Thirty years on from the birth of thrash in San Francisco's Bay Area, Oozing Wound have created a modern, minimal mutation of the sound. Whereas 80s thrash bands pushed the concept of "riff salad" – trying to cram as many notes as possible on to a record – Oozing Wound are happy to build a song around only one or two. In videos such as Call Your Guy and Going Through The Motions Til I Die, they poke fun at stereotypical metal bros, shotgunning cans of beer, smoking weed and headbanging.
The issue of whether or not they should even be called thrash has followed the band from their inception in 2011, some arguing that they're breathing new life into the genre, others accusing them of cynically applying a defibrillator to the genre's rotting corpse. It's not that important to them, though. "Lemmy has never thought of Motörhead as a metal band; they were just a rock band, and that's our mentality," says Weil. "I don't think we sound like thrash. We have metal moments but we don't have solos, we play one riff over and over, and most thrash bands didn't like to do that."
Cribbin sees a more practical use for the tag: "It means you can tell your mum what we are."
Let's imagine you were to mention thrash metal to your mum. Four bands might come to mind: Megadeth, Anthrax, Slayer and, of course, Metallica. The so-called "big four" took the metal mentality of Black Sabbath, Iron Maiden and Judas Priest and made it harder and faster, while creating a hirsute, hedonistic ying to the straight-edge yang of early hardcore, which was taking shape in southern California at the same time. They also set out a clear thrash blueprint: grow your hair, call your fan club something provocative like Slatanic Wermacht, wear denim and write songs about Nazis, necromancy and general evil stuff. But although the band's sound is indebted to the likes of Slayer, Oozing Wound don't seem to have much time for them.
"There's something weird about each of the big four," says Weil. "Megadeth are cool, but I don't want to hang out with Dave Mustaine at al. Slayer lost their two coolest members. Anthrax, no way. But no matter how many times we insult Metallica we would still play with them."
Not that it's likely to happen any time soon. Oozing Wound come from the tight-knit but eclectic Chicago scene, where their riff-heavy assault is often found on the same bill as folk, noise and drone bands. Weil even moonlights as a DJ, spinning powerpop by acts including the Flamin' Groovies. "It's not like Seattle in the late 80s where nobody went there so they created their own bands," explains Weil. "Here it's like a cross-culture of people coming in and out or heading to New Orleans or Oakland or something, so you get a constant influx of new people."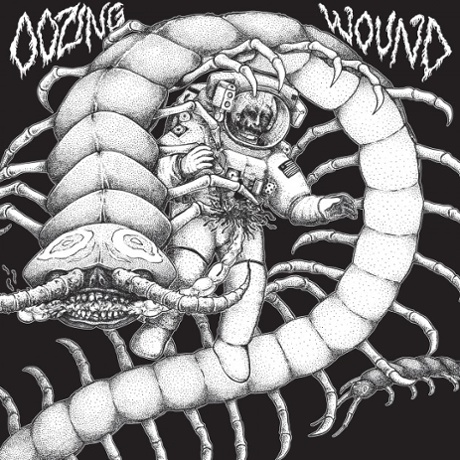 One of those people was balaclava-wearing Lightning Bolt drummer Brian Chippendale. The band became pally with him and pestered for a support slot when his Black Pus project (another great name) came to town. Eventually they got one, and in the audience that night were staff from Chicago label Thrill Jockey – home to post-rock stalwarts Tortoise and Oval – who were blown away and signed them. All of a sudden, their Retrash album – which was recorded in 24 hours – was being released on a proper label. What had started as a glorified in-joke had spawned a deal, a spot on Adult Swim's kudos-coated singles compilation, and an air of anticipation ahead of their second full-length, Earth Suck. But that success doesn't mean they've started taking the whole thing more seriously.
Oozing Wound's lyrics give a good insight into their tongue-in-cheek approach, taking inspiration from action-hero reboots rather than genocide. Take Sustained By Hatred (Rambo 4), for example ("There are no innocents in the throes of war/ Only insanity, insanity and nothing more"). "I was watching Rambo 4 and thought: here's the coolest movie ever," says Weil, on his process. "So I wrote a song based on what I thought Rambo was thinking." He goes on: "Watching the presidential debates a few years ago I thought, 'I hate everybody', so then I wrote Everyone I Hate Should Be Killed. Then I saw Mitt Romney and thought, 'He's a piece of shit who has got too much money', so I wrote Bury Me With My Money."
"The lyrics," adds Cribbin, "are the icing on the riff cake." There's certainly plenty of Oozing Wound's thrash tiramisu to go around.
Earth Suck is out on Monday on Thrill Jockey