The scene is a packed school gym full of shy, ungainly people shuffling around to Gary Glitter. It is 1974. At the front are a group of perennial delinquents – the only black kid in our town, his tough Italian mate, others we've lost sight of since the 11-plus. They don't dance; they mock the other dancers.
And then the DJ plays Get Out by Harold Melvin and the Bluenotes. The dancefloor clears and the self-selected underworld of adolescent Lancashire jumps on to it to strut their jerky stuff.
They do not make eye contact with girls. In fact they do not make eye contact with anything nearer than the horizon. They do the splits. They spin around, knocking bottles of Tizer out of the hands of anyone who gets too close. They are dancing to northern soul. By the next week so was I.
As an epiphany, it can't have been unique: there's a very similar scene in Elaine Constantine's new movie Northern Soul. And, like the protagonist of that movie, I would soon team up with a mentor to learn the subculture: how to dance, where to buy the widest trousers, the supremacy of the OKeh record label and the number of durophet capsules you could take without ending up in casualty.
Sometime in 1975, at the age of 15, I made it to an all-nighter at Wigan Casino. By 1977 I was regularly sloping off there, though I never got drawn into the vortex of violence, cranked drugs and total immersion depicted in Constantine's film. But, like the boys in the film, I knew what I was part of: subcultural revolt on a scale no other youth scene at the time came close to.
The dancefloor at Wigan was, if anything, more packed and frenetic than Constantine's film shows it. There was a clear zone where only the elite dancers could do their moves: Tony Palmer's This England documentary in 1977 is a precious historical record of the real thing – but even on the night his cameras were there, many regulars refused to attend (including me) on the grounds that the lights would be turned on and spoil the atmosphere.
Today you would call northern soul an act of curation. By the time we danced to it, the music was already old: songs recorded in small studios by black singers, mostly between 1963 and 1971. The vinyl was often pressed in small quantities: singers such as Harold Melvin, in Philadelphia, worked their local club scenes, selling the records from suitcases on Saturday nights.
By 1975, as we crowded around the record sellers in Casino's bar, some of the singles were so rare they could cost many times what a chart song would. My prized possession, Better Use Your Head, by Little Anthony and the Imperials on the Veep label, cost me £7 in 1976. That summer, for a full week's factory work, I earned £17, while an ordinary single sold for about 40p.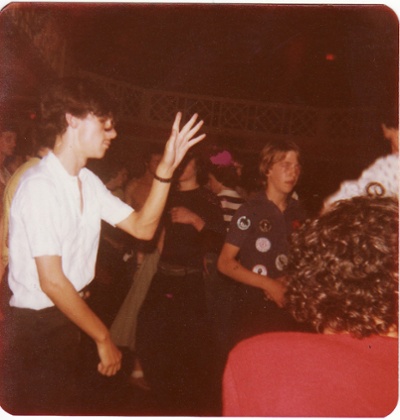 These were the singers whose voices were too rough, or too fast, or just too good for Motown, which had become a machine for selling black music to a white audience. We didn't need anyone to sugarcoat it – we wanted the real thing. If you want to know how little the word Motown captures what black America was singing in the late 1960s, listen to Gene Chandler's There Was A Time (1968). Gene is whining a filthy, innuendo-laden lament to the fact that all the old dance styles are out of fashion, when suddenly the band's trumpet player starts screaming out the top note of a major seventh chord, which never stops. It still has the power, 35 years after I first heard it, to make me want to do a handstand.
We were using the black industrial music of the late 1960s to say something about our white industrial lives in the 1970s. And we were using fashion, as the Mods had done before us, to make a statement about what looking good should mean.
Our fathers' world was the one you see in Carry On films and their successor, the "Confessions of…" genre. In these films "attractive" men were depicted as sleazy, sexist drunks dressed – when not in the drab tweed jackets sold at C&A – like pimps.
We knew – because we'd been to the library and got the sociology books out – that cool British men had always had an affinity with Italian fashion: a penchant for sharpness, clean lines, mohair, cashmere and soft leather.
I remember Wigan – and even more so the dancefloors at Blackpool's Mecca and Manchester's Ritz – being cooler than depicted in the film. Wigan Casino was the first place I saw a boy with a "wedge and quiff" haircut, which until then was only worn by girls. It was the first place I saw people wearing microscopic Japanese sunglasses (at midnight), baseball shirts and pork-pie hats.
So if the first line of northern soul's credo was "we love the music of black America", the second was "we love the fashions of Milan". Regretfully, the third was "we love the products of the pharmaceutical industry".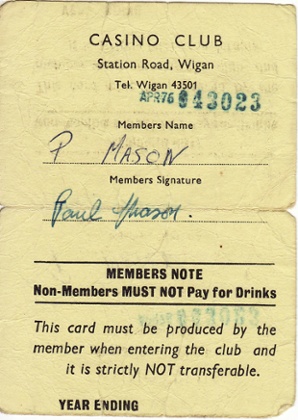 Among hardcore members of the northern soul scene, it was common to see record labels tattooed on their arms and necks: Ric-Tic, OKeh and Vee-Jay. Really extreme was to get a drug brand name tattoo: "I'm a Riker liker" was one of the favourites, referring to the pharmaceutical company that made black bombers.
Northern soul, with its athletic dance, sleek fashion and illegal stimulants, was the precursor of the modern dance club scene. If the movie has sparked interest among 18- to 24-year-olds now, via social media, it is because that club scene itself has become home to the uncool, the leery, the drunk and the atrocious dancer.
Then there's the sheer size of the electronic dance music (EDM) industry: the Tomorrowland festival in Belgium attracted 400,000 people this year; its Brazilian sister festival has already sold all 180,000 tickets for next year and there are often a million people on the wait list at the global EDM events. Many young people I've talked to describe their frustrations with the mainstream EDM scene in the same way we talked about the disco and nightclub circuits of the Seventies: stale, commercialised, samey and exploitative.
If northern soul makes a comeback with this film it will probably be spectacular and brief. But the level of interest reflects the spread of the music underground via social media, especially YouTube, where many of the records can be heard for free.
The original craze was, above all, a revolt against "the charts". I'm pretty certain – because I was part of both scenes – that northern soul fuelled the zeitgeist that led us towards punk and new wave.
I got fed up with northern soul when it refused to move on: you could get frowned at for dancing to funk at Wigan, and in return the venues that played the latest US funk music began warning punters "we don't play northern". Meanwhile, British rock and reggae bands had begun to make music relevant to the political struggles going on around us.
In 1979, after my last all-nighter, I got my hair shaved to a number one, bought a semi-acoustic Gretsch and every record by Prince Far-I I could lay my hands on. I would have probably liked the Hacienda, but by the time it opened I'd discovered Brecht and picket lines. I had no more need to go to a dance club to experience rebellion.
Every teenager deserves a rite of passage. Looking back, I feel lucky to have made mine at Wigan Casino: Elaine Constantine's film is a vivid reminder of just how dangerous and exhilarating it really was.
Paul Mason is economics editor of Channel 4 News.