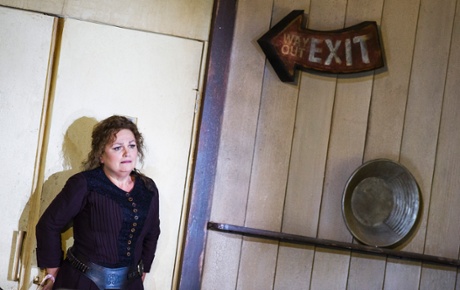 If Puccini was good at endings, he was even better at beginnings. Tosca crashes to life with fortissimo chords of fate. Bohème leaps in mid-stream, rugged, boisterous, beady. Butterfly's quicksilver chatter takes us straight to the heart of a sinister, unfamiliar orient. The most luscious is the California gold rush opera, The Girl of the Golden West (1910), based on David Belasco's play, which Puccini saw on Broadway.
After a hurricane gust across the orchestra – in the form of a rushing upward scale almost too swift to register – crunching chords open out into a broad, grand-landscape melody, catchy, folksy and doused with terrible nostalgia. Instantly we are transported to the wild west in the era of Wells Fargo and the gold-digging forty-niners whose overriding emotion is homesickness.
In a triumphant, cogent new staging for English National Opera by Richard Jones, these opening bars were performed with the curtain down but the proscenium area brilliantly illuminated, commanding attention not by darkening the house but by brightening it. The Canadian conductor Keri-Lynn Wilson, making her UK operatic debut and unquestionably one of the stars of the evening, hurled herself and the excellent ENO orchestra into the music while the audience was still reaching for off buttons. It made an arresting start to a compelling evening.
This is ENO's first staging of La fanciulla del West for 50 years, evidence that not everyone feels as enthusiastic about Minnie the gun-swinging saloon-bar owner and her community of miners, as they do about Mimi or any of Puccini's other heroines. Many of his devotees would name it their least favourite work, perhaps uncomfortable with the US setting (characters with names like Sid and Harry singing "he-llo, he-llo"? In a Puccini opera?). It translates well enough, mostly audible through a semi-American drawl, in Kelley Rourke's English version.
The work's complex sentiment – not nearly as cutesy as first appears – and volte face ending also set the work in a category of its own, though recent successful productions by Opera North and Opera Holland Park have helped the cause.
Some of us rank it as one of the composer's most inventive works. The orchestration is not particularly unusual, yet there are so many moments, carefully pinpointing the action, where Puccini shows a radical musical intelligence seldom acknowledged. When Minnie and her bandit-lover Dick Johnson are finally alone, the timpani first rumbles then roars and the whole orchestra joins in, a monumental avalanche of sound: so simple a device, so deftly handled.
Jones kept the staging straightforward and concise, with no gimmicks. Miriam Buether's sets and Nicky Gillibrand's costumes place the action somewhere around 1900, with modern details such as strip lighting. The Polka saloon has a spacious, hangar-like feel, but draws in the action and supports the singers' voices on the Coliseum's big stage. The same is true of Minnie's tiny, pre-Ikea mountain hut, a crucible of repressed passion on a stormy night, and the marshal's office in the last act, a long log cabin in several carefully chosen shades of green, both structures helping push voices and action to the fore.
The augmented chorus, all men and singing with ferocious energy, sport braces, cotton work clothes and narrow-brimmed felt hats. Never overdoing the choreography, Jones is skilled at making action and music chime – the best you can ask of a director – as in the men's powerful Act 3 set piece, beautifully staged with all guns pointing in one direction, a neat echo of that moment in the score when voices and orchestra all move in whole-toned unanimity.
In this strong ensemble cast, an ardent Leigh Melrose (Sonora) scored an emotional bullseye, with notable cameos from Clare Presland and George Humphreys, both young singers to watch. Tenor Peter Auty grew in confidence and conviction in his debut as Dick Johnson, with some thrilling top notes and an air of untrustworthy charm. The American bass baritone Craig Colclough, displaying a warm, Italianate tone, made a striking European debut as the bitter sheriff, Jack Rance.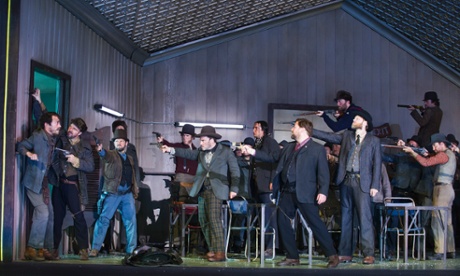 Susan Bullock, the much-loved and versatile soprano, was an ideal Minnie: raw, physical, intelligent, driven not by head but heart. She sang the role in concert in 2010 but this is her first staging, and not a minute too soon. This experienced performer knows how to use her voice to maximum effect, exciting in high drama, lyrical when needed, turning any weaknesses into strengths. Above all, she radiates naturalness and humanity.
Fanciulla was written for the Metropolitan Opera, New York, where, after a successful premiere, reactions to the opera were mixed. It was fitting that Peter Gelb, the Met's general manager, was in the ENO stalls, seeing it properly honoured as a masterpiece a century later. He may, however, have had his mind more on the tall, blond, ponytailed wizard with the baton. She is his wife.
All-powerful womanhood aside, there is no easy step from Puccini's Girl to John Tavener's Flood of Beauty, completed in 2007 but only receiving its world premiere at the Barbican last week, nearly a year after his death. This setting of a Sanskrit poem honouring Devi, consort of Siva and the female authority behind all creation, lasts nearly two hours and requires surround-sound forces, traditional Indian instruments including sitar and tanpura, plus organ, piano and prominent solo cello (Natalie Clein).
A Hindu temple might have been a more effective venue. Instead the Barbican was filled with chant, ululation and lament as the erotic texts were sung by the Britten Sinfonia Voices, the New London Chamber Choir and indefatigable soloists (Marcus Farnsworth, baritone, and Alison Bell, soprano). Martyn Brabbins held all together on the podium, with skilled playing from the admirable Britten Sinfonia, especially the brass, unseen somewhere in the circle.
Tavener described the work as "sustained rapture". It was rather too sustained – by about an hour – but decidedly rhapsodic and, as always with Tavener, beguiling. His eternal feminine occupies a different planet from Puccini's. Both have their allure.
Star ratings (out of 5)
The Girl of the Golden West ****
Flood of Beauty ***