When Ferdinando I de' Medici ordered the construction of Florence's Belvedere fort in the late 16th century, he did so not only to protect the city from enemy invaders but to proclaim the wealth and prestige of his supremely powerful dynasty.
More than 400 years later, the Fortezza di Santa Maria in San Giorgio del Belvedere – to give it its full title – is preparing to cement the rising star of a rather different kind of clan: the Kardashian-Wests.
In the cradle of the Renaissance, in the city that gave the world Leonardo da Vinci and Dante Alighieri, two contemporary cultural colossi are expected to tie the knot.
Elisa Di Lupo, a spokeswoman for the mayor of Florence's office, confirmed to the Guardian that Kanye West and Kim Kardashian were renting the fort and that the rapper and reality TV star of Keeping Up with the Kardashians plan to hold a service there, complete with Protestant minister, on 24 May.
The €300,000 price tag (£244,000) might seem hefty, but it is likely to be less off-putting for a couple whose combined wealth, according to Forbes estimates last year, totals $30m ($18m). The fort – currently closed to the public – stands next to the Boboli gardens, close to the Pitti Palace and across the Arno from the Uffizi.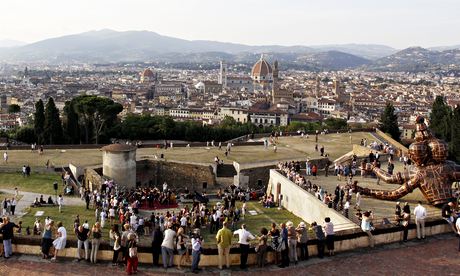 "I can give you scarce information. That they are marrying at the Belvedere fort is true," said Di Lupo, confirming an Associated Press scoop. "The fort is being used for a private event for €300,000. The municipality does not know the details of this wedding."
The couple have kept the celebrity media waiting for months for news of their nuptials. West, 36, proposed to Kardashian on her 33rd birthday in October, renting out the AT&T major league baseball park in San Francisco and hiring an orchestra for the occasion.
Since then, celebrity press reports on the details have been confused. The wedding had previously been expected to take place in France.
Speculation went into overdrive in March when the pair appeared, to the outrage of pursed-lipped detractors, on the cover of US Vogue – she in a strapless pale grey Lanvin gown, and a 15-carat diamond engagement ring.
Kardashian's representative told AP she was not able to comment on the reports on Friday. But West was quoted in La Nazione newspaper as saying he was "very excited, but very happy" about the upcoming ceremony.
The couple said they believed their daughter, North, had been conceived during a previous trip to Florence "among the Renaissance masterpieces".
Di Lupo said the fort was not a registered location for civil marriages in Florence, which, like the rest of Italy, only offers a restricted number of premises for such ceremonies. She said the money from the booking – made "not long ago" – would be secured by the municipality for use in the cultural sector, for instance on restoration projects.