"Yesterday I was thinking about trying to get in to Oxford or Cambridge, to just disappear for four years and study, but I couldn't pick a major," Courtney Love says. The impulse behind her escape fantasy isn't entirely bookish – she is currently crushing on a certain married Harvard-educated rockstar. "I'm a hooker for the Ivy League, baby, not the IV league!" she cackles, plunging an invisible needle into her arm. Love, who turns 50 this July, is sequestered at the Groucho Club in London, resplendent in a beaded, black vintage dress, under a cloud of perfume and cigarette smoke.
The idea of Love turning mature student is exactly the kind of thing she might do, given her history of contradictions: the Mickey Mouse Club reject who says she auditioned for Disney by reading a Sylvia Plath poem about incest; a feminist figurehead in music famed for assaulting riot grrrl's queen of hearts, Kathleen Hanna; a woman who released her best known album, 1994's Live Through This, the same week that her husband Kurt Cobain killed himself.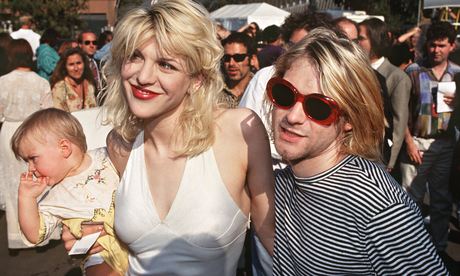 Love has encountered fame, widowhood and rehab. She is currently on the road promoting a solo double A-side single, You Know My Name/Wedding Day, and the reunion of the band that made Live Through This, Hole, is in sight. But 20 years after his death, Cobain's ghost still looms. A note found at his death scene referring to Love as a gold-digging "bitch with zits" has surfaced, released by the Seattle Police Department under a freedom of information request. The Cobain truthers – conspiracy theorists who believe Love is to blame for Cobain's death – have seized on it with predictable gusto. Love's estranged father Hank Harrison – whom she has claimed dosed her with LSD as a small child – has used the news to hawk a new book about his daughter, and told the press that his daughter was responsible for Cobain's death. "I try to avoid [Harrison] at all costs, but I saw his comments in the Daily Mail. He said: 'She's a sociopath, like me.' So you're admitting to the media that you're a sociopath? If I was his PR guy I'd be like: 'Shut the fuck up already.'"
Love confirms that she is the author of the note, a private, caustic joke about a sexist media that hero-worshipped Cobain while vilifying his wife, a talented artist in her own right. "Obviously I wrote it – don't you guys understand sarcasm?" The media, she says, are just as culpable in this morbid witch-hunt as the truthers. "It endangers me, and it endangers [Love's press-shy daughter] Frances." The risks facing the progeny of dead celebrities feel especially pertinent to Love in the wake of Peaches Geldof's recent death. She's toying with the idea of covering the Boomtown Rats' I Don't Like Mondays in Geldof's memory at her Shepherds Bush Empire show this weekend. "Is it in good taste though? I can't decide."
Reading this on mobile? Click here to view the video for You Know My Name
For every truther, though, there is a Love diehard. A handful of fans who attend her secret acoustic gig at a tiny east London coffee shop two days earlier bear the tattoos to prove it, and a number of women in the buzzing 40-capacity crowd weep discreetly between the singalongs, overwhelmed at this intimate proximity to their hero. Love is baffled by this profound emotional investment in her music, finding little validation in their tears. "Does that make me sound cold? I just don't get off on my audience like that."
Her female fans can also be surprisingly amorous, she says, "in the same way they would to a male rock star. I don't know what to do with that energy, so I take them up to my room, and maybe do drugs or let them try on my clothes, take lots of photos, selfies. That's what happened to all my babydoll dresses – I gave them away."
She does, however, enjoy the occasional tryst with other famous women. Linda Perry, who produced Love's 2004 solo album America's Sweetheart, enjoys taunting Love about these episodes. "She told me: 'You're not a top, you're a power bottom. Just own it. All this heterosexual stuff is nonsense.'" Love's most recent assignation happened last month. "I won't tell you who she is though, because she's public. She's a little bi, mostly lesbian. We took Molly [MDMA], but it didn't work. I still went on with the show though," she cracks.
The show in the cafe is proof that Love's voice – a corrosive, throaty howl – is still one of rock's best, though nine months addicted to crack in the early noughties have botched her guitar skills. "I can still write a song, but [the guitar playing] sounds like shit, so I have to give it to Micko [Larkin, her currrent guitarist]. I've become really dependent on him," she admits – co-dependent, according to Perry. That she intends to slot Larkin into the reunited Hole lineup may ruffle some feathers, but Love is unequivocal. "Listen, I used to be a good rhythm player but I am no longer dependable, so we'd have to hire an extra body anyway."
Died Blonde, the solo album that Love was meant to be writing this year, is now on hold while the Hole reunion is negotiated. They won't be the only grunge act regrouping this year; Babes in Toyland, fronted by Love's longtime frenemy Kat Bjelland, are also jamming again.
Unfortunately, a joint tour seems unlikely. "The last interaction I had with Kat was during the Countrywide scandal," she says, referring to a huge US mortgage fraud. Their meeting ended on a sour note, Love says. "She needed money, desperately. I really wanted to help, but I just couldn't afford to rescue her."
Love's other famous feud, with Dave Grohl, was put to rest last month when the pair embraced on stage at Nirvana's Rock and Roll Hall of Fame induction earlier this year. Was that a truce, or the beginning of a lasting peace? "Both," she says after a short pause. "I don't think he's currently doing anything nefarious, and that's important."
Love's candour – in her music and personal life – has been both bane (a tweet about an ex-lawyer resulted in her being sued for libel in the first "Twibel" case in the US, which she won) and strength (Hole's 1991 debut, Pretty on the Inside, saw Love retooling her juvenile detention-years poetry into brutal, messy punk spliced with Stevie Nicks samples). But despite years of dedicated journal-keeping – chronicled in her 2006 scrapbook, Dirty Blonde – she has lost the discipline required to write her upcoming memoir. She rejected HarperCollins' first ghostwritten effort, claiming it cast her as "rock villainess" – a role she believes the upcoming Cobain documentary by Crossfire Hurricane director Brett Morgen will help to dispel. "A lot of it is verite. [Morgen] got footage from everywhere, previously unseen stuff of me and Kurt that really skews the misconceptions. It's the real deal."
Reading this on mobile? Click here to view the video
For now, Love uses her YouTube series #COURTNEYON to pontificate on everything from BDSM to the role of saxophones in rock. She's averse to doing reality TV: "unless it was one of those talent shows". Though it's the wardrobe budget that attracts her, rather than modern pop, which "just confuses" her. She digs Savages, and St Vincent – who was one of the women who fronted the band at Nirvana's Hall of Fame show – but misses the angry femme rock that ruled the 90s. "I'd definitely like to see less twerking and more power chords."
Love's legacy is alive in young punk bands such as White Lung, and links, however tenuous, might be made between Hole's snarling, feminist anthems and today's pop queens. Beyoncé's Pretty Hurts video, which reveals the pain behind the beauty pageant curtain, echoes the iconic cover of Live Through This, with its hysterical, mascara-streaked Miss World. She says Beyoncé "can afford to dabble in feminism at this point in her career. I like her – we share the same jeweller – but the stakes are very different."
Love prefers Royals, Lorde's takedown of hip-hop culture excess, seeing what's happening in hip-hop as the equivalent to the bloat in mainstream rock in the 80s that gave rise to grunge. "I don't mean to give you an incendiary quote," she says. "But there's gotta be a correction in the market."
And could she help make the correction? "I like guitar music," she says, "and I'm still standing. That's all I know."
You Know My Name/Wedding Days is released on Cherry Forever on 26 May. Courtney Love plays Shepherds Bush Empire, London, on 11 May, then tours until 20 May.