Opera has already embraced subjects as modern and diverse as cyber-stalking and plastic surgery and been performed in fields, pubs, village halls, cinemas and direct to computer screens. But it will attain a first this weekend when all seven of the UK's publicly funded opera houses collaborate for Inside Opera: Live, which will give unprecedented behind-the-scenes access.
The event, to be broadcast on YouTube and hosted by former children's TV presenter Kirsten O'Brien, is aimed at finding new audiences, including the next generation of opera fans.
Inside Opera, to be livestreamed between 2pm and 6pm on Saturday, will feature the Royal Opera House, English National Opera, English Touring Opera, Welsh National Opera, Scottish Opera, Northern Ireland Opera and Opera North.
There will be live links with all seven companies, including English National Opera, which will be preparing for that evening's performance of Julian Anderson's acclaimed new opera Thebans, and Warwick Arts Centre, where viewers can join English Touring Opera's tour of the set of The Magic Flute.
At Opera North's base in Leeds, there will be live footage of the La Bohème cast as they come off stage from their matinee performance and audience interviews.
Each company's artistic director will be in Leeds discussing with O'Brien why opera is a vibrant and relevant art form in 2014 and answering questions put to them via Twitter using the hashtag #insideopera.
Errollyn Wallen – who will be at Opera North composing an aria from a text suggested by Twitter users – said she hoped the event would help to dispel the myth that opera is "a lot of white people in 18th-century costume and big wigs singing very loudly about things that don't seem to matter."Composing is often seen as a mystery – even to other musicians," Wallen said. "If I can do anything to illuminate the process I will be happy."
Opera North's Richard Mantle said: "I hope people who don't know much about opera might discover it's an enthralling musical and theatrical experience."Scottish Opera's general director Alex Reedijk said: "We want to demythologise and demystify the process of going to the opera."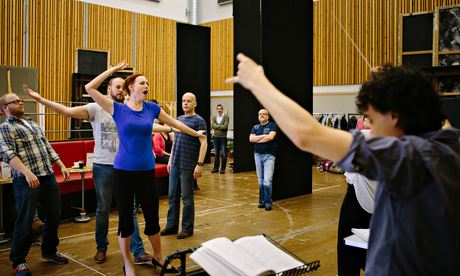 The afternoon's prerecorded element will include seven specially commissioned short films, one from each participating company, focusing on one particular aspect of producing opera today.
Welsh National Opera's contribution looks at the complexity of touring and the two-day get-in during the company's visit to Plymouth this spring; Scottish Opera's film is about the creation of one of the costumes from their recent production of Don Giovanni, following the process from initial designs through to construction, fittings and up to the first performance; Northern Ireland Opera's film is about their new production of Gerard Barry's 2010 opera The Importance of Being Earnest.
"The day is about giving an audience that's not familiar with opera a sense of the extraordinary network of activity that exists across the UK, and the amazing process that comes together to make great opera happen," said Henry Little, chief executive of the National Opera Co-ordinating Committee, the organisation co-ordinating the day.
"The programme we have put together is wider and more extensive than any one individual company could have produced. Opera consumes a proportionately large amount of public investment. It's an expensive art form to maintain and develop, it's important that companies are seen to be working together as collaboratively as possible." The digital nature of the event, which is part of an annual Europe-wide day celebrating opera, has been a key facilitator. It offers a level playing field, no matter what the size of the company, what work they are currently doing, or where they are in their touring schedules.
"Five years ago we couldn't have done this," said the Royal Opera House's Kasper Holten. "Today's technologies means we can now all share and exchange information across the country. This is a difficult time, with public subsidy shrinking, but one of the positive outcomes is that it's made artistic directors come together more and talk about how we can collaborate.
"It's been a challenge getting everyone to sign up to one idea," he adds, "but in the modern world it's not about opera house competing with opera house, it's about opera competing with all the other artforms that are vying for people's attention."
• Inside Opera: Live will be livestreamed at theguardian.com/classical and at www.youtube.com/insideopera from 2-6pm on 10 May 2014.