Arcade Fire turn up with facepaint, dancers and a firework display, Kaiser Chiefs unexpectedly appear on the Other Stage at 11am and launch into I Predict a Riot, Skrillex opts for an all-out audio-visual blitzkrieg, performing from within a giant spaceship on a hydraulic platform – but nevertheless the real event of Friday at Glastonbury is the weather. Understandably, given that it has rained at 24 out of 32 Glastonburys, hardened festivalgoers tend to affect a blase attitude to inclement conditions, arriving prepared for the worst. As if to caution against such insouciance, however, Friday evening brings with it weather that only a certifiable lunatic could be blase about. It's been raining on and off all day – Kaiser Chiefs' Ricky Wilson encourages the crowd to stick two fingers up at the sky, and when the sun tentatively appears midway through a guitar solo from War on Drugs' Adam Granduciel, it gets a spontaneous round of applause – but the early-evening downpour is of such ferocity that all performances are temporarily cancelled for safety reasons, bringing pop-dance collective Rudimental's set to an abrupt conclusion.
When events eventually resume, the crowd greet Lily Allen with a warmth that suggests they somehow think she's personally responsible for the rain stopping. Clad in a shocking-pink dress and a pair of vertiginous heels – an impressively daring choice of footwear, given that, earlier in the day, the frontman of Japanese folk-punks Turtle Island slipped and landed face-first on the Pyramid stage – she milks her reception for all it's worth, demanding a shot of whisky mid-set, dedicating Fuck You to Sepp Blatter and changing the lyrics of LDN so they refer to the festival. "The sun is in the sky, why oh why would I want to be anywhere else?" she sings, which seems a pretty optimistic view of the situation: the sun's nowhere to be seen, the sky is still slate-grey, but at least you can now venture outside without recourse to flippers and breathing apparatus. Everyone cheers regardless.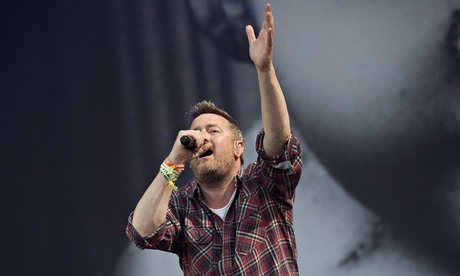 Elbow are one of those bands whose career seems inexorably entwined with Glastonbury: the first sign that One Day Like This was going to achieve ubiquity came when they played it to a rapturous reception at the festival in 2008, a performance that was endlessly repeated on TV. Their Friday-evening set underlines that they don't really have any other songs like it. The rest of their material is subtle and slow: you might think it too opaque and intimate to move a festival crowd, but the audience is utterly beguiled by frontman Guy Garvey's beaming charm offensive between songs. He does everything to win them over, short of offering them a lift home: continually toasting them with his pint of beer – "You're a remarkable bunch of human beings" – orchestrating a Mexican wave, mimicking their dancing, getting those audience members who've turned up with flags to wave them in time to the sedate strains of New York Morning and My Sad Captains. It would seem a little corny were it not for the fact that it's all so obviously heartfelt: Garvey genuinely appears to be having the time of his life on stage, and it's hard not to find his enthusiasm infectious.
Arcade Fire are not a band noted for their love of mud-drenched festivals: Win Butler famously described his experience of Glastonbury in 2007 as "a fucking nightmare" and "a crowd of shit". The sense that they're a band working hard to overcome the fact that they're outside their comfort zone is hard to miss during their headlining set. Their efforts pay off: with their older material subtly reworked to fit with the disco pulse of their most recent album, Reflektor, they sound fantastic; the contrast between Butler's intensity and earnestness, and his wife Régine Chassagne's gleeful scurrying between instruments makes for pretty compelling viewing. By the end of their performance, Butler is unexpectedly paying emotional tribute to the audience.
Saturday lunchtime brings both sunshine and a flatly demented rumour that Prince is going to make a surprise afternoon appearance on The Park stage: the fairly eye-popping logic involved suggests that, having turned down the opportunity to headline, he's now going to pop down and do a quick 20 minutes in between Welsh singer-songwriter Cate Le Bon and former Cardigans frontwoman Nina Persson. Needless to say, nothing of the sort happens. Instead, there's Kelis, who brilliantly integrates her futuristic R&B hits with her new retro-soul direction: Trick Me now comes interpolated with the brass line from Dawn Penn's aged reggae anthem No No No; Milkshake is transformed into a kind of lop-sided skank, provoking a mass singalong. Over on the Other stage, however, Californian quintet Warpaint appear to be struggling to click with the crowd. Audibly conceived in a dense fug of marijuana smoke, their music proceeds at a uniformly languid pace: it's undeniably beautiful, but it feels too vaporous to really connect. This isn't a issue for hotly tipped London quartet Wolf Alice, whose performance on the John Peel stage strongly suggests a band in the ascendant. On one level, you could argue that they aren't really offering anything new – their sound variously draws on grunge, shoegazing and the krautrock pulse of Neu! – but the songs really sparkle, and Ellie Rowsell is an authentically charismatic frontwoman. They go down so well that at the conclusion of their set the entire band abandons their instruments and attempts to crowdsurf, with varying degrees of success: Rowsell can't seem to clamber over the barrier at the front of the stage, and settles for hugging members of the front row instead.
Robert Plant arrives on the Pyramid stage immediately after Lana Del Rey, which makes for a striking study in contrasts. The former Lizzie Grant's songs sound dazzling, but she cuts a remote and icy figure on stage: "I hope you're having the time of your lives," she says, with all the feeling of a recorded announcement telling you that your call is important and being held in a queue. Plant, on the other hand, is a study in communicable enthusiasm, mistily reminiscing about his appearance at the Bath and Shepton Mallet Blues festival in 1969, and rolling out Led Zeppelin classics retooled to reflect his love of world music: as his guitarist inserts a lengthy flamenco interlude into Babe I'm Gonna Leave You, Plant looks on, beaming with delight, while Black Dog features an African stringed instrument in place of Jimmy Page's guitar. It works remarkably well, aided by the fact that, just shy of his 66th birthday, Plant's voice is in fantastic shape.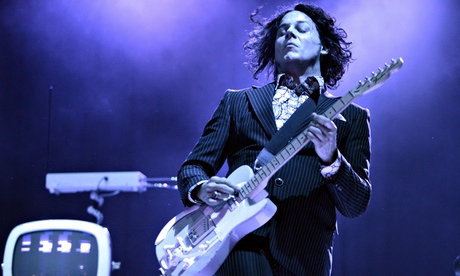 Jack White's performance is impressively unhinged: if his songs seem sprawling where the White Stripes seemed taut – underlined by a version of Hotel Yorba that comes tricked out with a lengthy fiddle solo – his band sound awesomely intense, and White himself is behaving in a compellingly peculiar manner. Unsmilingly swigging from what appears to be a bottle of champagne, he informs the crowd that he's recently been visited in his Bristol hotel room by the spirits of Elvis Presley and Abraham Lincoln – apparently he's not at liberty to divulge what they said to him – and concludes a version of Seven Nation Army by flinging himself into the drumkit, sending the cymbals flying. It's a decidedly odd prelude to Metallica, but then the start of their set is decidedly odd, too. Before they appear, there's a lengthy film of huntsmen chasing a fox soundtracked by the version of Colonel Bogey with lyrics that refer to Hitler's testicular disadvantages. At the film's climax, the huntsmen are shot by bears, who reveal themselves to be Metallica in bear costumes. Presumably this is all intended as a reference to the controversy surrounding frontman James Hetfield's love of hunting – there was an online petition calling for the band to be dropped from the festival bill in protest – although the exact point it's trying to make, and indeed what any of it has to do with Hitler only having one ball, is a bit unclear.
From then on, however, Metallica's set is plain sailing: the oft-expressed belief that the whole thing will prove an under-attended disaster – a fairly unlikely state of affairs, given that Metallica have sold 120m albums and have spent decades playing to crowds the size of the one assembled in front of the Pyramid stage – proves to be desperately wide of the mark. There's something genuinely touching about James Hetfield's impassioned speech on behalf of what he calls "the heavier side of music, shall we say" and something inarguable about his point: if Glastonbury is all-encompassing enough to feature both John Newman's slick pop-soul and a band called Jambiani, who play a dense mesh of improvised noise underpinned by traditional Korean instruments, then it's surely capable of accommodating metal. There's certainly an audience for it. Metallica seem to have brought their own supporters with them – a huge crowd of them are lined up behind the band on stage – but they're not really needed: people sing along to Fade to Black and Nothing Else Matters and go obligingly nuts when the band perform their cover of Thin Lizzy's cover of Whisky in the Jar. You can see why: they're awesomely tight and powerful. "Metallica! Glastonbury! Together at last!" Hetfield bellows triumphantly, before launching into the latter. In the audience, it feels like being present at a unique moment in Glastonbury history.
• This article was amended on 1 July 2014 to correct the spelling of Régine Chassagne's name, from Régine Chassange as an earlier version said.