It's a wet weekday night in Brussels. Blacked-out cars are criss-crossing the city as European leaders gather for what amounts to a post-election crisis summit. Nigel Farage will soon be in town, to meet the Italian comedian-turned-politician Beppe Grillo to discuss what news reports call "a potential alliance of Eurosceptic parties in the European parliament". The newspapers that litter the city's Eurostar terminal are full of angst about the pan-European triumph of parties of the populist right (and left), and another crisis for an already troubled EU.
At the 1,800-capacity Ancienne Belgique, meanwhile, something quite remarkable is afoot: five musicians, on a stage bedecked with two Welsh flags, performing a song so at odds with the political moment that it sounds like a work of consummate bravery.
Its title is Europa Geht Durch Mich (translation: Europe Passes Through Me), and it was originally titled European Miracle. The pre-recorded chorus is delivered by the German film star Nina Hoss, and much of its lyric seems to be an awestruck tribute to ideas that now seem to be fragmenting as never before: "European skies/ European desires/ European roads/ European hopes/ European sons/ European love." Only one couplet sounds a slightly more troubled note: "European dreams/ European screams."
Such are the latest creative adventures of the Manic Street Preachers, who this weekend appear at Glastonbury ahead of the release of their 12th album, Futurology. Conceived at the same time as last year's acoustic-driven, lament-laden Rewind the Film ("our most Welsh album ever," according to bassist and co-songwriter Nicky Wire), it could not be more different. Partly recorded in Berlin, its tangle of influences and touchstones includes the Russian artistic avant-garde of the early 20th century, Edvard Munch, the experimental 1970s music we now know as Krautrock, and the first four albums by those often-overlooked post-punkers and avowed Europeans, Simple Minds (more of whom in a moment).
The day after the Brussels performance, I speak to Wire for 90 minutes in his hotel room, the main feature of which is a desk methodically laid out with notes: not just the thoughts he habitually scrawls on hotel stationery, but the list of notable Belgians he read out at last night's show – from Jacques Brel to the fashion designer Raf Simons.
He traces the new album to a European tour two years ago, in support of the greatest hits collection National Treasures. "It definitely reconnected me with a lot of kind of positive artistic ideals: the idea that there are so many different languages and variable cultures in Europe, but a definite unifying, artistic, civilising feeling," he says. He also talks about an earlier epiphany circa 2010, when the Manics were travelling from Sweden to Denmark across the jaw-dropping Øresund bridge: an occasion when he had an "out of body experience", captured in the album's lead-off single Walk Me to the Bridge.
Guitarist, singer and songwriter James Dean Bradfield traces the new album's mood and subject matter to 20-plus years of experience. "I didn't go abroad until the band," he tells me. "And when you're in a band, there are two shocking things that happen to you. One is going to Japan, and the other is going to mainland Europe for the first time." (It's telling that he doesn't mention the US: though the Manics are steeped in American music, they have actually visited the States only twice.)

Reading on mobile? Click here to watch the video
"We've toured Europe since late 1991, up until the present day," he says. "And I've seen every city change beyond belief. Germany was still being rebuilt when I went there in 1992. The first time we went from Belfast to Dublin we went through the quintessential checkpoint experience. In Stockholm, the demographics have completely changed: there's a new present sitting next to the past, and it didn't feel like that when I first went there."
Europe, he says, has "an identity riven with complication, but it's unified by a certain postwar civility. There is … a mindset there."
His own belief in a European ideal, I suggest, seems as much emotional as political.
He nods. "What I'm worried about now is that it is emotional, and my desire to be anti-Eurosceptic – let's put it that way – perhaps isn't feasible. I'm worried I'm scared to take off the badge. I am worried that the evil that lurks within every bureaucracy is fully formed in the EU bureaucracy. You know, its constitution was mostly framed by a Frenchman, and French red tape is some of the worst you'll come across in the world. I'm worried that we're staring all that in the face and really questioning the nuts and bolts of it."
And is that dangerous? "It might be the death of an idea," he says. "But I don't think we're there yet."
Either way, Futurology's timing is amazing.
"Yeah," he says, with a grimace. "Or terrible."
Whichever, two things are beyond doubt. First, Futurology is probably the Manics' most accomplished work since 1996's Everything Must Go. Second, it confirms their incredible drive to reinvent themselves with every album – among their peers, a characteristic they arguably share only with Damon Albarn and PJ Harvey – and the breadth and ambition of the ideas that pulse through their music, a quality that has been theirs alone for the best part of 25 years.
"We couldn't be like Coldplay, and just carry on," says drummer and co-songwriter Sean Moore. "It has to be much more than just nice sounds and nice faces. We always confront ourselves, our audience, our peers – we're constantly questioning what we've done before and what we're going to do next. We're restless. It's part of the reason we broke out of where we came from."
For all their differences, the songs on Rewind the Film and Futurology have two things in common: a recurrent mood of self-doubt, and a smattering of guest vocalists, this time including Scritti Politti's Green Gartside, and the slightly less renowned Welsh singer Georgia Ruth. They were originally intended to make up one big album: a modern equivalent, says Wire, of the Clash's sprawling Sandinista! or the Beatles' White Album. Eventually, though, it became clear the Manics were pulling themselves in two almost diametrically opposed directions, so it was decided to separate things out.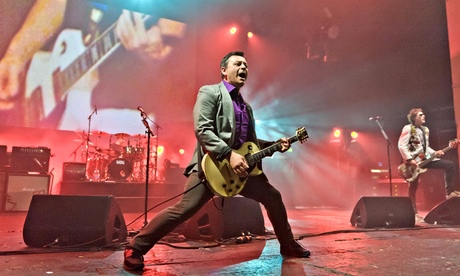 Bradfield says that once he and Moore had seen Wire's lyrics for Europa Geht Durch Mich and a new song named Black Square (in tribute to the most famous work by the Russian suprematist artist Kazimir Malevich), they jointly resolved to create music with a more electronic, non-rock ambience: Wire's chosen adjectives include "warm", "modern", "compressed" and "retro-futuristic".
In pursuit of their vision, Moore sourced ancient analogue electronic kit via eBay, and the band resolved to work in Germany. Wary of "doing the Berlin thing", they had investigated the possibilities of recording elsewhere before engineer/producer Alex Silva – who worked on 1994's The Holy Bible, and is now resident in the city, as well as being the partner of the aforementioned Nina Hoss – suggested they should stop worrying and join him at his workplace in the Hansa Studio, the facility famously associated with David Bowie.
"It's a really strange story, Berlin," says Wire. "It hasn't really come out, but I didn't go to the initial session. As we were about to go, my dad fell and broke his pelvis, so me and my brother were back and forth to hospital. Then my wife was hospitalised, and the kids had the norovirus. I basically had two weeks of cleaning up sick and shit. It was absolutely horrendous. And then when that had blown over, and I was going to go for the last few days, I got snowed in."
Moore recalls the time they spent without Wire (who ended up texting them at least one lyric) as "really odd, but very workmanlike, which seemed to fit the atmosphere of the studio: cold and empty. It was –16 outside." When they brought what they had recorded back, says Wire, "I just heard something I'd never heard before."
Running through Futurology is the influence of Bradfield's beloved Simple Minds, before they sloughed off their more experimental aspects, took to making videos next to waterfalls and feasted on straight-ahead stadium rock. Their importance to Futurology is obvious: Europa Geht Durch Mich lifts its opening line ("Europe had a language problem") from I Travel, the opening song on 1980's Empires and Dance; and Dreaming a City (Hugheskova) – an instrumental evocation of the story of John Hughes, the Welsh industrialist who founded what we know as Donetsk, that very troubled part of the modern Ukraine – is a homage to the Minds' Theme for Great Cities.
"I always wanted to make something I thought could live up to the best tracks of albums two, three and four by Simple Minds," says Bradfield, with a self-conscious laugh. "Your love of something is the hardest thing to transfer sometimes. It's like having a parent: you recognise them in you, the older you get. I just kept thinking, 'this has got to come out in the wash'. And it finally did.

Reading on mobile? Click here to watch the video
"The first Simple Minds record I heard was on the Kid Jensen Show [on Radio 1 more than 30 years ago]: I think it was Sweat in Bullet [from 1981's Sons and Fascination/Sister Feelings Call]. I thought, 'that sounds a bit like one of those German records I've got'. I started buying their records, and I bought a Simple Minds book called The Race is the Prize, and [singer] Jim Kerr was talking about travelling through Europe and the looming presence of the Baader-Meinhof gang and the Red Brigades.
"I was just drawn to all those things, and the records seemed to encapsulate them in a really abstract way. It just sank its claws into me. Then I realised they were working-class boys from Glasgow. I love the idea of Glasgow boys who could have been soccer casuals, but instead became these really inventive, slightly avant-garde musicians."
Not that long ago, the two bands crossed paths, when the Manics met Jim Kerr in the studio. "He was quite staggered by James's knowledge of live B-sides," says Wire. "He was kind of shocked that we had so much knowledge and love for them. It was a nice moment."
"Jim was like, 'What the fuck? Even I didn't know that,'" says Bradfield. "I did see the look in his eye, which I've seen with other people: 'Enough.'"
Futurology includes a song called Let's Go to War, a roar of punkish self-belief that Wire sees as the end of a piss-and-vinegar trilogy that also includes You Love Us (1992) and The Masses Against the Classes (2000). In April, it was premiered at Brixton Academy in London. Does it feel at all strange singing a song like that when all three Manics are now 45?
"There's still loads of anger and hate: that's what keeps us alive," says Moore. "When I go out there, it's always with clenched teeth."
"There's a massive dollop of dumb punkness in us," says Bradfield, "and that gets me through wanting to deliver songs like Let's Go to War. It's, 'this is what I was built for,' so I don't care that I'm 45. It's cool.'"
As evidenced by its performance at the Ancienne, every Manics show still includes Motown Junk, the de facto debut single that brimmed with late-adolescent fury, and featured the line "I laughed when Lennon got shot" (which Bradfield has long given up singing). At what point, I wonder, will playing that song feel absurd?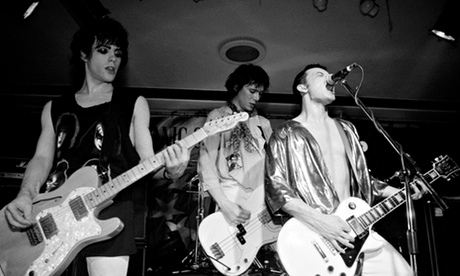 "Do you know? It's really strange: just with that one track, sometimes, I think perhaps we should finally drop it," Bradfield says. "It's almost becoming a bit of kryptonite to my soul. It's the only thing that ever makes me feel too old, that song."
Wire seems much less troubled. But could he imagine playing Motown Junk when he is, say, 52?
"I don't know. It'd be a severe test of physicality."
Not simple aesthetics?
"No. I think it's a classic rock record in the vein of what I consider classic rock." He pauses for thought. "When you see the Stones, Charlie just drums as fast and as badly as ever. Most bands really slow down, and they buck the trend. They're fucking amazing. They play Jumpin Jack Flash just as fast as they did in '68."
But isn't there something risible about that?
What Wire says next proves that even if he can talk all day about Munch, Neu!, Philip Larkin and the troubled state of Europe, he still has a gift for the great pop quote. "Is it any more risible than … Ed Sheeran?"
• Futorology is released on Columbia on 7 July. Manic Street Preachers play the Other Stage at Glastonbury at 7.30pm on 28 June. John Harris's trip to Brussels was paid for by Columbia.