John Cage's Musicircus is simply an invitation to bring together any number of groups of any kind, preferably in a large auditorium, letting them perform simultaneously anything they wish, resulting in an event lasting a few hours. There is no score, no parts, nothing specified except the concept. 'You won't hear anything: you'll hear everything,' Cage said. He was a benign anarchist who said he preferred anarchy to government (Charles Eliot Norton Lectures, 1988–9). He belongs to the American non-conformist tradition of Thoreau, in his cabin by Walden Pond, Harry Partch inventing his own instruments, or La Monte Young with extended drones in his own tuning system. After the 2012 Aldeburgh Festival in the year of Cage's centenary, a questionnaire was sent round and apparently the idea of a Musicircus put on in the Hoffman Building in every available space on 23 June got top billing. Now we have An Aldeburgh Musicircus involving the entire space of the town itself.
The first performance of Musicircus took place at the University Stock Pavilion, University of Illinois, Urbana-Champaign, on 17 November 1967. The European premiere, with Cage cited as director, was during the Journées de musique contemporaine at the Halles de Baltard, Pavillon de Paris on 27 October 1970. The British premiere was in the Great Hall, University of Birmingham, on 24 November 1972, followed by a London performance at the Round House on 17 December. My students were involved in both performances, and the director was Jocelyn Powell.
I had first met Cage in New York in 1960 and in Music and Musicians, May 1965, I wrote the first extended study of his work in any British periodical, with his approval: on 27 December 1965 he wrote: 'I think yr. article is very good. And congratulate you on it.' At that time it was necessary to discuss Cage's early music – works which have now become classics in the field of prepared piano (a dozen recordings of the Sonatas and Interludes) and percussion (Structures in Metal, also well represented on CD). If those pieces could be accepted, then some of Cage's works influenced by Zen and chance techniques after 1952 might be taken more seriously. It has not happened quite like that. Cage's silent piece, 4' 33", still gains the greatest media attention: Kyle Gann has written a whole book about it. When I interviewed Cage for my BBC Radio 3 documentary in June 1987 he confirmed that 4' 33" was his favourite piece; he said he listened to it all the time; and anything else in a concert was 'a terrible interruption'! 4' 33" was not discussed then as much as it is now when Cage's ideas have reached iconic status, increasingly in the art world. However, over-emphasis on either 4' 33" or Musicircus distorts Cage's legacy.
In May 1972, when Musicircus was planned, Cage was in London with the Merce Cunningham Dance Company and he told me:
• There should be food and drink as at a real circus: ideally all the senses should be employed
• Use the greatest possible variety of participants – church groups, children's choirs etc.
• Dancing can be included
• Since there is no score, no performing fees have to be paid
• Do not charge admission; no fees are to be paid to participants; use only people who are willing to take part
• The piece 'should be fun' – people 'should get the joyousness of the anarchic spirit'
• Don't pay any attention to the discrepancy between, say, a clavichord recital and a jazz band – at one occasion people went along and put their ears to the clavichord!
• Limit the time for a rock group because of the din, but amplification is allowed if the group normally uses it
• Musicircus is a whole evening on its own: five hours would be a 'reasonable' duration
However, after a performance at the Braun Music Center at Stanford on 29 January 1992 six months before his death, Cage conceded: 'It would be good if Musicircus lasted at least three hours.'
At the British premiere John Falding, music critic of the Birmingham Post, got Cage's message: 'By moving around, the listeners were able to become the performers, because they could exercise control over the sound they were experiencing. It was occasionally exciting, frequently interesting, and always fun, thereby fulfilling the composer's intentions exactly'.
In the 1970s, London newspapers covered more musical events than they do now. Several critics attended Musicircus and reactions were varied. Dominic Gill, in the Financial Times, found it 'more an event than a concert – a music party to relax and meet friends…but, socialising apart…it was a good, clean, unpredictable bore'. The Daily Telegraph stigmatized 'a claustrophobic fairground'. Hugo Cole, in the Guardian, enjoyed the ambience in the Round House with its visual effects and thought 'the audience seemed to get the idea, and wandered around, neither outraged nor awed, with their cheese rolls'.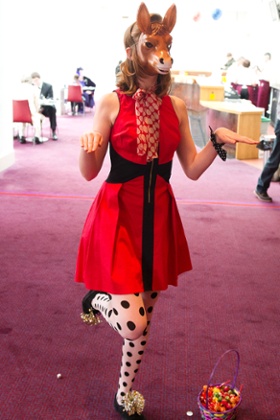 In 1980 Cage himself said he was concerned with 'resolving complexity' through the 'notion of a musicircus, of many things going on at once. You can have soft things going on at the same time as loud things and all you have to do to hear the soft things is to go closer…you can get rid of intention by multiplying intention'. At the same time as Musicircus Cage published his second book, A Year from Monday, which included the third volume of his Diary: How to Improve the World (luckily subtitled:' You will only make Matters worse') in which he stated: 'Art instead of being an object made by one person is a process set in motion by a group of people. Art's socialised. It isn't someone saying something, but people doing things, giving everyone (including those involved) the opportunity to have experiences they would not otherwise have had'.
Reprinted from the Aldeburgh Festival Programme with kind permission. ©Peter Dickinson. Peter Dickinson's CageTalk: Dialogues with and about John Cage (Boydell 2006) is now available in paperback.