Three stories, three composers, three operas in one evening: it could have been arduous. Instead, Opera Erratica's Triptych was novel, stimulating and joyful. When this small company first performed their show last month, at the Print Room in London, it created a buzz. Conscious of having missed something worthwhile, I changed plans and caught their performances last week at Wilton's Music Hall, part of this year's Spitalfields music festival. It may prove a highlight of the year.
Consisting of five singers (two mezzos, two sopranos and a baritone), Opera Erratica define themselves as creating "genre-crossing musical spectacles", from avant-garde versions of classical opera to "sci-fi rock ballets". This ambitious description promises much. Yet, via workshops, improvisation and techniques associated with physical theatre and dance, they succeeded in delivering an innovative piece of music theatre with keen production values. Erratica's founder-director Patrick Eakin Young sums up Triptych as a deconstruction of Puccini's Il trittico, a tantalising but not particularly helpful revelation. He and the playwright Orlando Wells have written the texts.
That this young ensemble, helped by the Print Room, had persuaded Gavin Turk to design his first theatre set lifts the enterprise beyond quirky fringe status. Turk, a former YBA who has always enjoyed games of authenticity and reality, has created a fake version of one of his own shows. We see a desultory table, a solid block reminiscent of his painted bronze "black plastic bag", a trompe-l'oeil door. The result is cool and effective, unifying the three contrasting pieces.
In Reunion by Christian Mason (b1984), about a postulant nun, the voices make their own kind of liturgy, with chant and incantation and non-verbal play ("Mm ah ee mm ah mm ah ee ah"). The result is sharp and confident. The second piece, A Party, is a clever comedy by Thomas Smetryns (b1977). Just as you begin to tire of the verbal farce, the action slides into beguiling music, with the assistance of some old vinyl. The last work, The Tall Office Building Artistically Considered by Christopher Mayo (b1980), maintained the evening's high standard, adding recorded sounds and including a creative visual homage to Edward Hopper's Morning Sun (1952). A theme of loneliness threads its way through each piece, but the whole is vigorous and bracing as well as often funny. Few efforts, in the name of experiment, can boast such attributes.
John Tavener, who died last year aged 69, was remembered in a two-hour memorial concert at a packed Westminster Abbey, consisting mainly but not exclusively of the composer's own music. Happy to taste the fruits of all religious faith throughout his life – from Presbyterian to Roman Catholic to Anglican to Greek Orthodox, with a late brush with Hinduism in his final years – on Wednesday his music sounded as if tailor-made for the abbey. None present, including Prince Charles, will have forgotten Tavener's Song for Athene at Princess Diana's funeral in the same ancient building.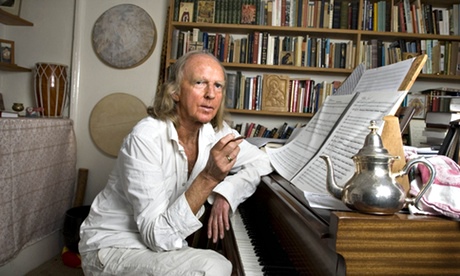 On this perfect summer's day, sun poured into the transept, where the Britten Sinfonia and conductor Stephen Layton were positioned, and the combination of candles, chandeliers and stained glass were supremely apt for a series of works based on the theme of eternal light. The service was simple, with none of the "received, sophisticated intellectual garbage" that Tavener regarded as the serpent of modern life, but the panoply of choir, clergy and Greek Orthodox priests ensured a true sense of ceremony.
Proceedings began with the ethereal, rising phrases of The Hidden Face (1996), with Andrew Watts, countertenor, and Nicholas Daniel, oboe, as soloists, and distant, muted violins and violas sounding as if transported to another place. The building filled with soaring, silvery sound. Then came the soprano Patricia Rozario, one of Tavener's constant interpreters, as soloist in Eternity's Sunrise (1997), with handbells signifying the angels and the players of the Britten Sinfonia, quite reasonably, representing heaven. Actor Simon Russell Beale, Tavener's daughter Theodora and his heart surgeon, Magdi Yacoub, gave readings.
Tavener's lifelong adoration of Mozart, whom he called "faultlessly crystalline, the most natural composer that ever lived", was represented by the Adagio in E, K261, with Thomas Gould, violin, as peerless soloist. Steven Isserlis, for whom Tavener wrote his unexpected "hit", The Protecting Veil, played the cello lament, Threnos (1990), and the choir of Westminster Abbey sang his popular The Lamb.
Nicholas Kenyon, giving the address, spoke of Tavener's ability to reconcile the divine with the earthly, the visionary with the concert hall. He spoke, too, of the composer's tussle to subsume his own worldly, drily funny, outgoing personality with the hypnotic, mystical preoccupations of his music.
At the end, the majestic four-manual, 84-stop organ (played by Daniel Cook) burst forth in music from L'Ascension by that other great visionary, Olivier Messiaen. The French composer's idea of a soul meeting its maker had a sense of terror remote from Tavener's own, more serene creations. The instrument roared and thundered as if every stone had turned into an echo chamber.
Out in the sunshine, the bells pealed for 10 minutes or more. They alone could block out the sound of striking taxi drivers pressing their horns and bringing Parliament Square to a standstill. The celestial moment was over.
Star rating (out of 5)
Triptych ****
• This article was amended on 15 June to correct the number of mezzos in Opera Erratica and the number of stops not pipes of the Westminster Abbey Organ.