In 2010, budding horror movie director Tom Berninger was 30, jobless and living with his parents. His sense of failure was compounded by his brother's fortunes: Matt, nine years his senior, is lead singer of the National, whose fifth album, High Violet, was reaping global acclaim on the way to selling a million copies. Tom had always felt as if he was living in Matt's shadow; the National's success wasn't helping.
Eager to get him back on his feet, Matt got Tom a job as assistant tour manager for the band, encouraging him to bring his video camera to shoot some footage for the National's website. Tom had hoped for some on-the-road debauchery, but soon discovered he'd got the wrong band. Tom is a heavy metal fan who, as Matt says in the film, thinks indie rock is "pretentious bullshit"; the National are all around 40 with their carousing days behind them, so Tom brought the party himself, getting wasted on his own and filming himself for kicks. After a slew of catastrophes, he was fired.
Matt, feeling guilty about hiring him for a job he wasn't up to, invited Tom to move in with him, in the hope of making something of all the footage he'd shot. It was Matt's wife, Carin, a former New Yorker fiction editor, who suggested Tom make himself the story. The result is Mistaken For Strangers, a film that joins Dig!, Anvil and Metallica: Some Kind Of Monster in a lineage of accidentally revealing band documentaries. It's a nail-biting, cringe-inducing study of self-destruction and fraternal love, a film full of emotional explosions, about how it feels when you can't seem to do anything right, and how you can find beauty in disaster. For the Berningers, it opened a can of worms that they're still trying to put a lid back on today.

Reading this on mobile? Click here to view
"I can't take it back now," Tom sighs, emotionally conflicted about the film, as he Skypes me from Matt's garage, where he still lives. "It's a strange feeling that it's out there and people see me in this light, crying and drunk. I opened myself up in some embarrassing ways. Anyone who's seen the film will know that I struggle with depression and with where I am, and it's weird to know that is going to be out there for the rest of my life."
On the other hand, Tom has taken some unlikely positives from this emotional soul-baring. "I say this as a joke but I mean it very seriously: in some ways, people know me so well with this movie, and in a way that takes a lot of pressure off me. I don't need to hide anything from girls, for instance. Not that I was hiding anything before but what you see is what you get, and if you wanna know more just watch this movie."
"That's a very unhealthy perspective to have about it," chides Matt, pulling up a seat beside him, the dynamic of the elder/younger brother relationship playing once more.
"I don't know," says Tom. "Whatever."
Having spent over a year editing the film, and now answering journalists' questions about it – and thus, about himself – I ask Tom how he's dealing with the continued self-examination. He finds the situation strange, he says, as the film presents a necessarily condensed portrayal. Matt offers his view: "I think it's a pretty accurate portrait of Tom. And me. People do know a lot about him from watching the movie. And it takes some courage to allow that to happen. I think, Tom, you think that people think you're a fuck-up. When you watch it I think you find it to be embarrassing and humiliating, which some of it is, but ultimately, people see the whole thing, and … "
"Well," cuts in Tom, "I think people in general keep things to themselves, secrets and weaknesses. I wanted to be a director. I kind of might still be, but I wanted to make horror movies, I wanted to be the next Peter Jackson or Sam Raimi, and all of a sudden overnight, having made this movie about myself, I don't think I can be that any more. I feel like people will never believe me ever again when I try to act confident."
Matt: "Why is that?"
Tom: "I don't know, that's just how I feel sometimes."
Matt: "I don't feel this movie will define you unless you let it define you."
Tom: "Well look at Mark Hamill. I'm like Luke Skywalker."
Matt: "How do you apply to Mark Hamill?"
Tom: "Everybody sees him as Luke Skywalker."
Matt: "Cos he just didn't do anything much after that?"
Tom: "I don't know. I just feel that this movie makes me look a little weaker than I wanted it to."
Matt laughs: "Tom definitely thinks he's painted himself into a corner, and I don't know why he thinks that because he's got more opportunities to do more things now than he ever had."
"That's true," says Tom, who finally agrees that his brave decision to bare all on film had other positives, too. His on-screen transparency, for instance, made Matt feel more confident about sharing the unflattering band footage. Matt has more than a couple of hissy-fits in the film, and at least one proper tantrum. But the honesty is more appealing to him than a straight documentary would have been. "The band has always dug into the awkward, less flattering sides of our brains," he says. "Romantically, socially, all the struggles it takes to be a human in the world. The movie feels like one of our songs."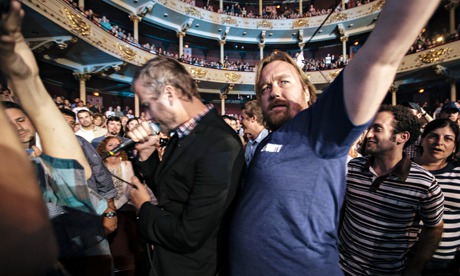 Certainly, it's these struggles and meltdowns and imperfections that make the film so resonant. Tom is a mess for much of the film, but by allowing us to observe, he offers a message of hope and solace. It brings to mind Leonard Cohen's 1992 song Anthem, which sums it all up succinctly: "Forget your perfect offering/ There is a crack in everything/ That's how the light gets in".
"I'm a huge Leonard Cohen fan and I agree," says Matt. "With our band it's always been about the little ugly things. The little insecurities and personal human flaws are the things that connect you to other people. When artists share that kind of stuff it makes you feel less alone in the world. And I think people are connecting to Tom's movie, not because it's funny to laugh at Tom, but because they see themselves in him."
"They see my huge crack," grins Tom.
"Yeah, it lets a lot of light in," says Matt. "We connect to people who show their less-than-awesome sides because we all know that we're all filled with these negative and uncool parts of our brain and heart, so when somebody else shares that it makes you feel safer in the world."
As we wind up, I thank Tom for being so open throughout our conversation, which has made the interview feel more intrusive than usual. "It's not your fault," says Matt. "Tom doesn't posture, he's always on the surface. You weren't intrusive. Stuff just falls out of Tom easily."
"I have a giant crack!" beams Tom, proudly. "Something comes out."
Mistaken For Strangers is in UK cinemas 27 Jun, with a special screening and live satellite Q&A in cinemas nationwide on Sat