This weekend, at a racetrack in Leicestershire, heavy metal celebrates itself in the annual gathering that is the genre's general synod, its party conference, its Last Night of the Proms. Download, at Donington Park, will welcome 90,000 fans to watch scores of bands, from veteran classic rockers Aerosmith to Satanic celebrators Behemoth, proggy noodlers Opeth to suburban boogiers Status Quo. Metal's broad church will worship at the place that has been the pinnacle of achievement for hard rock bands since the track hosted the first Monsters of Rock festival, headlined by Rainbow, in 1980. The genre is even stretching out – this year's Glastonbury features is first ever metal headliner, Metallica, on Saturday 28 June.
It's commonplace to pronounce that the age of the rock band is past. The current top 75 singles chart features just eight songs that might be considered, loosely, rock – and two each of those are by Kasabian, Coldplay and the boyband 5 Seconds of Summer – and although the albums chart looks healthier, with 26 of the 75 being "rock" records, 12 of those are hits packages, reissues, or old albums that have been hanging around for years.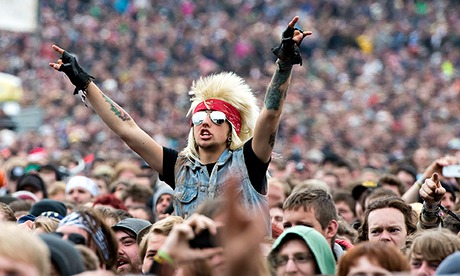 But look more closely, and the popularity of one strand of rock remains untarnished, unaffected by the whims of fashion. Over the past decade, metal's share of UK album sales has varied by no more than one percentage point, according to the Official Charts Company, from a high of 7.3% in 2006 to a low of 6.3% in 2009. Last year, it split the difference at 6.8%. In the US, Nielsen Soundscan estimates that hard rock accounted for 10.2% of album sales.
"Merchandise sales are better than they have ever been, live is better than it has ever been, and we are selling records," says Craig Jennings, the chief executive of Raw Power Management, which oversees the careers of several big, young British metal bands, including Bullet For My Valentine and Bring Me the Horizon. "On a global basis, our acts are doing better all the time. Bring Me the Horizon are doing Wembley Arena in December and they have already sold 9,000 tickets. That will be sold out soon. Our acts are getting on Radio 1, and we have got acts that are breaking out."
According to Stuart Galbraith, chief executive of Kilimanjaro Live, organisers of July's Sonisphere festival at Knebworth, metal remains in good health because its fans have a sense of community lacking among more fickle fans of other genres. "One of the reasons for working in rock is the vast loyalty of the audience, and that's engendered by the enormous sense of community," he says. "It's much more avid in its love of music, much more likely to spend money to see it live, and music is much more likely to be part of their lives and something they talk about in the pub. If you look at the social media stats on a festival such as Sonisphere, the numbers engaging us are far ahead of any other genre."
The musicians believe there are simple reasons for the enduring loyalty of their fans. "Maybe it's that metal bands are playing real instruments, talking about real things, writing their own songs," says M Shadows, the frontman of Download's Friday headliners Avenged Sevenfold. "It takes over part of their lives that is maybe missing something."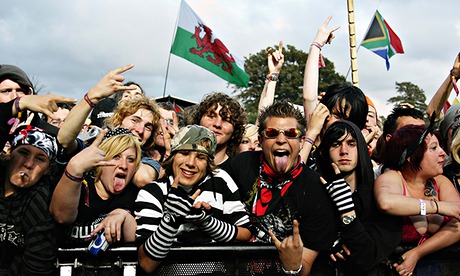 "It's to do with musicians and songwriters doing their own thing," agrees Matt Tuck, the singer of Bullet for My Valentine. "It's a very organic thing, not a bunch of singers who look pretty – you do it because you love the music; you're not being dictated to by radio or magazines telling you what they think is cool. There are a lot of metal bands who sing about real situations that happen all the time."
In the two singers' remarks lie the reasons metal is derided by many outside its core constituency: a perceived conservatism and resistance to change, and an insistence on "real" music rather than embrace of experimentation. Yet metal is actually one of the most restless of genres, with a profoundly experimental outer edge, and even big bands – such as Korn – trying out other genres, such as dubstep. Download itself has welcomed noisy dance acts such as the Prodigy – who will also play at Sonisphere – into its fold.
More pertinently, however, metal's positioning of itself in opposition to the music mainstream, and the mainstream's happy dismissal of it, helps create that crucial sense of loyalty and community among its adherents. "Our fanbase is crazy, in the best sense of the word," M Shadows says. "They really try to defend us." Jennings uses the example of the classroom: "In any class you'll find three or four kids who are passionate about rock, and they might stand out. But what happens is they find something to hold on to and have something to believe in for life. Music becomes a key part of their lives."
Like the cockroach that survives the nuclear blast, metal seems unlikely ever to disappear. It will mutate and evolve and continue to be mocked, but it will remain. And will it start listening to its critics? Jennings snorts with laughter: "I don't care what people think about our world." And nor do the 90,000 people at a Leicestershire racetrack this weekend.
Metal's share of the UK albums market (%)
2004 7.3
2005 7.0
2006 7.3
2007 6.7
2008 6.7
2009 6.3
2010 6.5
2011 6.4
2012 6.9
2013 6.8
Source: BPI market analysis of Official Charts Company data