Dan Smith is lead vocalist, songwriter and producer of four-piece rock outfit Bastille. Their debut studio album, Bad Blood, went straight to the top of the UK albums chart before going on to become the biggest-selling digital album of 2013. In February 2014, Bastille won best breakthrough act at the Brit awards, with nominations for British group, British single of the year and British album of the year. Excluding remixes and covers, Smith writes and arranges all of Bastille's music; as of February, the band have sold more than 3m records in the UK. Bastille play T in the Park on 13 July and Somerset House on 15 July.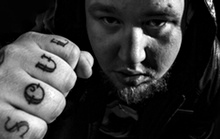 An incredible vocalist from Brighton who I think is about to be absolutely massive. He's got one of those voices that you hear and instantly fall in love with. It's gut-wrenchingly good. He was part of the UK hip-hop scene for a while, as a rapper and an MC, but he also happened to have this amazing voice and was encouraged to do a bit more singing. He's got a couple of songs online, including a track called Reuben's Train, which is his interpretation of an old blues song and it's completely a cappella, which really shows off his voice.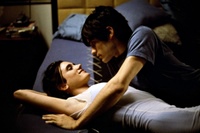 I recently rewatched this – it was the first Darren Aronofsky film I saw. I'd read the book by Hubert Selby Jr and I remember the trailer was incredibly arresting: this micro-edited, hyper-real piece. The film completely lived up to it. It's one of the most depressing, downward-spiral narratives that I've ever seen, but it's so beautifully shot. I found it completely engrossing, fascinating and disturbing at the same time. The score, performed by the Kronos Quartet, is so memorable – the second you hear it out of context you get the same feeling of dread.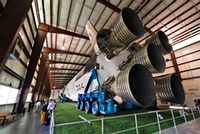 When we were on tour in America, we were invited to Nasa's visitor centre in Houston. There are quite a few space geeks in our touring crew and it was like kids at 5am on Christmas Day. Regardless of whether or not you're interested in space exploration, it's mind-blowing to see such a high-profile centre of research, a place that actually sends people into space! You get taken to the functioning control room, which is looking after people in the International Space Station, and there's also a place called Rocket Park where Apollo 18, which was never launched, sits in a big shed. It was very cool to see.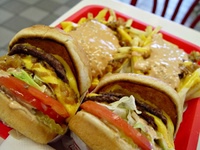 This is a weird one – it's a burger chain in California. It's very fresh and the reason that they haven't moved far afield is because they want to stay close to where they make the burger patties. The menu is limited, but the best things that you can get aren't on the menu. There's a thing called Animal Style, where they fry the burger in mustard and cover it in an amazing sauce. It's got a vintage feel to it and there's a nostalgic atmosphere about the place. Frankly, it's just the best burger you can get. I love the fact that it's like a slightly secret society in that there's so much that you can order which isn't on the menu.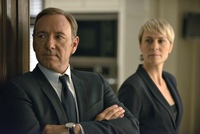 I don't watch a huge amount of TV, but there's a fair amount of downtime on the tour bus and dipping in and out of shows has been a nice alternative to reading. I think that Netflix releasing the entire first series of House of Cards in one go was an appropriately modern and accepting way of doing it. It acknowledges how people consume TV shows at the moment. The world of Washington and American politics is not hugely familiar to me so – however fictionalised it may be – it's fascinating to see into that via the very Machiavellian perspective of Kevin Spacey's character.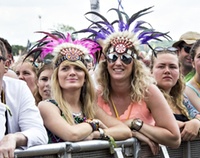 I bought my ticket to Glastonbury this year and then found I couldn't make it because we were playing at festivals in eastern Europe and Scandinavia. It goes without saying that, regardless of who's headlining, the line-up will be pretty much anyone and everyone you want to see. We recently played at Coachella and it could not be more different. Everywhere's segregated into areas where you can or can't drink; it's quite odd. It's like a polo club in the middle of the desert. Everyone is attractive and scantily clad and there's no mud – their idea of bad weather is a sandstorm. I've grown up in the mudfield pits of Reading and Glastonbury, so it was very surreal. I've never had a year at Glastonbury that hasn't been fun … I'm gutted I missed it this year.