Pixies made me forget I was dressed in a bin-liner
I wasn't expecting too much from the Pixies before their second from top slot on the Other stage. I'd seen younger, more erratic and more hyped bands (Young Bloods, Fat White Family) earlier in the day and expected something more staid and predictable. But Frank Black and the rest of the gang delivered a set that took in b-sides, bonafide hits and new material which all worked. The BBC sessions version of Hey is one of my favourite ever songs and to hear that, as the sun was trying to break through, almost made me forget the fact I'd lost my waterproof and was walking about sopping wet in a glorified bin-liner. Lanre Bakare, writer

Losing my mind at Skrillex
I went to see Skrillex out of nothing more than idle curiosity: how would a sound as unfathomable as his go down at Glastonbury? Would anyone actually be there? And would I be able to withstand it for more than a minute without having to retreat to the Healing Fields? The answer arrived after about 20 seconds when I found myself chest-bumping strangers, screaming in my colleague's ears until I was hoarse and – at one point – waving my hands up and down in awe of this strange new deity in a spaceship. With two full days of work still to go, I arrived almost completely sober, yet left feeling feral and unhinged. They say there's something "in the air" at Glastonbury, which sounds terribly new age and hippy-ish but it's true. And if that something turns you into a wide-eyed Skrillex fan who doesn't mind an impromptu piggy back with a dreadlocked stranger, then I'm down with that. Tim Jonze, writer

Climbing up a giant spider
Going up in Arcadia's Spider Stage on Friday night was my most intense moment of Glasto this year. It involved running up the extremely narrow, ladder-like "spider legs" to reach the 360 degree DJ booth as the crowd danced 30 feet below – not for the faint-hearted. Especially as while we climbed fire cannons above shot flames 50 feet in the air, music blared out the speakers and lasers dazzled the crowd (and me)! It all made for very nice pics, though! Alicia Canter, photographer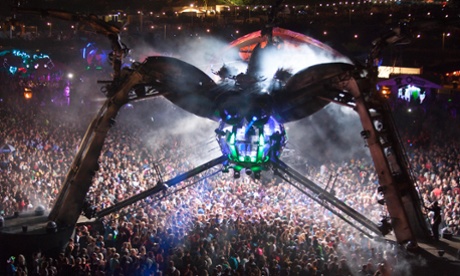 I lost everything I owned, and didn't care
By day four of Glastonbury, when I'd lost my sunglasses, phone, sweatshirt, an interviewee and sleep, it might have been fair enough to expect that my Glastonbury highlight probably should have been 'going home'. I'd upset Serge from Kasabian. Nigel Godrich didn't want to be in the Guardian. Dinos Chapman never actually came over and designed us a G2 cover. And yet, this ridiculous heaving mass of sludge and horror became the best weekend I've had all year. Highlights: the Crow's Nest, up in the faraway hilly corner of the Park stage where they were serving only tea and cake and the most indie line-up of all time; stupidly wandering the entire site for several hours of Saturday morning hunting Aphex Twin; dancing until my toe went numb. Because yeah, I'd become That Guy: my favourite Glastonbury moment was the VIBES, man. Nosheen Iqbal, writer

Discovering the Acoustic Tent (and its real ale supplies)
After nearly three decades of Glastonbury attendance, this year I finally made it up the hill to the Acoustic Tent. Almost directly across the valley from the Park Field, it hosted up close and personal sets from swamp soul original Tony Joe White and Tinariwen's time altering desert drones, to name but two. All this and the best stocked real ale bar on the whole site. They know their audience up in Norman's Close. Matt Hall, multimedia

Blondie earning themselves a new baby fanbase
Before thunderstorms and hail temporarily ground many of the festival's stage's to a halt, Blondie's afternoon performance on the Other Stage saw one of the first glimmers of proper sunshine for hours – and people cheered just for the breaking clouds. Add to that the combination of a huge crowd, cute babies with headphones and Debbie Harry's killer harness plus white-socks-with-black-sandals outfit, and you've got one of my Glastonbury 2014 high points. Tshepo Mokoena, writer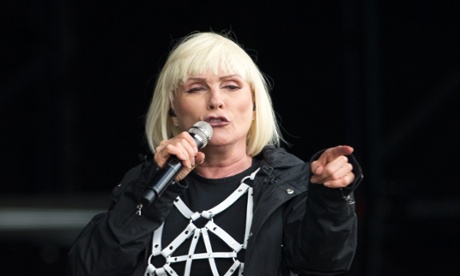 Watching from home – the best live Glastonbury experience there is?
The BBC pulled off a bit of a blinder with the iPlayer this year. Live streaming from the main stages enabled viewers to watch sets in real time – and combining it with social media meant you could see where the buzz was and flip over to see the best music. This year, the people at home didn't just have the best view and the cleanest clothes, they had the best access to genuinely live music. Another thing the BBC coverage allowed was a very direct comparison of how Arcade Fire, Metallica and Kasabian presented themselves – with the close-up, HD coverage, they were more than just son-et-lumiere blips in the distance, in fact they were distinct visual entities as well as musical ones. Arcade Fire were the carnival, a riot of colour and activity, with something to look at even of the songs weren't grabbing your attention – the man in the mirrored suit, the extras with giant false heads between the main set and the encore. Kasabian were the ones who were having a laugh, with their non-sequitur words on the giant screen behind them – "cordial", "20/20", "voucher", "canister" – and Serge Pizzorno's mystifying "wilfred" T-shirt. Metallica offered, in many ways, the most stripped-down show of all – though they had screens, they didn't have the enormous pyrotechnics and effects of their traditional stage show. Instead they had the simplest and most effective prop of all – a bank of fans at the back of the stage, suggesting they were in touch with the audience, playing with them rather than at them. Michael Hann, writer
Dancing, dancing and more dancing ...
The best moments all involved dancing, a lot. Dancing with drag queens, dancing with men in mad hats, dancing my socks off to Roni Size and Bez's Acid House Party. I think my hair might have gained some highlights at Arcadia's fire storm and a question still ringing in my head is, how on earth did I manage to not fall in the mud?! My weekend finished on a high with Massive Attack – and, of course, that meant more dancing. Karin Andreasson, picture editor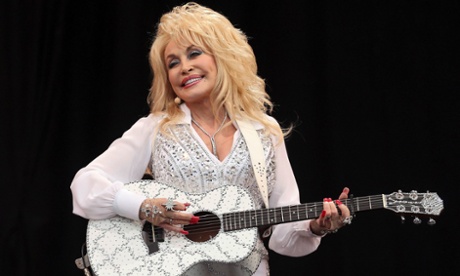 Dolly Parton living up to the hype
My highlight was Dolly Parton, who I've loved for ages but who until now I've had to pretend only to really know from that one compilation CD everyone's mum has in the car. She combines fantastic songwriting with a sharp wit (describing her family as "horny hillbillies" from the Pyramid stage). Watching her at 68, rolling through one hit after another proved she's a true entertainer – and how can you not love someone who has more rhinestones than the whole of an Argos Elizabeth Duke collection? Hannah Jane Parkinson, community

Dancing with the drag queens of NYC Downlow

It's become a bit of cliche to say this, but Thursday really is the best day of the festival: there wasn't any mud at that stage this year; the site's not yet at maximum occupancy; and of course there's no live music – so no pressure to flog yourself to a distant stage to see a band you once half-promised yourself you ought to see. Instead, it's unnervingly easy to find yourself in the south-east corner at 2am, specifically at NYC Downlow, the nightclub in the area known as Block9. In fact, last Thursday did see a bit of an event there, DJ David Morales' tribute to the late Frankie Knuckles, but by the time I'd reached the club that had long-since finished. Instead we got the drag queens (I suspect the troupe called Legs & Coq), looking beyond fabulous (I'm thinking not just of the Dolly Parton lookalikes but also the dead ringer for Marouane Fellaini), dancing to some perfect disco. If Glastonbury is about dipping a toe in something that's not necessarily your usual thing – well, this was my discovery this year. Caspar Llewellyn-Smith, writer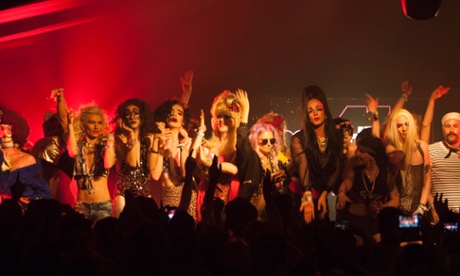 A very unexpected Glasto anthem
I didn't expect Katy Perry's Dark Horse to be the highlight of my Glastonbury, but somewhere in the middle of a very sweaty dance tent at some point in the early hours of Saturday morning, Jamie xx dropped it midway through an already mindblowing DJ set and the place exploded. I spent most of the rest of the night banging on about how that was proof that it was one of the best songs of recent times. I'm really good company at festivals, honestly. Rebecca Nicholson, writer
John Grant provides a moment of magic
For one all-too-brief hour, as the sun set over Glastonbury and John Grant took to the Park Stage on Saturday night, the unwashed festival masses were transported away from a world of mud, bruises and two day comedowns. From the opening lines of Vietnam, Grant's set was sad, funny, tortured, sarcastic and, frankly, pure bloody perfection. I had at least two life epiphanies during Where Dreams Go to Die, which contains maybe my favourite lyric of all time: "I regret the day your ugly carcass caught my eye". I took to hugging strangers for emotional support during Marz and by the time his final song, Queen of Denmark, finished, I was so overwhelmed I spent the next hour sitting in the Green Fields listening to hippies playing the accordion. Hannah Ellis-Petersen, writer