Operatically speaking, Manon is the girl who walks on stage a schoolgirl virgin heading for a nunnery and, within minutes, has hooked a lover, tasted money and thrown away her chastity belt. "I quite forgot the way to the convent," she laments – rejoices would be more accurate – in her first big aria, imagining she has wings and could fly to paradise. Paradise, here, has little in common with spiritual grace.
Four hours, five acts, countless melodies and a ballet later, she is a fallen woman and, worse, dead on the road to Le Havre. Since Massenet's Manon, like Puccini's Manon Lescaut, is based on the famous "cautionary tale" novel by Abbé Prévost, no one can say this disclosure amounts to a spoiler. We all know what happens to nubile operatic heroines.
Ermonela Jaho, singing the title role in the Royal Opera's revival of Laurent Pelly's 2010 production, offers much in terms of looks, fragility and a wide-eyed innocence which soon turns to brittle charm. The Albanian soprano won a following for her interpretation of Puccini's Suor Angelica, the title role of which suited her strengths better than the particular vocal challenges of Manon. While Jaho can race up the many flights of stairs in Chantal Thomas's handsome but puzzling sets and still sing when she gets to the top, she often lacks heft, with some uncertain intonation at times and too pale a tone.
Or so it seemed until she found her form halfway through in Act III Scene 2, when the need to share earthly pleasures – commonly known as paradise – with her priestly lover Des Grieux unleashes a far more exciting strength, as well as exquisite quiet singing. A single iron bed in the vestry rocks to their passionate embrace. No wonder the pillars of Saint-Sulpice look askew. This opéra comique was premiered on this exact day in 1884. The French Catholic revival was at its dodgy height, and there is nothing Massenet loves better than the potent cocktail of religion and sex (check out Thaïs or Hérodiade).
This brilliant scene – speaking as an admirer of Massenet rather than a natural fan – transformed a pedestrian performance in which, until that point, Pelly's insistence on sending up the story with choreographed choruses, peacock struts, skipping gestures to denote joy and manic arm thrashing to represent angst, got the upper hand. If you're going to make the ROH chorus (always excellent, by the way) wave luggage above their heads in a "suitcase-waving" song-and-dance routine, you have to give them more time to rehearse. As for accompanying Manon's Gavotte with men in silk top hats dancing a soft-shoe shuffle, Lord help us, as Des Grieux might have cried out, too late, in his hour of temptation. Fortunately the orchestra played beautifully, with clarinet and brass stylishly enjoying their limelight. Emmanuel Villaume conducted with pace as well as Gallic sensuality, which may or may not be because he's a Frenchman. (Antonio Pappano managed equally successfully in 2010 and he was born in Essex.)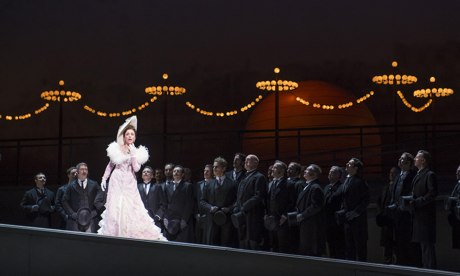 It took time for Matthew Polenzani to establish himself in that role, not helped by the odd decision to give him an overshirt and what looked like blue jeans while everyone else wore belle époque costumes. But this American tenor has a voice of steel and milk, authority and the utmost controlled gentleness: reason enough to go to this revival. He's singing the entire run, while his Manon for two performances (31 January and 4 February) is the wonderful Ailyn Pérez, also a must-hear. After the event I was told that Polenzani had been fighting a virulent bug, about which no announcement requesting indulgence was made. This made him a proper trouper as well as a star.
The London Philharmonic Orchestra opened its new year season on Wednesday with the announcement that Colombian-born Andrés Orozco-Estrada, 36, not yet well known in the UK, is the new principal guest conductor. On the same day, the orchestra – under its principal conductor, Vladimir Jurowski – gave the premiere of James MacMillan's Viola Concerto, performed by and dedicated to Lawrence Power.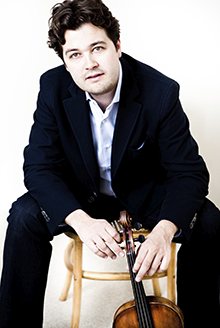 Lasting nearly 40 minutes, this inventive, three-movement piece exploits fully the lyrical qualities of the instrument, launching with a rhapsodic solo ascent and finding bold colours via some hushed string harmonics, dissonances and glissandi. Bright sounds of harp, xylophone, vibraphone and tubular bells offset some more mellow string sounds, including those from the soloist's 400-year-old instrument.
At the start, after what sounds like a backward cadence (as if singing Amen in reverse), the viola floats over a murky, indistinct orchestral layer with almost imperceptible cross-rhythms, until interrupted by a sparky oboe and cor anglais. The second movement blasts to life with a vast, noisy clatter of percussion and full orchestra, out of which the songful viola emerges.
The work, a major contribution to the repertory, is full of musical debate, not least between the solo viola and the four front-desk players of the viola and cello section, but has little in the way of show-off virtuosity for its own sake. In an unexpected gesture, the soloist finishes fractionally ahead of everyone else after some spectacular, rapid string crossing, leaving his comrades to play two final chords. Counter to its ponderous image, the viola triumphantly proves its fleet-footed ability to gallop home first. James MacMillan has said he loved writing for the instrument and its player. Lawrence Power, in turn, looked as if he adored playing it. The cheers suggested everyone was of the same mind.
Star ratings (out of 5)
Manon ***
James MacMillan's Viola Concerto ****