If honesty is one of the key qualities needed to be a talent-show judge, then you can see how Ricky Wilson got his new gig on The Voice. Settled in a comfy chair at the Groucho club, the Kaiser Chiefs singer is here to promote the show he has spent the past weeks filming, then ends up – thanks in part to a couple of glasses of red wine – spilling the beans on past mistakes he's made, the periods eating and drinking too much, and admitting that his band's lack of recent success is all down to them getting complacent.
The candidness means that the 35-year-old is at least well placed to advise budding singers on how to navigate the music industry. After all, Wilson has experienced not just the thrill of mega-success (Kaiser Chiefs' debut album Employment sold more than 2m copies) but early years of struggle and rejection, and a chastening period of diminishing returns that has seen each album sell less than its predecessor.
"Everyone wants to blame someone else for selling less records," he says in one of his more self-lacerating moments. "But it's nobody's fault but yours. It's down to you to write better songs, or deliver them in a better way."
It's hardly surprising, then, that Wilson grappled with The Voice's invitation to be a judge. He was sounded out about the job two years ago but says he "asked too many questions" and producers went with Danny O'Donoghue from the Script instead.
"At the time, I was a bit snobby about those kind of shows," he admits. "But fact is, Saturday night, I'm not out in some bar in Hoxton. I'm watching the X Factor. I don't think I'd be a very good songwriter if I couldn't enjoy things that 99% of the UK enjoys."
When the chance came up again, Wilson's band still "weren't 100% comfortable with it", yet the singer felt it could be useful to promote their new album, Education, Education, Education & War. He liked the idea of being the first "indie" star – with all the attendant baggage around credibility and "selling out" – on a talent show.
"It's a game-changer, isn't it?" he says. "If I was the second person ever to have done it, I'd probably have said no."
It seems a smart decision. Wilson has always had more of an affinity with light entertainment than his peers – he's hosted Never Mind the Buzzcocks and shows on 6Music. Meeting fellow judges – will.i.am, Kylie and Tom Jones – seems to have acted as a wake-up call, making him realise how little he'd been working compared with them. There were times, he says, when they'd regroup after a relentless day and he'd have a moan about how tough it was.
"Tom Jones would look at me and say," – he adopts a comedy Welsh accent – "'You've just got to get on with it though, haven't you?'" Wilson shakes his head. "It made me remember the early days when we were making things happen every day. Then you get a bit of success and you take the foot of the gas."
Wilson admits that the show involves him "sending people home; people who can sing much better than I can". Despite worrying he would become a "professional dream smasher", he soon learned not to fret about the rejections he was doling out.
"The kids on it are pretty savvy," he says. "They're not going: 'Oh my God, I got sent home.' They're using it because it gets them on TV. And actually, my own negative responses from trying to make it in the music industry were a bit more crushing than theirs, simply because they were so non-eventful. Our failures would involve some guy coming up to Leeds to listen to our material, we'd get fucked in a pub together, he'd stay at the Malmaison and then he'd go home and never call us. At least getting on TV means more people might come to your gig."
When Wilson first joined the show he was a little starstruck: will.i.am didn't seem to know who he was, and it took some crude doodling to break the ice with Tom Jones ("I've yet to meet a man who won't laugh at a picture of cock and balls"). As for his proteges, he wondered what on earth they could possibly learn from him. Yet it came more naturally than he thought: "I realised that I've met a lot of people and worked with great producers, so I've absorbed a lot of that by accident. And I've got loads of stories. Only yesterday Fairytale of New York came on in a taxi and I said to my girlfriend: 'Did I ever tell you about the time Shane MacGowan came into our dressing room and smoked crack through an apple?'"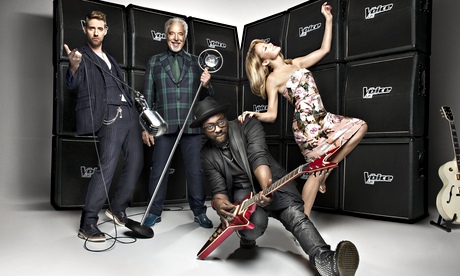 The well-trodden criticism thrown at shows like The Voice and X Factor are whether they uncover anything much beyond technical brilliance and a certain blandness. How, for example, would someone like Shane McGowan get along? What would he say if Mark E Smith entered?
"At the end of the day," he says, "the show is called The Voice and they're looking for a really good voice. There are other shows Mark E Smith would be good on rather than this. Like Come Dine With Me. He'd be fucking brilliant at that!"
When Kaiser Chiefs first emerged they were one of the more infectious bands you'd meet. I covered much of their early rise for the NME and, unlike their peers who tried to act blase, the Kaisers were never able to hide how much they enjoyed success. A lack of "cool" suited their sound: smart and silly pop songs such as I Predict a Riot and Everyday I Love You Less and Less that stomped around in the vein of Madness and Country House-era Blur.
Being ashamed to declare your ambition is something Wilson never got his head around."If I was American it would be a quality to be championed," he reasons. "But for indie bands, it's not cool to want it. It's like at award ceremonies – you'll be there with these indie bands looking miserable and pretending to not want to be there. But if you don't want to be there – don't go! Don't pretend you're not happy when you're having the night of your life!"
Yet with time, even he became jaded. I recall a moment after their hometown show, at Elland Road stadium in Leeds in 2008. They'd invited their favourite bands to support them and played to a packed crowd wearing Kaiser Chiefs scarfs and stetson hats – most of them had turned up at midday and were making the bar staff earn their keep. Yet immediately after leaving the stage, Wilson was glum and fixated on why his band didn't get the critical respect of the Arctic Monkeys.
"Was I?" he asks, momentarily surprised, before admitting: "Well, I probably was unhappy if I'm honest. I was drinking too much, eating too much and maybe I had lost the passion. I achieved everything I wanted quite quickly. And didn't really want anything else. But now I do."
Back in 2005, Wilson joked that he would "wank off a tramp" for success, and that quote was taken as an example of how desperate and pervasive the fame-at-all-costs attitude, fostered by shows like the X Factor, had become. When I ask Wilson if he remembers the quote, he groans before I've even had a chance to repeat it: "Yes! And I knew this would come up! But people took it seriously and ..." He laughs, then says: "It's funny that people would think there could ever be a situation where that would be the option, you know? They don't have a line-up of tramps in Universal music you can wank off for instant success. And it's not as if I was roaming the streets looking for tramps to wank off! I just wanted to give an example of how I would do anything not to lose the success we'd had at that point."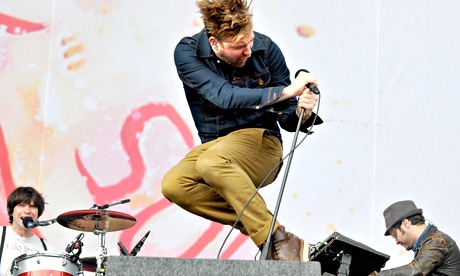 He winces at the memory of opening a copy of the book Is It Just Me Or Is Everything Shit? and seeing his quote there as an example of all that is wrong with the modern world. But he doesn't regret it. "It was a good quote," he says. "It was funny and honest." And slightly American. Although they call them bums over there. I wanked off a bum? Oh god, I'm digging myself a hole here!"
At first I wondered if Wilson's decision to join the Voice was the result of him jumping ship from a struggling band to a lucrative new TV career, but he insists it's the opposite.
"This isn't bullshit," he says, "but everything is about the band. It's the most important thing in my life." For the first time since the group's debut album they seem to have a point to prove: namely, that they can survive the exit of their drummer (and principal songwriter) Nick Hodgson, whose departure in late 2012 has left scars.
Wilson says they are "both far happier now" but the pair have clearly got some way to go before they're friends again; Wilson was hurt when Hodgson gave a radio interview claiming he had written 100% of Kaiser Chiefs music. ("They all started with him, but big parts of the songs were by us.") And when Wilson told Hodgson of the band's plans to carry on without him, Hodgson apparently just laughed.
Wilson's efforts to be diplomatic are challenged by that second glass of wine. "He said he was finishing the band. Not leaving, finishing. 'The band's over.' And at first we all just went along with it."
When I suggest that carrying on without Hodgson – for all his songwriting contributions – seems feasible because he was never the focal point of that band, Wilson laughs: "I'm not sure he sees it like that! Did you see how high his drum riser used to be? Our roadies used to call us Riser Chiefs."
But rather than stew in bitterness, Hodgson's departure seems to have focused the band in much the same way as getting dropped in their early days (in their incarnation as Parva) did. Any anger has been channelled into a new record that has a point to prove. "And, to be honest, I was more angry at myself for having not pulled my weight, for getting lazy," says Wilson. "Somewhere along the way we lost that anger. So basically, he did me a massive favour."
Wilson is far trimmer now – a result, he says, of running 10 miles every single morning – and seems in a positive frame of mind. He's clearly enjoying The Voice for more than the promotional opportunity: only the other day he was casually showing the builders in his house a Christmas card from Kylie. Then there's the band's new album – funded largely by another uncomfortable decision: to appear in a Barclaycard advert. It's full of anthemic singalongs and sweet ballads, proving that Hodgson's departure hasn't deprived the group of their pop nous. Whether the music fits with current fashion remains to be seen.
Because after all this, what if it flopped? "I think my new philosophy is to not worry about it," says Wilson. "Because at the end of the day there's no point."
It's the first time in the interview where you suspect he's not telling the truth.
• The Voice, Saturday, 7pm, BBC1