Several years ago, for the 20th anniversary of acid house and Britain's "second summer of love", I interviewed some of the main players of those early days for the Observer Music Monthly magazine. It was a brief oral history, weaving together snippets from the main DJs, promoters and original ravers. "No one's really told the story of acid house like this," Haçienda DJ Mike Pickering told me. When the 25th anniversary came around, it felt like the right time to speak to those people and others to pull together all their stories, many of which had never been told, for a book. I interviewed more than 80 people, from DJs such as Sasha, Paul Oakenfold and Andrew Weatherall, musicians such as Boy George and 808 State, to promoters, ravers, dealers and police. Everyone had a slightly different take on proceedings, depending on where their initiation came. Each had experienced their own epiphany. "That's why acid house spread so quickly," DJ Terry Farley told me. "Whenever it hit a new town, the first people in that town felt like they had the best secret ever. But it was a very evangelical secret, so they had this desperate itch to tell everyone and spread the word."
"It's the closest thing to mass organised zombie-dom," frowned BBC Radio 1 DJ Peter Powell, when acid house first arrived. "I really don't think it should go any further."
Powell couldn't have been more mistaken. The acid house revolution that started in basements and warehouses has gone much further than even the most evangelical early devotees could have imagined. The music originally came from Chicago (the term "house music" comes from Chicago club the Warehouse) defined by the squelching sound of the Roland TB-303, but remained an underground music in the US at first.
In the mid-80s, the UK embraced acid house, together with the new drug, ecstasy, with gusto. A new scene grew up around it that changed the social and cultural habits of a generation. It was the biggest youth revolution since the 60s and, as with the mods and rockers before, fell victim to what sociologist Stanley Cohen called "moral panic" in his landmark 1972 study, Folk Devils and Moral Panics. As the media sensationalised the dangers of acid house and ecstasy, the movement became a challenge to authority, prompting parliament to pass new laws aimed at curbing the revolution and the police to establish a unit dedicated to stopping unlicensed parties. A movement that had been pro-hedonism rather than anti-authority became political by default.
Before acid house, nightclubs in Britain were mostly depressing places where revellers went to get drunk and perhaps meet someone of the opposite sex or fight someone of the same sex. Acid house, aided by the introduction of ecstasy, turned nightclubs back into what they were supposed to be all along: a place to dance.
1 Nude, The Haçienda, Manchester, 1986-91
Opened by Factory Records on 21 May 1982 and inspired by New York clubs such as Danceteria and Paradise Garage, the Haçienda's name was taken from Ivan Chtcheglov's situationist text, "Formulary for a New Urbanism": "You'll never see the haçienda, it doesn't exist. The haçienda must be built." But Factory hadn't stopped to consider who it must be built for. In 1982, Manc scallies and students in raincoats weren't quite ready for a New York discotheque. "There wasn't anyone in the Haçi for the first five years; it was dead," remembers Happy Mondays' Shaun Ryder. "But it always felt like an important place where you knew things could happen."
When acid house arrived, Factory's vision finally made sense. "A misconception of the Haçienda is that house exploded there in 1988," says DJ Greg Wilson, "but Mike Pickering had been playing house at Nude since 1986, alongside hip-hop and street soul – it was a black music night and had quite a black crowd. To their credit, The Haçienda really believed in their approach and stuck with it, and it eventually paid dividends."
The arrival of ecstasy completed the equation. "The summer of 1987 is when everything changed," remembers Ryder. "When life suddenly went from black and white to Technicolor. When we first got the E."
"At first, there were only about 15 of us at it, in our corner," remembers Ryder's friend Eric Barker, "going bananas, dancing very weirdly, completely differently to everyone else, especially Bez. I'd always danced, but never with my hands in the air. Who did dance with their arms in the air before ecstasy? No one in Manchester. But when the E arrived, all of a sudden you felt your hands rising up in the air. You couldn't help it."
Pickering saw it all from his vantage point in the DJ booth above the dancefloor: "It was like a tidal wave across the club from their alcove. Suddenly everyone was on ecstasy. I could stop a record and put my hands in the air, and the place would erupt."Ecstasy also affected what people wore. "It's quite endearing looking back now," says DJ Dave Haslam. "but no one knew how to dress. People were thinking, 'Do we wear shoes or trainers with this music? Do I wear a T-shirt?' In early 1988, there were still people coming to the Haçienda in suits with shoulder pads, then all of a sudden they were in dungarees." Nude was the Haçienda's pioneering night, and was followed in the summer of 1988 by the insane Hot, with Pickering joined in the DJ booth by Jon DaSilva and a swimming pool installed on the dancefloor.
Key tracks Adonis – No Way Back (on key Chicago label Trax); T-Coy – Carino (T-Coy was Mike Pickering and Simon Topping, and Carino is widely recognised as the first British house record); A Guy Called Gerald – Voodoo Ray.
Who was there New Order, Shaun Ryder, Gerald Simpson (A Guy Called Gerald), 808 State, Kermit (Ruthless Rap Assassins/Black Grape), Foot Patrol, Sasha, Justin Robertson.
2 Shoom, Southwark, London, 1988-91
In Ibiza in the summer of 1987 celebrating Paul Oakenfold's 24th birthday, Johnny Walker, Danny Rampling, Nicky Holloway and Oakenfold himself had a collective epiphany at Amnesia, hearing Balearic DJ legend Alfredo under the influence of ecstasy. They came back determined to recreate what they had experienced in their own style. Oakenfold started playing house at his Project club, then started Future, then Spectrum at Richard Branson's club Heaven. Rampling and his wife, Jenni, started Shoom, in a fitness centre in Southwark, now close to Tate Modern, but then a cultural desert.
Shoom was the first club to adopt the smiley logo that would become synonymous with acid house. For many, it was also the first club in London to present acid house as a full package. "I remember walking into Shoom for the first time," says regular Timna Rose. "I walked down the steps and the energy and buzz were overwhelming. I turned to my boyfriend and said, 'This is what I've been waiting for all my life.'"
Shoom was where many new devotees took ecstasy for the first time. "I'd never seen anything like Shoom – completely open drug-taking," says fanzine Boy's Own's Steven Hall.
"Shoom was definitely more spiritual than the other clubs that came along later," explains DJ Terry Farley. "Some of those early Shoomers were almost like disciples of Danny's. I remember one girl telling me she could see his aura while he was DJing, and, do you know, to a certain extent maybe you could."
Shoom had such a profound effect on its regulars that many of them soon either lost their jobs or created new ones, so they could fully embrace their new life. "Jenni had to print an open letter in the fanzine asking people not to give up their jobs, because so many of them were," remembers Richard Norris of acid house group the Grid.
Key tracks Elkin & Nelson – Jibaro; the Night Writers – Let the Music (Use You); Bang the Party – Release Your Body.
Who was there Andrew Weatherall, Carl Cox, Mark Moore, Boy George, ballet dancer Michael Clark, Robert Elms, Gary Crowley, Patsy Kensit, Keith Allen.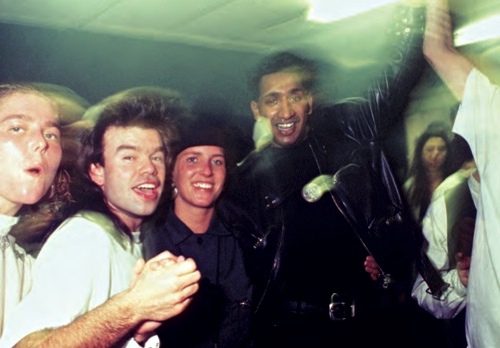 3 The Trip, The Astoria, London, May-July 1988
In May 1988, both i-D and the Face ran features on the emerging acid house scene, serendipitous timing for Nicky Holloway, who had just decided to open his first house night, the Trip at the Astoria on Tottenham Court Road. "I wasn't sure I could fill the Astoria at first," remembers Holloway. "I'd filled it for one-off Special Branch events [Holloway's rare groove and hip-hop event], but wasn't sure I could fill it for house music. But by the time we opened we had 600 people queueing."
Noel and Maurice Watson had already tried to convert the Astoria to house music with their night Delirium, but had been too ahead of their time. The Haçienda's Mike Pickering, booed off at the same venue six months earlier for playing acid house, couldn't believe the transformation when he played the Trip's opening night. "This time the crowd were all in bandanas and smiley T-shirts, trance dancing. I probably played 70-80% of the same records I'd played six months previously and they went mental, as if they'd always loved this music. Bloody cockneys... always late to the party!"
At the end of the night, ravers would pour out and continue partying in the streets outside. "We used to play Sympathy for the Devil as the last record, so people would be dancing in the fountains that used to be at the bottom of Centrepoint, going, 'Woo-woo, woo-woo!' laughs Holloway. "The police would just stand there confused and laughing; they didn't have a clue what was going on. They thought it was funny because they could see no one was hurting anyone." The Trip lasted only 10 weeks, but its legacy is much bigger than that. "I still get people saying, 'I met my wife at the Trip'; 'It changed my life'," says Holloway. "I remember standing in the club at its peak and thinking, 'It is never going to get better than this.' And it never did really, not for me."
Key tracks Marshall Jefferson – The House Music Anthem; the Rolling Stones – Sympathy for the Devil.
Who was there Rocky and Diesel (X-Press 2), Fabio (Radio 1), Andrew Weatherall, Terry Farley.
4 Blackburn raves, Lancashire, 1988-90
The Blackburn raves were started by a collective including Tony Creft and Tommy Smith and exploded in 1989. The first few were smaller events for friends, but as their reputation grew they began to attract people from Manchester, Leeds, Liverpool and further afield. Cars of clubbers would descend on the Lancashire town. "Traffic was converging from all over," remembers Drew Hemment, who DJ'd at the later raves. "It was beyond the rule of law, beyond anything."
"I caught the last 10 or 12 parties," remembers Sasha, who went on to became Britain's first superstar DJ. "Most of the fun of the night was the chase, trying to find the warehouse while evading the police. I was still very wet behind the ears then. Dave Beer [founder of Leeds club Back to Basics] has a video from Blackburn and I'm stood behind the DJ. He later realised it was me, staring at the DJ with this look that says, 'I fucking want that job!'"
Granada TV show Up Front, hosted by Tony Wilson and Lucy Meacock, held a debate between disgruntled Blackburn residents and ravers. When drugs were raised, Tommy Smith protested: "I don't need drugs, I'm high on hope!" The phrase "high on hope" entered the clubbers' lexicon and was widely used to market club nights.
Manchester acid house group Together met at a Blackburn rave and later recorded the crowd noise for their track Hardcore Uproar. "Just after we finished recording," remembers Suddi Raval, "police raided it and started beating people." The last large Blackburn rave was 10,000-strong at Nelson [near Burnley] in 1990, again raided by police. "It started to get heavy. A police car was turned over, another one was torched," says Hemment. "At 7am the police marched in, banging their shields. Some of the crowd managed to get the back door open and people poured out, but the police were out back taking swipes at them." Hardcore Uproar was an underground hit for months before making the charts and putting Together on Top of the Pops in the summer of 1990. Sasha's old friend Piers Sanderson has made a documentary about Blackburn called High on Hope.
Key tracks 808 State – Pacific State; Together – Hardcore Uproar.
Who was there 808 State, Together, Sasha, the Chemical Brothers.
In August 1988, Tony Colston-Hayter hosted one of the first big commercial warehouse raves at Wembley Studios in London, under the name Apocalypse Now, which for many was acid house's tipping point. It took the blueprint of pioneering parties such as Westworld and Hedonism and added a commercial ambition that polarised opinion in the scene, not least because Colston-Hayter let ITN film the event, the first time news cameras had been let into a rave. Some evangelical early acid house devotees, especially those from Shoom and Spectrum, thought this new breed of promoters were diluting what they held so dear. "That's when it exploded," says Mark Moore of S'Express. "They told everyone they'd invited film crews down and Jenni Rampling [DJ Danny Rampling's wife] was saying, 'Do not be part of this.' But I went anyway. When the programme went out, it wasn't showing what a wonderful scene it was; it was shock-horror coverage like, 'Your children are all on drugs!' That's when it changed and all the shock tabloid headlines came out. It was a wonderful, beautiful period before that, but it was inevitable: there was no way we were going to be able to keep a lid on this thing."
"I didn't go to any of those big raves," says Andrew Weatherall. "They just seemed too commercial. But when I see footage, sometimes I wish I hadn't been quite so purist because some of them look great. What really strikes me is how multi-racial they were."
Colston-Hayter was dubbed "the acid house king" and "acid's Mr Big" by the press. He changed the name of his events to Sunrise, hired a young PR man called Paul Staines (now the political blogger Guido Fawkes) and was bullish about making rave commercial: "Maggie should be proud of us: we're a product of enterprise culture." Following hard on the heels of Apocalypse Now were a new breed of huge, often outdoor raves, including Sunrise, Biology, Genesis and many others, including those around the new M25 London orbital motorway, from which the band Orbital took their name. Jarvis Cocker would later describe one in Pulp's Sorted for Es and Wizz: "Oh, is this the way they say the future's meant to feel? Or just 20,000 people standing in a field."
Today, underground dance culture remains vibrant, but mainstream sanitised EDM is closer to the world of Apocalypse Now than that of Shoom or Blackburn. Colston-Hayter meanwhile, pleaded guilty last month to the theft of £1.3m from Barclays by hacking into bank computers.
Key tracks Rhythim is Rhythim – Strings of Life; Royal House – Can You Party?.
Who was there Mark Moore, Mr C, ITN, "acid teds".