Alexis Petridis
I've often said that it ill behoves a rock critic to complain about their job, lest someone make the not-unreasonable suggestion that they go and do something useful for a living instead, but I confess I wasn't terribly thrilled by the prospect of going to review Miley Cyrus live. None of her songs had cut through the mass of processed pop in the way that Carly Rae Jepsen's Call Me Maybe or Taylor Swift's Shake It Off did. I'd seen enough pictures of her sticking her tongue out to last me a lifetime, and every stadium pop show I've attended that came pre-publicised as a shocking affront to public morals was ghastly beyond belief: I saw Britney Spears on her "racy" Onyx Hotel tour, but after extensive help from a therapist dealing in post-traumatic stress, I was able to lead a more-or-less normal life.
I can't remember at exactly what point in Miley Cyrus's show I stopped feeling cynical and just started gawping. When she sang a ballad while being pursued around the stage, for reasons unexplained, by a giant fluorescent orange ostrich? When she entered the stage sliding down a huge model of her own tongue? When she kept addressing the audience as "you bunch of fucking sluts"? When a member of Alt-J, whom I'd bumped into the queue, texted me "this is making this song more interesting, isn't it?" as Cyrus cavorted around onscreen to the strains of Alt-J's Fitzpleasure with a bunch of roses sticking out of her bum? The whole show was just so determinedly, relentlessly, gleefully vulgar and ridiculous – like being trapped inside one of Ralph Steadman's nightmarish cartoons of Las Vegas seen through a fog of drugs – that it was impossible not to be entertained, even as you were struggling to work out whether or not she was trying to make a satirical point about the crassness of a life spent almost entirely in the entertainment industry, a world in which photo agencies once offered $150,000 to any snapper who could pap the 15-year-old Cyrus kissing a boy.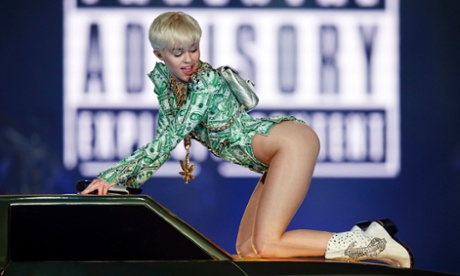 Or perhaps she was just trying to rub the nose of anyone who wished she'd stayed a wholesome Disney princess in it as hard as she possibly could. Either way, it was overwhelming and engaging: deeply unsexy, authentically weird, powered by a kind of screw-you spirit that's in such short supply in rock and pop music these days that encountering it felt genuinely striking: bizarrely, the other time I've felt it this year was watching Fat White Family. The show was also very funny, and Miley Cyrus appeared to be in on the joke. When a former tween star goes wildly off-message, the natural reaction is paint them as a kind of hopelessly damaged and confused figure who doesn't really know what they're doing, but – at least from where I was sitting – Cyrus appeared to be very much in charge. Somewhere at the heart of all this wilfully grossed-out spectacle was someone with real talent, and not just to annoy. At one point she sang an acoustic version of, of all things, Bob Dylan's You're Gonna Make Me Lonesome When You Go – at other gigs, she apparently covered the Smiths' There Is A Light That Never Goes Out – and sounded fantastic. The fact that there's a certain kind of person for whom the notion of Miley Cyrus covering Bob Dylan or the Smiths while wearing a sequin-covered leotard is evidence that civilisation was we know it is doomed just made it more piquant. I don't think I've ever enjoyed an arena-sized pop show more.

• Read Alexis Petridis's review of Miley Cyrus's Bangerz tour

Michael Hann
My two favourite live performers of 2014 both took old forms and did something new with them. One kept the lyrical content of the blues pretty much the same, but twisted the music into thrilling new shapes; one presented pre-Beatles rock'n'roll but paired it with themes that Jerry Lee Lewis and Little Richard would have found unrecognisable. The former was Robert Plant, whose Glastonbury performance was exciting enough even on TV, but whose two autumn shows at the Roundhouse in London were astounding. He's blessed with a fabulous band, the Sensational Shape Shifters, and a sense of musical adventure that should be enough to shame most of his juniors. Nor is he afraid of his past: the smattering of Led Zeppelin songs in the sets were sometimes rendered in new ways – Black Dog and Rock and Roll – or kept true at the core, but taken off in different directions at the margins: the way a mournful intro of blues howling and solo guitar gave way to the city-flattening riff of Whole Lotta Love was astounding – it was the perfect balance of delayed gratification and pay-off. You might expect someone who's been playing live shows for the best part of 50 years to know how to present a performance, but Plant really was something special.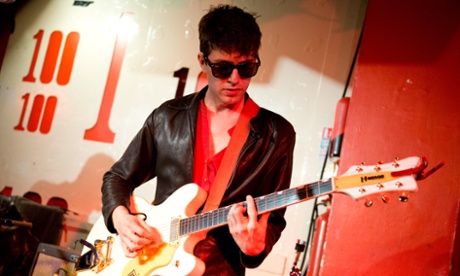 The other act was the young Chicagoan Ezra Furman, whom I saw three times during the course of the year, the performance getting more frenetic and manic each time. His band the Boy-Friends can perfectly carry off the swaggering roll of early rock, but it's his writing and performing that transforms the show: a sometimes coy, sometimes desperate boy in a red dress singing about his Jewish faith, his fears, his horror at the state of the world, his desire to be true. What's most compelling about something that looks, on the surface, as if it must be a construction, is that it feels absolutely true. You can hear a dozen different things in his music, but what he most reminded me of was Jonathan Richman: stripping himself bare and forcing the audience to deal with the fact that being honest isn't comfortable at first, but something that yields the deepest rewards.
Honourable mentions, too, for shows by Spoon (Oslo, London); my perennial favourites the Hold Steady (multiple shows); the Amazing Snakeheads (the first time I saw them, in Derry, was astounding); Young Fathers at the Visions festival in east London, whose sternness was, curiously, exactly the right thing on a hot summer's day; and Hall & Oates at Latitude – the teenage me would have hated them, but the middle-aged me thought they were fantastic. I'll also put in a word for the cleverest piece of stagecraft I saw all year, which didn't even involve anyone being on stage: the 1975 prefacing their entrance at the Royal Albert Hall with a 20-minute build-up that involved the house lights dimming so slowly one barely noticed until it was actually dark, while an electronic hum over the PA gradually built and built from silence to roar. Very clever, very artful and very effective.

• Read our review of Ezra Furman live in Edinburgh

Harriet Gibsone
Damon Albarn, Skrillex and Morrissey; three men you wouldn't want to get stuck in a lift with, but sharing the same orbit as them in the midst of a vast capacity venue or field? Almost always excellent. This year's live highlights were not ones of great subtlety, I must admit: the first, at Latitude festival, was during Damon Albarn's headline set, which came to its climax during Tender. Joined by Graham Coxon and a celestial choir, Mother Nature provided pyrotechnics more impressive than Coldplay, Rammstein and Muse's lighting budget put together. The hymnal music soundtracking the storm triggered an electric feel, as if it were the apocalypse – an atmosphere I experienced only weeks before while stuck in a field 200 miles west of Latitude's Suffolk site.
Skrillex's alien invasion heralded the end of days at 2014's Glastonbury. As his spaceship landed on the Other Stage with a hurricane of EDM and lasers, his turbo dubstep sent everyone in the vicinity into the kind of frenzy I'd not witnessed since someone snuck a bottle of vodka into my Year 9 disco. Before that, I'd always thought the "festival moment" was a BBC construct formulated by Zane Lowe or Jo Whiley and dished out from the safety of the decking that overlooks the sweat soaked, febrile crowds. Thanks to these two sets, however, I think I came as close to these evangelical moments as is possible.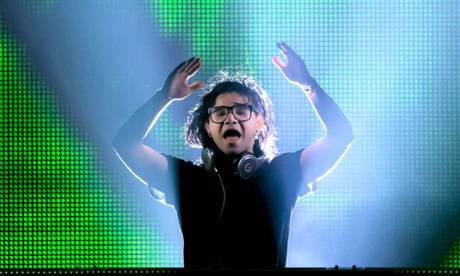 Meanwhile, back on solid ground, Morrissey's show at the O2 proved to be particularly poignant. There may have been video footage of battery chickens and slaughtered bull fighters, but a more nuanced sense of theatrics made its impact when the singer, said to be recovering from cancer, quoted a line from When I Am Laid in Earth from the opera Dido and Aeneas by Henry Purcell: "Remember me, but forget my fate." Moan all you like about his endless inclination to provoke, but when Morrissey makes a statement, Morrissey means it – and in this instance, it was a heartbreakingly prophetic moment.

• Read our review of Latitude
Tim Jonze
With Taylor Swift, I realised something was up when I got off the tube at North Greenwich. Namely, that I had to look down to waist-height see most of my fellow fans, or look up to read the placards – We <3 You Taylor! – they had made to wave along at the show. And my ears! The tinnitus has yet to fade from the frenzied screaming inside the O2 – and that was just for Taylor's mum doing a circuit of the venue before the show. I've been to plenty of pop gigs, but here the devotion – displayed through cat ears, bowler hats and polka dot blouses – felt somehow stronger, and driven by a bond of friendship rather than simple idol worship. Certainly Swift's set was based around making this link as strong as possible, with chat about getting over heartbreak, or how to tackle bullies – all told with the aid of confetti cannons.
With the Red Bull Culture Clash, I realised something was up when I got off the tube at Earls Court. Namely, that it was impossible to breathe without getting passively stoned and that the people who live on Warwick Road probably hadn't prepared for their front gardens to be turned into impromptu street parties (it almost certainly wasn't like this during the Daily Mail Ideal Home Show a few weeks later). Inside, the scenes were even more pumped-up. As you walked through the deserted food and drink area you could see in the distance a 20,000 person-strong moshpit, all moving as one, from the front to the very back. It was mesmerising and oddly terrifying – some sprawling, infinite scene of rave carnage. It wasn't even 7pm yet. With a stage in each corner, the likes of A$AP Mob, Boy Better Know, Stone Love and Rebel Sound (comprising David Rodigan, Shy FX, Chase and Status) battled it out over air horns, rewinds and guest MCs, before Rebel Sound were declared the winners (measured by audience volume) and a completely drained, shirtless crowd disappeared into the night almost as quickly as they'd arrived.
Two enormo-gigs, then, as different they could possibly be, but both propelled by the most unhinged fan reactions I've witnessed in years.

• Read our review of Taylor Swift's Red tour
Jenny Stevens
Few people could claim to have united the rainbow of humanity that descends on Worthy Farm each year in quite the same way as Dolly Parton did this summer. The festival's newspaper, the Glastonbury Free Press, summed up the fervent expectation for her arrival with its front-page splash: "Good golly it's Dolly: The headline we've waited 44 years to write." Her Sunday afternoon slot was perfection in showwomanship. A vaudeville spectacle of absurd gags (she played the Benny Hill theme on a rhinestone saxophone not once, but twice), impeccably timed "Amen!"s and bawdy vignettes. She worked the crowd with vigour, bookending tender moments with emancipatory declarations, like Jolene's sage endnote: "Something good can come from anything. If that Jolene hadn't been around I never would have written that song … or made all that money." In many ways, it was the simplicity of it all: a rare moment of mass communion. 9 to 5 was spectacular for no other reason than the humble pleasure of standing in a field, with 200,000 other people, singing in unison about sticking it to the boss.
Another highlight was Courtney Love playing a tiny cafe in Hackney. Around 50 people squished up next to cake stands and a coffee machine as she stood on a bar and shrieked in our faces with that rancorous growl that embodies teenage tumult at its most primal. Musically, it was terrible. She was backed on guitar by Micko Larkin (of Larrikin Love demi-fame) because she can barely play anymore. Years of hard living make it tricky for her to reach the high notes. But that was small matter; we shouted out the hits we wanted to hear – Malibu, Northern Star, Doll Parts, and she sang them back at us with cathartic ferocity. For all the circus around her life, something miraculously pure and true lives on in these Hole songs.
Special mentions also go to Damon Albarn for his startlingly tender show at Queen Mary's University campus in Stepney, east London, Cat Power for one of the most starkly beautiful shows I have ever seen at the Brighton Dome. And I can't forget the brilliant Merchandise at Islington Assembly Hall and Jamie T's triumphant return at Reading festival.

• Read our Courtney Love interview
Dave Simpson
My favourite gigs of 2014 were triumphs of showmanship that could hardly have been more different. After starting to think I'd never ever get to see Prince, I saw him three times in the space of a few weeks and each gig was completely different. At Manchester's moderately intimate Academy, he donned a Sly Stone–style panama hat for a tremendous three-hour marathon that saw him operating almost like an old-fashioned bandleader, "conducting" his jamming musicians and even the audience, some of whom he coaxed on stage. If his spectacularly lit Manchester Arena show was a more conventional but jaw-dropping arena triumph, his performance at the new Leeds Arena somehow felt both vast and very personal. The setlist contained so many hits he turned it into a joke ("How many hits? Too many hits!"), but he brilliantly changed the mood when he returned alone to play a stream of less often heard, sublimely soulful songs alone at the piano with the house lights up. With live music often so predictable that most encores are written down on the setlist, the idea that such a superstar could apparently conceive shows virtually on the hoof felt spontaneous and thrilling.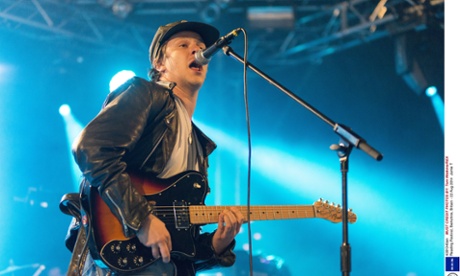 I wasn't expecting showmanship at Slint's summer gig at Leeds Brudenell, but by draping the venue name backdrop in black and playing under subdued light, the American band created the perfect, slightly eerie environment to experience their live recreation of their classic album, Spiderland. These were men in their 40s, but able to instantly tap into the teenage trauma and confusion that sparked that legendary 1991 album.
Honourable mentions, too, for the chaotically brilliant Fat White Family/Amazing Snakeheads double header at Liverpool Sound City; Jamie T's riotous comeback at the city's Kazimier; Janelle Monáe (Birmingham, where she covered Prince and was carried horizontally by the audience); and Johnny Marr in a field at Deer Shed festival, where the stars twinkled appropriately to the chimes of There Is A Light That Never Goes Out.

• Read the story of the making of Slint's masterpiece, Spiderland

Ben Beaumont-Thomas
Like many people I was wowed by Kate Bush's astonishing piece of musical theatre this year, a complex interplay of puppetry, hydraulics, soap opera and tree surgery. And yet my most intense live musical experience this year was from someone just pressing play. Juiced up on a cocktail of Polish lager, Club Mate, frozen vodka and – brilliantly – the roast dinner that the Unsound festival lays on in a Soviet-era hotel that forms its nightclub, I bimbled in to see Sophie. He's a producer that's gained notice over the last couple of years as part of PC Music, a label who spin the sugar of J-pop into oddly sculpted clouds of candy floss. What followed next was an indeterminate amount of utter kawaii euphoria, like being hosed with emojis while blowdried kittens sport around one's ankles. PC Music hit collided into PC Music hit, reaching a climax with Sophie's collaborative track Hey QT, which sent me into a babbling fugue state: my shirt turned many shades deeper as I began cartoonishly vogueing, some of it airborne.

Later, with a pancreas-wringing cringe, I was told many people were filming me on their phones. But never mind: this transcendence is what the end point for live music should be. Sophie played with an active disregard for slick mixing, no discernible EQing, or anything to suggest that any kind of "live" artistry was being applied, and it was sensational. It was the kind of "press play" performance deployed by EDM artists, and huffed at by serious music fans – and indeed, more than half the crowd was sternly immobile. But that snobbery is misguided. Expertise is too often conflated with craft, and certain timbres are still anointed above others, with Sophie's chimes just too shiny to be taken seriously by some. This is maddening – you'll never star-jump to anything if you think like this. My love for his punkishly basic performance isn't anti-intellectual, far from it; the craft of DJing is inspiring, and plenty of "press play" sets are lazy and banal. But sometimes – particularly with music this maximal – just playing something very loudly is all that's needed. The road to abandon doesn't matter, only that you end up there.
Paul MacInnes
It takes a lot to beat an intimate Prince gig on Valentine's night for sheer musical phwooar: my year's live highlight was catching the teeny tiny love god at London's Kings Place on 14 February. The show was superlative; an acoustic set that morphed into a fully electrified freak-out and never once took its foot off the pedal. Highlights were Raspberry Beret, U Got the Look and an instrumental cover of Roxy Music's More Than This. More than that, it was on a stage so small and so close you could study each movement of the artist's dextrous fingers. Everyone there knew they were seeing something special and they lost their inhibition creating that communal experience that sets great live music apart.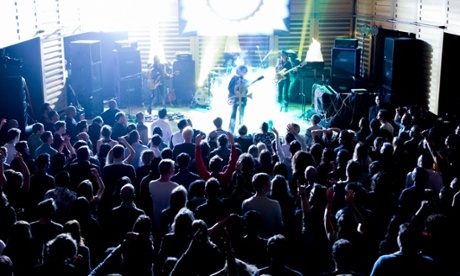 There was a similar rush of collective euphoria during Theo Parrish's show at the Barbican. In fact, It might even have been a greater one. The second-wave Detroit techno producer had turned bandleader for a two-off (he played Manchester as well) live reinterpretation of his back catalogue. Again the group was tight – frequent collaborator Amp Fiddler was on keys while acclaimed jazz drummer Myele Manzana wielded the sticks – and it was accompanied by a crew of street dancers of fascinatingly varied body shapes. All were put to the task of generating a playful, spontaneous atmosphere and succeeded so well that, with just a couple of brief invitations to get up, absolutely everyone in the grand hall left their seats in something close to a wave. They never sat down again.
Other moments I really enjoyed this year included a furious hour with punk jazz (jazz punk?) outfit Melt Yourself Down in the tiny Crows Nest stage at the top of a Glastonbury hill; Fatima al-Qadiri playing a set of globalised dance music in an Athens car park during the Plissken festival; Pusha T enlivening an otherwise perfunctory PA in Peckham with his charming menace (menacing charm?); and the spectacular synthesis of Sinkane and his live jazz/funk/R&B jam band in Hackney.

• Read our review of Prince's first UK show this year
Rebecca Nicholson
When you move to a new city, you tend to make a bit more effort than you would with the old one. You're entering into a new romance, so you behave accordingly. In London I'd sit around in my flat in trackie bottoms watching MasterChef; in New York, I planned day trips and shaved my legs in winter. I went to more gigs – or "shows", as they say – than I had in years. I saw Tinashe perform with arena-scale precision in the tiny backroom of Brooklyn's Rough Trade store and she earned my eternal respect for bringing two backing dancers and an industrial wind machine with her, for an audience of maybe 200 people at most. Wild Beasts, whom I've seen many bewitching times, pulled a new one on me and played a meaty rock show at the Music Hall of Williamsburg for an audience that seemed to be mainly made up of rowdy frat boys, and it was wonderful. I saw Lorde play at the Roseland Ballroom before it was shuttered for good, I saw Bombay Bicycle Club beguile the Webster Hall.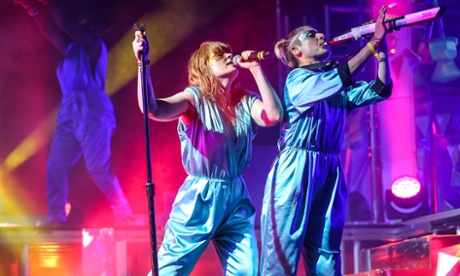 But it was over on the west coast that I saw the show I loved the most: not Outkast, headlining Coachella with a "will this do" ennui, but the Knife, sending off a beautiful career in the final few months of their Shaking the Habitual tour. It was bright and brash and made the entire audience, including P Diddy and Cassie, getting down in front of us, lose their shit. Unforgettable.

• Read our review of Outkast at Coachella
Dorian Lynskey
An inevitable consequence of getting older is that many of the shows I enjoy are by veterans, often performing classic albums in full. Kate Bush, Underworld, the Manic Street Preachers and the Jesus and Mary Chain all delivered potent shots of nostalgia and resurgent excitement this year but that's no surprise. So it was invigorating to watch John Grant conclude his epic Pale Green Ghosts tour at London's Royal Festival Hall and witness an artist at the peak of his powers. Accompanied by the Royal Northern Sinfonia, he elevated his bruised and barbed drama to astonishing heights. A snatch of Rachmaninov's Prelude in C-sharp minor introduced the rumbling night-drive synthesisers of Pale Green Ghosts. The explosive chorus of Queen of Denmark sounded like a giant coughing up bile. Glacier, about a life scarred and shaped by homophobia, was almost too beautiful to bear.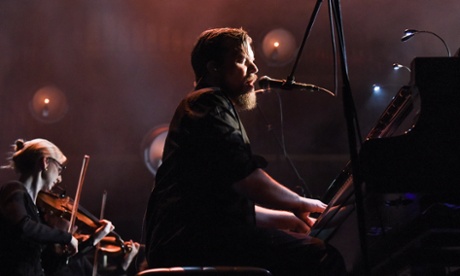 Close up, Grant's tonal balancing act looked almost miraculous. His sense of humour, like his voice, was warm but streaked with darkness, marking the perfect intersection of old-fashioned showman and bloodletting confessional singer-songwriter. The scale of the music ennobled the hideously painful emotions explored in his songs while his sharp asides and wrongfooting rhymes defused any threat of gooey grandiosity. The audience was as spellbound as any I've seen. Afterwards, my wife said she couldn't imagine ever seeing a performance that good again. When I checked social media later, there wasn't a whisper of dissent, not a single person who didn't feel that they had experienced something utterly remarkable.

• Read our review of John Grant with the Northern Sinfonia

Lanre Bakare
I saw Dean Blunt for the first time last year at the Tufnell Park Dome on a night that featured support from Martin Creed's post-punk band and loads of dry ice. A part of me dismissed it as a ridiculous bit of provocative art, which was just as much about shocking an audience and seeing how much strobe abuse they could take before it became all a bit too much, like some sort of rehashed version of Throbbing Gristle or Whitehouse. But I saw him again at the Corsica Studios this year, ahead of the release of his Black Metal album and as part of the Hyperdub 10th birthday celebrations. Seeing him a second time, the emperor's-new-clothes doubt was completely washed away. Yes, the live show is as much (if not) more about the theatrics (blinding amounts of dry ice, retina-burning strobes, a huge muscle-bound minder standing side stage) than the music but that's part of the allure. He probably won't ever play an acoustic gig – although he's done art exhibitions and theatre work so ruling anything out isn't too smart – but the appeal is in the fact he puts the effort in to create something that's so different to your average gig.
Pixies at Glastonbury was brilliant as well. I'd prepared myself to hate every minute of it before skulking off chuntering about how their new stuff is crap, but they were utterly engaging. There was a kind of Pavlovian reaction among my group of friends as they rattled through songs that had meant so much years before. It didn't even matter that it was chucking it down and I was wearing a bin bag for a coat.
Other acts that impressed this year were Earl Sweatshirt, who turned the Brixton Electric into a slamdancing bear pit; Sun Ra Arkestra at close quarters in Ronnie Scott's led expertly by the cantakerous Marshall Allen; and Yung Lean's wanton arm swinging daft rap in Islington.

• Read our review of Dean Blunt