Yung Lenox is a Seattle artist who specializes in drawing psychedelic portraits of rappers and their album artwork. Younger than most Yungs or Lils in hip-hop – he's only eight – Lenox already has had three gallery shows, and sold more than 1,000 prints. He started at age five, with his father Skip championing him.
Skip, Lenox's dad who loves albums such as Raekwon's Only Built 4 Cuban Linx and Ghostface Killah's Supreme Clientele, facilitates his third-grader's career. Lenox's work has appeared at Frieze in New York.

Lenox's oeuvre tends toward classic and critically-loved artists, and his works, drawn with marker, succeed as hazy, softer reinterpretations of classic hip-hop images.
Lenox has inspired many people, including a pair of filmmakers who made him the subject of a yet-unreleased documentary that's currently the basis of a Kickstarter project. Rappers Kool Keith and Cam'ron were among those filmed when they met Lenox; Skip says they were already aware of his work and appreciated his fandom and style. "Cam asked him questions, and he asked Cam questions as well," Skip says. "Because he's a dad, I think, he was really comfortable with Lenox." I talked to Lenox about his five favorite rappers he's drawn.
Kool Keith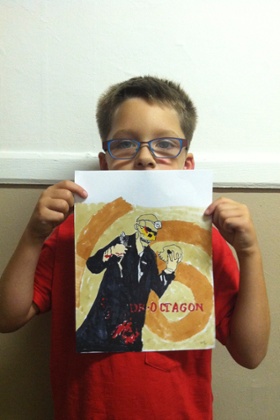 Lenox: He's my number one.
Ben: Why?
Lenox: I like him because he always has some weird space music, and my drawing of him is just your normal, average type, so I didn't have to do much. It's him as a doctor with a black lab coat, skull mask, he has tools and he's working on a skull, doing some stuff to it.
Ben: Do you like his lyrics?
Lenox: Yeah.
Ben: What do you like about them?
Lenox: He's just a funny guy, I guess?
Action Bronson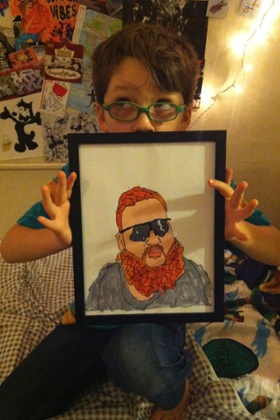 Lenox: I like my drawing of him because when I met him, he said, "The drawing looks more handsome than I do." He's really easy to draw, because it's just a head, a beard and some shoulders.
Ben: Do you think he sounds like Ghostface?
Lenox: Sort of.
Ben: Do you like it when he raps about food?
Lenox: Yeah.
Lil Boosie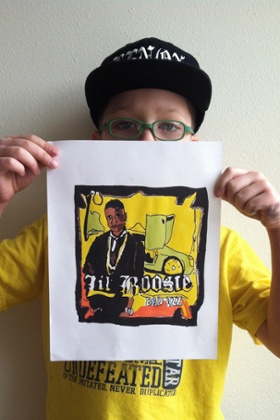 Lenox: We haven't met him, but the drawing looks really cool because it's all yellow, pretty much. His music I like, but I don't have a reason.
Ben: Did you hear he was in prison?
Lenox: Yeah.
Ben: Did you ever use the hashtag #FreeBoosie?
Lenox: I don't know.
Ben: Do you know what a hashtag is?
Lenox: Not really.
Cam'ron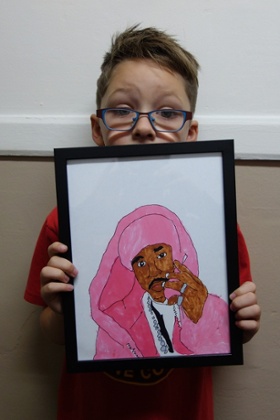 Lenox: His drawing was simple … ish. We've only met him once. And he did not look like the drawing. He doesn't wear a lot of pink and purple in real life, just in the photos.
Lenox's Dad: Did you think he was going to come down the stairs in pink and purple?
Lenox: Yeah, what else would I think?
Ben: What about his music?
Lenox: Good. Sideways thumb.
Lenox's Dad: That's his rating system, which I guess is a C+? You sure that's what you want to give him?
Lenox: Fine, 7 out of 10.
Raekwon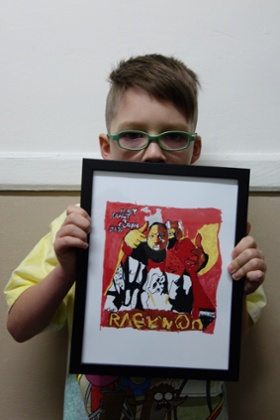 Lenox: The drawing was easy, so I liked the drawing part. Now Rae is one of our friends, technically, because we see him a lot.
Ben: When he comes through Seattle?
Lenox: Yeah.
Lenox's Dad: They've hung out twice.
Ben: What did you think of him in person?
Lenox: Cool.
Ben: What about his music?
Lenox: We haven't listened to it much, but it's ok.
Lenox's Dad: What are you talking about? It's on all the time.
Lenox: Don't listen to him, he's a liar.