One snowy night in January 1969, the singer Willy Mitchell was shot in the head in Maniwaki, Quebec, because of Christmas decorations. Mitchell was a 15-year-old Canadian schoolboy of Algonquin and Mohawk heritage, living on the Kitigan Zibi reserve, who had recently formed a rock band called Northern Lights. "We were loud," he says, laughing. "If we'd stuck together we'd have been the next Nirvana!" That night, he was flyposting to promote their first gig when he bumped into some friends who had stolen some Christmas lights from a neighbour's tree. They handed him the lights just as a police car pulled up and an armed officer stepped out. Mitchell was running for cover when the bullet struck him. "It was kids stealing lightbulbs, not a bank job," he says, the old anger bubbling up. "I was running away and he shot me in the back."
While recovering in hospital, Mitchell wrote a song about his experience, Big Police Man. He later won a feeble settlement of $3,000 – just $500 after legal fees and travel costs. He spent it on a white Fender Telecaster Thinline, just like the one Johnny Cash's guitarist played, which he still uses today.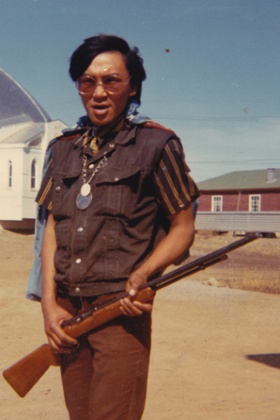 Mitchell is among the artists featured on Native North America (Vol 1), a new Light in the Attic compilation of songs by musicians from the indigenous peoples of Canada and the northern US. The album's power stems from the convergence of familiar influences (Beatles, Stones, Dylan, especially Neil Young) with the traditions, languages and lyrical concerns of the Inuit, Métis and First Nations peoples. Apart from Buffy Sainte-Marie, the Saskatchewan-born, US-raised Cree singer who became a 1960s folk star, this strand of North American music has been almost entirely forgotten.
Bringing it to light was a Herculean task for Vancouver-based DJ and compiler Kevin Howes. He began collecting these records 15 years ago, rummaging through record stores, private libraries, dilapidated warehouses and neglected corners of radio station archives in order to find artists who were "off the grid".
"The thing that I found appalling and shocking was there was no information available," he says. "I'd find a record somewhere and Google the artist and I was shooting blanks. I had to go straight to the source to ask for context and the stories behind the music."
Many of the records he discovered were never made available for sale but pressed in limited quantities for local radio airplay or as soundtracks for educational documentaries. The Canadian music industry was still finding its feet, which is why Neil Young and Joni Mitchell went south, and it was even harder to catch a break if you had to overcome racism and geographical isolation.
At the time, Canadian indigenous culture was emerging from a long, cruel winter of repression, just as in the US a new Native American consciousness was emerging in protest songs (Johnny Cash's The Ballad of Ira Hayes), books (Dee Brown's Bury My Heart at Wounded Knee) and activist groups (the American Indian Movement). "Indigenous people were marginalised," Howes says. "A lot of things had been suppressed and banned through colonialism, like powwows and sweat lodges and certain expressions. They were just starting to be re-established."
One especially pernicious form of cultural persecution was the residential school system, a network of church-run boarding schools established in the late 19th century to turn indigenous children into English- speaking Christians — to "take the Indian out of the child". The singer Willie Thrasher, the youngest of 21 children, spent his first five years as an Inuvialuk (an Inuit from the Canadian Arctic region), hunting caribou and kayaking for whales. On his first day at residential school he had his hair cut so roughly that his ears bled. Pupils who spoke their native language or practised non-Christian faiths were beaten. "The Willie Thrasher that I knew then was taken away," he says quietly. "My whole life changed completely."
He took refuge behind the drumkit in the school gym and later formed a band called the Cordells: "We were the best rock'n'roll band in the Northwest Territories." But it took a post-gig encounter with a scholarly old white man who never gave his name to persuade him to explore his buried heritage, leading to songs such as Old Man Carver and Inuit Chant.
"He opened my heart," says Thrasher. "I started finding out who I really was inside, who my dad was, who my mom was, how precious we were at one time. The missionaries had wiped this right out of my mind. They had tried to eliminate everything and that old man brought it back."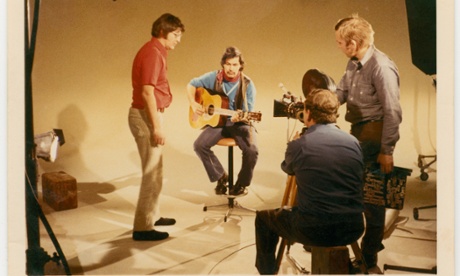 The most influential American aboriginal artist of the period was Willie Dunn, a prolific Métis poet, singer, film-maker and activist who resembles Johnny Cash on 1971's quietly righteous I Pity the Country. Howes remembers seeing Dunn's award-winning documentary short The Ballad of Crowfoot as a schoolboy. "You watch that and you're just blown away," he says. "You can't believe the history that you're learning about the country that you're raised in. These artists were astute social commentators speaking from experience and reaching out to their people. This music has shaken me to the core."
Some of the songs on Native North America, including Thrasher's We Got to Take You Higher, are joyous celebrations of indigenous culture; some are love songs; others, such as Mitchell's Call of the Moose and Lloyd Cheechoo's Winds of Change, are vehement protest songs. There was a great deal to protest.
The poet and polymath Duke Redbird, who recorded 1975's mesmerising Silver River with singer-songwriter Shingoose, says mainstream Canadian culture denied indigenous people power and rights while appropriating and romanticising their heritage. "It was a curious anomaly," he says pointedly. "The dominant culture wanted to embrace the things that we represented but they didn't want to engage with us. I wanted to represent the First Nations view to the world because we had come out of very difficult times. I had gone through quite a brutal childhood at the hands of western European culture and I wanted to speak to that."
Redbird, who now works with schools to "decolonise" the curriculum, performed on the coffeehouse folk circuit and once lived in the same Toronto apartment building as Joni Mitchell. "I knew she was a very special person because she had that creative aura around her," he says. "I met her before her career took off and we remained friends for all these years."
Like most indigenous performers, Redbird was "underground not on purpose". Snubbed by mainstream radio, these artists crossed paths at folk clubs, Native Friendship Centres and festivals. Sometimes official institutions stepped in – the Canadian Broadcasting Corporation commissioned Thrasher to record his debut album, 1981's Spirit Child. "It was a very exciting time," he says. "I remember holding the LP was a big dream of my life. Then it slowly faded away like the sunset because there was so much competition from all over. It was the hardest ice to break. We broke it a little bit."
Indigenous culture has come a long way since then. "Non-native people are more educated now about our culture, that's for sure. Everyone sees it," says Willy Mitchell. I ask him how he feels about white people adopting headdresses as novelty festival wear. "Some of them are ignorant but some of them have taste," he says. "At least there's no warpaint."
Canada's last residential school closed in 1996. In 2008, prime minister Stephen Harper issued an official apology and established the Indian Residential Schools Truth and Reconciliation Commission to investigate accounts of deaths, disappearances, sexual abuse, forced labour and compulsory sterilisation. "At last someone apologised for all the things that we went through," says Thrasher. "It was like a little light in my heart."
Native North America has surprised and delighted musicians who thought they would never be rediscovered. "To be chosen like this is like winning an award," says Mitchell. Light in the Attic is planning a second volume, covering music exclusively from below the 49th parallel, and a Willie Dunn compilation. Howes believes he is giving these "trailblazers" recognition that's long overdue.
"We were a ragtag group of native minstrels, going around the country and spreading the word," says Duke Redbird. "The seeds were planted then and they're coming to harvest now. I'm really, really pleased."
Five gems from Light in the Attic that reconfigure the past
Matt Sullivan and Josh Wright set up Light in the Attic in Seattle in 2002 in order to champion "classic and timeless" records that hadn't yet received the attention they deserved. Beautifully packaged and deeply researched, each release feels like it's righting an historical wrong. Here are five of the best.
Karen Dalton: In My Own Time (2006) Oklahoma's Karen Dalton had a lot of admirers on the Greenwich Village folk scene, including Tim Hardin, Fred Neil and Bob Dylan, who called her "my favourite singer in the place". But stage fright and alcoholism held her back and she faded from view, eventually dying from Aids-related illness in 1993. Before the Light in the Attic reissues, fans such as Devendra Banhart and Nick Cave ("she is my absolute favourite female blues singer") had to dig deep for her albums. This disc of powerful cover versions, recorded in Woodstock in 1971, showcases the devastating voice of a folk Billie Holiday.
Rodriguez: Cold Fact/Coming From Reality (2008) The Oscar-winning 2012 documentary Searching for Sugar Man made Detroit singer-songwriter Sixto Rodriguez a quasi-celebrity, explaining how the two compassionate psychedelic folk albums he recorded at the dawn of the 70s made him an enigmatic cult hero in apartheid South Africa, and thus sparking an unexpected comeback. Light in the Attic had already set that revival in motion by releasing these two albums in 2008.
Jim Sullivan: UFO (2010) In March 1975, LA scenester Jim Sullivan vanished without trace in New Mexico, leaving behind his car and all his possessions. His 1969 debut of lush, ambitious folk-rock, featuring legendary session musicians the Wrecking Crew, had gone nowhere, his marriage was over and he was seeking a new life in Nashville but he never arrived and the police found no leads. Despite diligent cross-country detective work, LITA's Matt Sullivan never solved the mystery either but he did introduce the painfully rare UFO to a new generation of listeners.
Various Artists: Our Lives Are Shaped By What We Love: Motown's Mowest Story 1971-1973 (2011) Motown's West Coast offshoot Mowest, part of the label's try-anything expansionist phase, survived for just a couple of hitless years before being quietly put to sleep. For years it was remembered only by cratedigging DJs: the northern soul scene belatedly made Frankie and the Valli's The Night a UK Top 10 hit. Mowest's identity was a mess and its strike-rate was poor but Light in the Attic's Kevin Howes skimmed off the cream of its sun-kissed folk-funk and giddy Aquarian soul on an essential compilation that includes Odyssey, Syreeta, Thelma Houston and the Commodores.
Lewis: L'Amour (2014) A flea-market discovery triggered a long search for the man who arrived at a Los Angeles studio in 1983 in a white Mercedes convertible, recorded this gorgeously opaque album, and then disappeared. The music, suggestive of Arthur Russell or Nick Drake with synthesisers, is soft and spectral, full of inscrutable longing. Light in the Attic identified Lewis as one Randall Wulff but couldn't locate him until publicity around the reissue led to a meeting in Canada. The still-mysterious Wulff smiled politely and refused to accept royalties.