Kate Bush, you notice, is barefoot. It is rather wonderful that she has taken her shoes off and thrown them in the lake for us, as per the lyrics of The Hounds of Love. Bush performs the song flawlessly and with obvious pleasure, just a few minutes into the second night of her 22-date comeback run.
At 56, she could easily have matured into some theatrical grand dame shod in high heels and accessorised with self-satisfaction. She could have returned to the cultural fray for an almighty ego-rub. As it is, there are signs of luvviness – Bush gushes her thanks to the former RSC director Adrian Noble for his work on the production – but you are never in any doubt that she remains a questing artist, fabulously unconventional in her concerns. On night two, the celeb profile has changed slightly. It's David Walliams and Jeanette Winterson rather than Lily Allen. If Bush felt any nerves the first time on stage in 35 years the previous evening, tonight she is the perfect host. It's funny how little mystique there is to this most reclusive of artists, now perkily announcing the interval.
Like so much of the set list of Before the Dawn – the title of Bush's sold-out production, in place of her name above the venue doors – The Hounds of Love sounds exactly like it used to. That's both comforting and intriguing. Occasionally there are tiny musical deviations in her songs, none more significant than her five backing singers, including Bush's teenage son Bertie, really barking the hounds' "ooh ooh oohs". It's cute but it's also salient, because utterances outside human language (and distorted communications) are themes taken up again later on. Birds talk, and an astronomer receives a broken distress call that he can't convincingly relay to the coast guard. The drowning Kate's words, too, are mangled by vocal effects on Waking the Witch.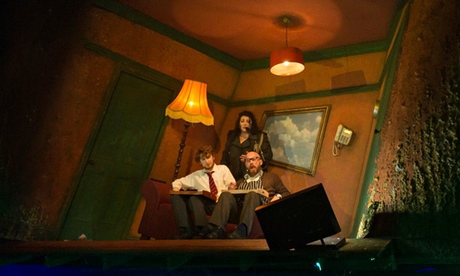 Other than the woofers and what sound like a few more tweeters in Aerial's birdsong passages, there has been precious little messing with Bush's music at all. Her energies have gone into staging the visuals that tell the stories of two song-suites, The Ninth Wave (about a woman lost at sea, and the horror of being parted from loved ones), from the 1985 album The Hounds of Love, and A Sky of Honey, the second half of 2005's Aerial (about the play of light in midsummer). At one point there are 20-odd people on stage. Subtle rearrangements can suit a voice that's lost its elasticity. That stage management is not needed here. At the end of three hours of untrammelled theatricality punctuated by skits (written by novelist David Mitchell), what is truly thrilling about Kate Bush's comeback is how little her voice – or her essence – have changed. Perhaps Cloudbusting doesn't swoop as giddily as it once did, but by this point Bush's voice has purred, discomfited, flowed like the "sea of honey" she hymns, and rung clear like the church bells she samples. She has sung about love and shipwrecks and watching paint dry, about ecstasy and humdrum niceness. "What a lovely afternoon," she trills Englishly on Prologue.
Anyone craving Babooshka might well balk at the lengthy staging of A Sky of Honey. The action centres on a wooden artist's dummy, this production's only serious misstep. The rising moons and soaring bird visuals, by contrast, are like the best BBC nature documentary, only in higher definition, recalling Björk's obsession with natural sciences. (Björk is rumoured to have been in the audience the previous night.)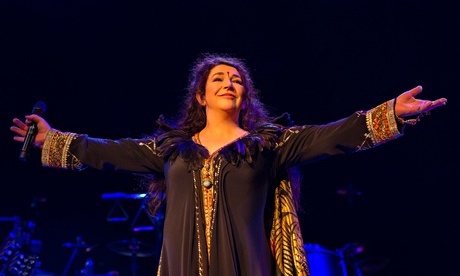 Bush abandoned the stage in 1979 due to stage fright, so it's fitting that the whole performance begins with an occult incantation of protection – Lily, from The Red Shoes. If all those angels fail, the muscle of Joan of Arc is on hand two songs later in Joanni. As the night unfurls, and the gig section is superseded by theatre, it's obvious that Bush doesn't really need to ward off disaster.
This is an emphatically rehearsed production which draws heavily on moving scenery, startling stagecraft – a "helicopter" strafes the crowd in a botched rescue attempt during The Ninth Wave – and surprisingly scary costumes. Fish People is the handle of Bush's website and record label, and the fish skeletons that populate the drowning dream sequences of The Ninth Wave are the stuff of gothic nightmares. Media are mixed. Infamously, Bush was filmed earlier at Pinewood Studios singing in a tank of water, buoyed by a blinking life vest, for this act. On the video she looks less like Ophelia, and colder and wearier than you might expect.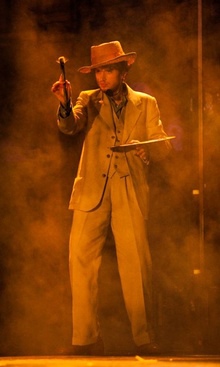 Ironically, being cold in a video is as physical as Bush gets tonight. Those bare feet, too, are as near as she comes to her former passion – dance. Apart from swaying, some slow pirouetting and stagey movements, there is no dance in Before the Dawn, a notable omission. Even if Bush is no longer the 19-year-old ballerina seared into her oldest fans' imaginations, it seems odd that the body in motion, once so much a part of her art, is absent from this work. Throughout Before the Dawn there are body doubles – backing singer Bob Harms plays Bush's partner in a sketch; the artist's dummy is probably the younger Bertie – but no one is standing in for Bush's young dancer self.
Instead, she has bred her own collaborator. Like Patti Smith, Bush retired from music to raise a family out of the limelight, and she is re-entering it in cahoots with her teenage son, her "everything". Bertie stars as the painter in A Sky of Honey and sings a new song, Tawny Moon. While this maternal indulgence is only natural from Bush, Bertie's voice is more suited to the West End stage than art pop.
In Tennyson's The Coming of Arthur, the ninth wave of a storm deposits the infant king of legend at Merlin's feet. Some powerful magic has restored Bush to us, and perhaps it's no accident that the latter-day King of the Mountain is her most jaw-dropping song tonight, full of shivers and power. If Bertie is (to quote Björk) our Venus as a boy, Bush is pop's own Arthur as a girl – a mythical once and future king returned at last.