Fifty years ago, Cambridge city council stumped up the funds for the first folk festival in the atmospheric grounds of Cherry Hinton Hall. A couple of hundred people gathered around one precarious stage to see a motley selection of singers, including Paul Simon, who earned £15 for his troubles.

Around the same time, Van Morrison's band Them charted with the R&B track Gloria – two unrelated events poles apart in context and ideology. Yet here we are, half a century later, at the same festival – and the same venue, with the same council backing – and who's this driving the Sunday night party into a frenzy? Only the old Grumpster himself, climaxing an astonishingly invigorating, jazz-fuelled set – including Moondance, Baby Please Don't Go, Days Like This, Brown-Eyed Girl, Whenever God Shines His Light on Me et al – with a ferocious Gloria. So elongated was the band's relentless outro, you imagined there would be a PA announcement declaring that "Van Morrison has left the building" before they finished.
The whole festival had an unmistakably retro feel, drawing heavily on the spirit of its own history. Two returning heroes, Richard Thompson and Loudon Wainwright, showed that one man, a guitar and a savage set of lyrics can still tear the place apart. Thompson's daughter, Kami, and her husband James Walbourne's band, The Rails, followed their outstanding debut album Fair Warning with a confident live set.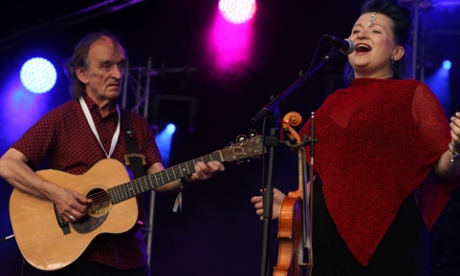 Martin Carthy, who had appeared at the second Cambridge festival with Dave Swarbrick, was back playing boldly with daughter Eliza. And the notion of succession and dynasty was further underlined by the unashamedly populist Irish choruses of The High Kings, featuring Finbarr Clancy, son of Bobby Clancy, who had appeared with his brothers at the first Cambridge festival.

There was lineage, too, in Ladysmith Black Mambazo, with four sons and one grandson of the group's founder, Joseph Shabalala; a quarter of a century on from THAT Graceland album with Paul Simon, they sound refreshed and regenerated, their beautiful harmonies and synchronised dances enveloping you like a big, warm comfort blanket.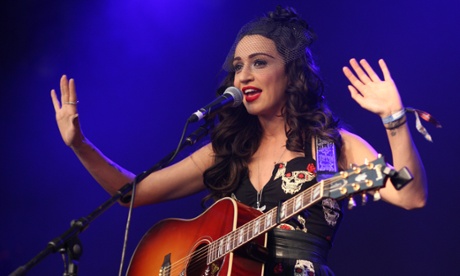 The disappointing North Mississippi Allstars grabbed drums and ploughed into the audience, their reverse stage invasion entertainingly terrorised the elder denizens engrossed in their Kindles, but did little for their set. Sinéad O'Connor's passion, however, was very real and utterly glorious, while former Drive-By Truckers singer Jason Isbell and Canada's Lindi Ortega added cheery expression to mournful Americana.
We were celebrating a rich heritage but, with fine sets from the likes of O'Hooley and Tidow, The Young 'Uns, The Full English and a rejuvenated Seth Lakeman, its future is assured too.