Heidi Tidow - one half of the folk duo O'Hooley and Tidow - offers to show me the vocal booth of the home studio the couple share in a stone cottage on the outskirts of Huddersfield.
"Be careful" she warns, "it's a bit of a drop".
You have to watch your step. The duo record their voices at the top of the cellar stairs, where the reverberation is good even if the mops and buckets get in the way. The main recording area doubles as the dining room, though it commands one of the most spectacular outlooks of any studio in the country. The house forms part of a terrace cut into the hillside giving uninterrupted views across the Colne valley; and would be perfect, were it not for an insistent, low buzzing noise in the background.
"Can you hear it?" Tidow's partner, Belinda O'Hooley, asks. "That's the hum."
It sounds like the result of faulty wiring, and is the kind of thing that would drive most recording engineers crazy. But since O'Hooley and Tidow are unable to eradicate the hum they have decided to embrace it. In fact, they named their album after it. The Hum is a collection of songs paying homage to the West Riding village of Golcar, whose cobbled streets and close communal sprit have come under strain in recent years through the twin processes of industrial decline and gentrification.
There is still one active factory left at the bottom of the valley, however, whose emissions form a key part of the record.
"One of the senior residents told us about a house sale that had fallen through because a middle-class couple decided they couldn't live with the noise," Tidow explains. "But our neighbour's attitude was: 'I find the hum comforting, because it's the sound of people working'."
"The song is a comment on how everyone now wants to live in a pretty, mill-worker's cottage," O'Hooley adds, "though they'd rather they weren't so close to the workplaces that were the reason for them being here."
It's quite a bold stroke to include a layer of industrial white noise to a folk record; though in comparison to the spare, piano-led ballads of the duo's first two albums Silent June (2010) and The Fragile (2012), The Hum is more open to sonic experimentation. Though the basic tracks were written and recorded in the couple's front room, the songs were augmented by producer and multi-instrumentalist Gerry Diver, who brought in strings, programmed electronics and random street noise.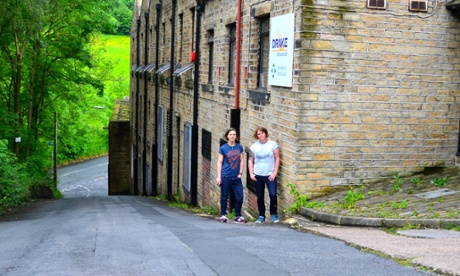 Tidow recalls: "We were on holiday when we got a call from Gerry saying he'd got this great sample of a pneumatic drill he wanted to use. We were a bit unsure about how that would go down in folk clubs, but we trusted him, and it sounds fantastic."
Did it leave them with the problem of finding a road mechanic to play the drill parts on tour, however? "Actually, just constructing songs around the piano makes us a bit weird because it's not an instrument that often features in folk music," O'Hooley says.
"It's funny" Tidow adds, "but we can turn up as two gay women at the most traditional of folk clubs and no-one turns a hair. But when we say that we want a piano, they look at us as if we've landed from another planet."
"Generally, though, people tell us they find it a refreshing alternative to fiddles and guitars," O'Hooley says. "I suppose there aren't so many folk piano players because pianists are, by definition, trained musicians. But I found sight-reading really difficult, and was much happier making things up by ear."
O'Hooley began playing at the age of seven, as part of a large, Irish immigrant family with a passion for traditional music. She worked as a music therapist in old peoples' homes and was a member of Rachel and Becky Unthank's touring band, the Winterset, for five years before encountering Tidow performing in a Huddersfield bar.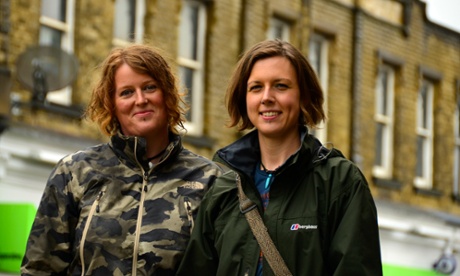 "She offered me a fruit gum to come and sing back-up vocals on her solo record," Tidow says. "I'm cheaply bought."
The pair quickly discovered that they had a unique vocal blend: O'Hooley's voice hovers naturally above the deeper-pitched delivery of Tidow, whose hard Yorkshire vowels and slightly clipped enunciation carry a hint of Weimar-era cabaret, perhaps as the result of growing up in Huddersfield with a German mother. They bonded over a mutual love of tattoos, music, and long rambles across the moors; but most of all they share a passion for locally produced beer, which they celebrate in an ode to the proliferation of micro-breweries in the area entitled Summat's Brewin'.
"It's become known as the Huddersfield Beer Anthem," O'Hooley says proudly. All the pubs and breweries name-checked in the song feature in the video; and one of them, Mallinson's, repaid the compliment by producing a signature O'Hooley and Tidow pale ale.

"It was called Jack the Lass, which was taken from a line in our song Gentleman Jack" Tidow explains. "Gentleman Jack was the nickname of Anne Lister, a 19th century landowner from Halifax who kept an erotic diary of her gay love affairs in code."
"But we never got to taste it" O'Hooley says. "The brewery only produced it in limited quantities and we were away on tour at the time."
"Maybe that's the price of success" Tidow adds. "You get your own beer inspired by one of your songs, then you're too busy to drink it."
O Hooley and Tidow perform at Cambridge Folk Festival Saturday 3 and Sunday 4 August. The Hum is out now.