Brick Lane, in east London, wakes up early on Record Store Day. A queue of weary punters, squinting in the cold spring sun, winds its way to Rough Trade East, where a bouncer is letting people in a few at a time. Inside, there are scrums in the aisles. Elbows jostle for space above crates of limited-edition stock. Past the crowds, in the back of the store, Kamila Thompson and James Walbourne of the wife-and-husband duo the Rails are tuning acoustic guitars onstage, soundchecking voices that croak into action.
This is the first of two in-stores for the Rails on a day that will take them thousands of miles from Rough Trade East to Rough Trade NYC. There, they will be reunited with Thompson's family: her mother Linda Thompson, once part of a famous married couple duo herself with her then husband Richard Thompson, as well as her brother Teddy and 18-year-old nephew Zak, whom they have asked to play mandolin with them at the evening show. They have also asked Walbourne's good friend Spider Stacy, of the Pogues, to play whistle, but no one is sure if he will bring the right whistle.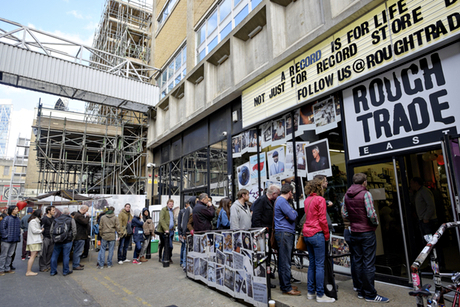 "Will Teddy bring a lead and tuner?" Walbourne asks Thompson as he plugs things in on stage. Thompson says he will.
"What's your passport number?" Martin Kelly, the band's manager and label boss of Heavenly, asks Thompson. She tells him, scooping strawberry blond hair out of a black hoodie with one hand and digging in her handbag for her liquid eyeliner. Then she rattles off her bank card pin and mother's maiden name, Pettifer, for good measure.
Out front, there are just a handful of customers already clutching plastic bags. Among them is Walbourne's dad, who took his son to see the likes of Frank Sinatra and Bo Diddley when he was barely big enough to walk. He has stuck around to see the show after driving the Rails from Hampstead in north London, where they are currently camped at Richard Thompson's house while they look for somewhere more permanent to live.
"This is our single for Record Store Day, on the old pink Island label," Walbourne tells the crowd before Breakneck Speed, a folk-pop number about getting out of a bad relationship. Island was convinced to resurrect its pink label design on Kelly's suggestion – 45 years ago it was home to Fairport Convention's second single, Meet on the Ledge. The design was used for records by John Martyn and Nick Drake before falling out of use in the 70s. "It's the home of folk-rock," Walbourne says after the gig, in a taxi on the way to Heathrow. "It seemed like a natural fit."
At the very start, the Rails decided that with family connections like Thompson's, it made more sense to embrace tradition than fight it. "Your mum and dad, and then me and you doing a record, it was always going to …" Walbourne starts.
"If I was to kick up a fuss about comparisons to Richard and Linda, having made a folk-rock record with my husband, on Island, then I'd be such a twat!" Thompson finishes.
It took Thompson all of her 20s to come round to the idea of joining the family business. The folk songs she wrote in private went in the bottom drawer in favour of American-influenced pop-rock she sang in support slots for her brother, for Will Oldham and for Sean Lennon. She appeared at one-off charity gigs with Martha and Rufus Wainwright for Leonard Cohen and Kate McGarrigle. In 2011 a solo album, Love Lies, was finally released after several years of label wrangling, but few were paying attention.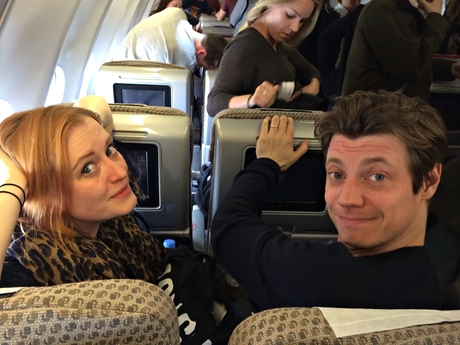 Walbourne also released his first solo album, The Hill, in 2011, after 10 years on the road with the Pernice Brothers, the Pretenders and the Pogues. "I was recording with lots of brilliant songwriters and I was scared about writing, about trying to measure up. That's the thing, you're playing with all these greats – Son Volt, Jay Farrar, Shane MacGowan – and then you have to go back to your hotel room and …" he pauses. "But I wish I'd started earlier."
"I don't know … I'm so glad I didn't put anything out back then – it just wasn't good enough at 21 or 22," Thompson says. We're at Heathrow, and the two of them are squished into a white booth in the Virgin lounge, finishing each other's sentences over matching bowls of pea and parmesan tagliatelle.
The couple married in a London register office in October 2012. After the ceremony, Richard Thompson, the Pretenders and Chrissie Hynde played at the reception. "We ended up in the Groucho Club," Walbourne laughs. "Then we couldn't get [the novelist] John Niven to leave our hotel room."
They credit another author, Nick Hornby, for the match, after he suggested Walbourne play on Linda Thompson's 2007 album Versatile Heart. It took another four years for them to get together after a chance reunion at a 50th anniversary show for McCabe's Guitar Shop in Los Angeles. Now, they are barely apart.
"We spend all our time together," Thompson says, gathering her things. "In normal people's terms we've probably been married for 20 years." Linda Thompson used that same line to describe her 10 years with Richard in the 2003 BBC documentary, Solitary Life.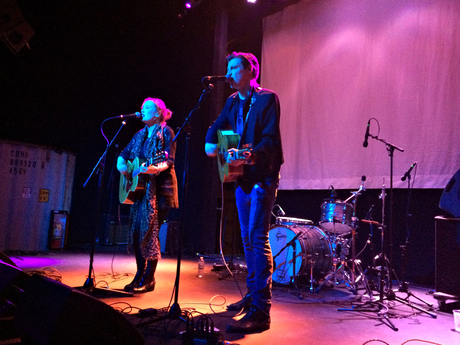 By the time the Rails get to Rough Trade NYC it's dark, and the queues out front have shifted into the brand new venue in the back of the store. Teddy has brought a lead and tuner. Walbourne's younger brother, Rob, has brought guitars. He checks them on stage as family and friends filter into the dark space built of bricks and rusted shipping crates. Spider Stacy is here, but still no one is sure if he has brought his whistle.
"This is folk royalty," Stacy says, watching the Rails climb on to the stage. Zak, clutching a mandolin, looks down at his family in the audience with the same big, almond eyes as Kami, and Linda before her. "But it's not enough to have the surname," Stacy adds. "You have to have the sound. Cut-throats and alleyways, the proper stuff."
At the front, Linda, in peep-toe heels and a quilted jacket, takes photos on her phone as the band play the traditional song William Taylor. Walbourne and Zak lean into one another to share the bridge while Kami holds the tune, twisting her head on the high notes and grimacing as the long day starts to take its toll on her voice. After Holloway, a narrative folk number the Rails wrote together in the style of a trad song, Kami's voice finally cracks. "I think my voice is gone!" she croaks into a microphone.
"It's been a long Record Store Day for us," Walbourne says to the crowd. "Spider, can you give us a hand here?" From the audience Stacey appears, then Rob, who takes Kami's guitar as she disappears backstage. Stacey unbuttons his coat, producing a whistle. "Jesse James?" he says, giving it a blast. "In the key of G!" They start without a moment's pause, the strains of the old folk tune filtering past their families, past the pink 7in singles stacked up in the store and out into the cool evening air.
• Fair Warning by the Rails is released on Island on 5 May.