At the height of Britpop – when antipathy between fans of Blur and Oasis was at such a level that, the Sun reported, a Bristol woman called Mandy Vivian-Thomas was withholding sex from her husband because he preferred Country House to Roll With It – one of the chief allegations levelled at Blur was that they were somehow inauthentic. Damon Albarn, in particular, dealt in artifice, adopting personas and inventing characters rather than revealing himself. In retrospect, that seems a bizarre thing to get cross about, given rock and pop music has always been about artifice, disguise and reinvention. And as it turned out, keeping himself to himself might have been the smartest move Albarn ever made. It ensured he was never trapped by public perceptions in the way Oasis seemed to be, and enabled him to spend the last 15 years or so flitting between disparate projects – from Gorillaz' hip-hop-infused pop to Afrobeat to operas written in the five-note pentatonic scale of Chinese folk – without anyone really raising an eyebrow or questioning why.
So it's something of a surprise to see Everyday Robots promoted as the moment where the real Damon Albarn finally stands up. Interviewers have alighted on the handful of biographical details in a track called Hollow Ponds – including Albarn's childhood memories of the 1976 heatwave and his discovery of some graffiti reading "Modern Life Is Rubbish" on a wall near Marble Arch – and the references to hard drugs in You and Me; Albarn has talked openly about being bullied at school and his brief period of heroin use in the late 90s. The album's producer, Richard Russell, who provided the clanking, whirring loops of samples over which Albarn's voice and piano sit, has suggested Everyday Robots is cut from a similar raw, soul-baring cloth to John Lennon's 1970 album Plastic Ono Band and Bob Dylan's 1974 rumination on divorce, Blood on the Tracks.
When considering this, it's perhaps worth noting that neither Plastic Ono Band nor Blood on the Tracks contained a perky song about a baby elephant called Mr Tembo, nor indeed a brief instrumental that listeners also old enough to remember the 1976 heatwave may find oddly reminiscent of the music that used to play when Humphrey the tortoise appeared on Vision On. There are certainly a lot of songs here that seem beset by the kind of worries that might beset a 46-year-old man, not least The Selfish Giant, which looks at turbulence in a long-term relationship: "It's hard to be a lover when the TV's on and there's nothing in your eyes." But anyone who buys Everyday Robots in the belief that they're going to hear Albarn's answer to the lacerating frankness of Mother or Idiot Wind might well end up on the phone to Trading Standards. The couple of lines about smack come in the middle of a song that's otherwise opaque both lyrically and musically. The torrent of memories notwithstanding, it's hard to work out exactly what, if anything, Albarn is saying about himself on Hollow Ponds.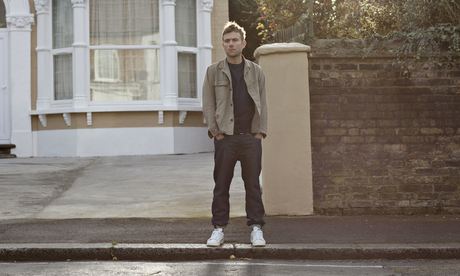 Indeed, the key track on Everyday Robots might well be neither You and Me nor Hollow Ponds, but Hostiles, an implausibly beautiful musical rendering of the moment when a hangover turns metaphysical and your thoughts become suffused with remorse, anxiety and listless misery: when, as Kingsley Amis put it, you become convinced your friends and family are "leagued in a barely maintained conspiracy of silence about what a shit you are". Hostiles seems to set the album's tone: foggy, regretful, nostalgic. Apparently presented with 100 songs for the project, Russell has chosen to focus on those that feature what's quietly become Albarn's signature style in recent years – whether he's writing a Mandarin opera or jamming with Flea and Tony Allen, he always seems to find room for a couple of ballads with careworn vocals and languidly melancholy tunes.
Indeed, you're occasionally struck by the sense that Russell might have focused a little too closely on one aspect of Albarn's writing: jaunty ode to Mr Tembo aside, the whole thing moves at a pretty enervated pace. That said, Albarn is now spectacularly good at writing songs like these – the melodies of The Selfish Giant and Lonely Press Play in particular are dazzlingly lovely – and much more variety is on offer than the uniform pace initially suggests. There's quite a gulf between the audibly Low-era Bowie-struck You and Me and the chanson-inspired Hollow Ponds, or indeed the folky harmony singing of Photographs (You Are Taking Now). Furthermore, Everyday Robots comes liberally decorated with beautiful, understated details: the tentative piano figure flickering over the closing chorus of Hostiles, the gorgeous string arrangement that arrives at the end of the title track, the steel drum solo on You And Me that briefly spins off into creepy atonality, before rectifying itself.
Beautiful, but subtle, cloudy and elusive, Everyday Robots certainly isn't the album it's purported to be. You come out of the other side not much the wiser about the man behind it. Never mind: the music is good enough that a lack of revelation doesn't really seem to matter while Everyday Robots is playing. Whoever Damon Albarn is, he's extremely good at what he does.
• This article was amended on 25 April 2014 to correct a soul-bearing/soul-baring homophone.