It's all down to Bobby Robson. Well, partly at least. The true starting point of Britpop was not Select magazine's infamous April 1993 cover – which pictured Suede's Brett Anderson in front of a union jack, with mentions for the Auteurs, Pulp, Saint Etienne and Denim, and the headline "Yanks Go Home!" – but the 1990 World Cup.
New Order released a song for it; hooliganism, though present, wasn't the main story in town as England reached the semi-finals; the myth developed of fans dropping ecstasy and getting loved up instead of violent. Suddenly – almost overnight, it seemed at the time – patriotism ceased to be the last refuge of the scoundrel, but a worthwhile expression of national self-confidence. Beer, music, football and fashion came together, united by Paul Gascoigne's tears and John Barnes' rap. And the lad, formerly demonised in the popular imagination as the Sergio Tacchini-wearing, broken-bottle-wielding thug of the terraces, began his journey to the heart of British popular culture. As Loaded magazine, first published in 1994, would have said: Good work, fella!
And all because Bobby Robson switched to a sweeper system. If England had crashed out in the group stages, would Britpop even have happened?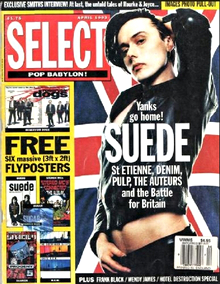 That's a grotesque simplification, of course. But it's also fitting, because a grotesque simplification is what Britpop became, a collection of lowest common denominators that ended up setting music back: a slavish devotion to a set of signifiers that included 60s music, mod fashion, football, and intoxication. None of those are bad things in isolation. But put together they resulted in a generation of bands and fans who resembled nothing so much as a parody of the football hooligans of a generation before. The racism of the hooligans was verboten, but the sense of Little England loomed large. While literal flagwaving – Noel Gallagher's union jack guitar aside – was a rarity, the concentration on Britishness in lyrics, dress, attitudes was at odds with British pop's historic magpie internationalism. Everything that made inspirations such as the Kinks or the Beatles interesting – their borrowings from black culture, filtered through suburban English eyes, or their wide-eyed sense of exploration – was left undigested.
If you look at those groups on Select's Britpop cover, what united them was not a slavish devotion to anything, but their peculiarly quirky representations of Britishness. Suede's was the easiest to caricature, all council flats, bad drugs and transgressive sex. The Auteurs seemed cruel, cynical and haughty, almost like a Kingsley Amis vision of pop. Pulp, arguably the best of the bands who became associated with Britpop, were arch and wry, yet devastatingly empathetic and humane. Saint Etienne looked to the continent for an internationalist conception of nationality, even as they sang about north London greasy spoons. And Denim used the 70s as a metaphor for a decayed Britain of tattered surfaces losing their shine. What none of them were about was arms-around-shoulders beery bonhomie. They were all outsiders.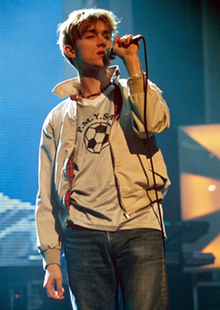 But Britpop's imperial period, which began 20 years ago – with the release of Blur's Parklife on 25 April 1994 – and lasted until the release of Oasis's Be Here Now in August 1997, saw the quashing of the sense that outsiderdom was the defining feature of what was known as "indie" music. It wasn't enough to plough your own furrow: instead ruthless ambition became the order of the day, as scores of unrelentingly pedestrian bands followed Oasis's lead and pronounced themselves determined to conquer the world. "I crave extremes. I want to be THAT famous, or THAT known," Louise Wener of Sleeper told Melody Maker in 1995. "The only reason I'm in this is to make great rock'n'roll records, for the hell of it, and I'm concerned that everybody thinks I'm this politically correct, right-on woman," Echobelly's Sonya Aurora Madan told Q the year before (one of the ironies of Britpop is that women did take a prominent role, even in the music of the lad). Previously unusual and experimental groups such as Merseyside's psychedelic Boo Radleys ruthlessly targeted the charts.
And with every hit by one band came a record deal for another, snapped up more and more quickly as the music industry – awash with cash at this point – threw contracts at bands who were patently not prepared for anything resembling a career, the likes of Menswe@r, leading yet more second- and third-rate bands to form in the hope of getting their own shower of cash. What's worse, it became the expected path: if you weren't interested in stardom, why were you in music in the first place? If C86 had defined indie as music made by white guitar bands, then Britpop finally robbed it of any connection to its original derivation: music produced and distributed independently. Indie had ceased to be an alternative. And if it was no longer an alternative, but a hegemonic force of its own, then what was the point of it? Britpop became such a part of the establishment that the Labour party even had its own unofficial Britpop liaison officer, a man named Darren Kalynuk. When I tried to question him about this for the New Statesman in 1996, he was evasive, but by 2003 he was boasting about it in this newspaper.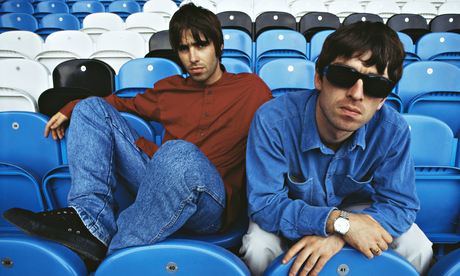 If Be Here Now was the death knell, then proof that Britpop was a cultural abomination had come the year before. In 1996, Tim Lovejoy took over as the presenter of Sky Sports' Saturday morning magazine show, Soccer AM, in which the music of British guitar bands was a key element. And here, in one package, was everything the 1990 World Cup had sown the seeds for: pop music, laddishness, football, all interchangeable. As in Animal Farm, one looked from the animals to the humans and could see no difference. Banter on!
• Britpop casualties: Dodgy, Marion, Menswe@r, Salad and the Bluetones on the dark side of the scene