"I thought I was over the hill," says Beverley Martyn, sipping water in a west London cafe and poring over a life filled with dark drama. "Nobody really wanted to know."
While every other long-lost British roots singer seems to have been granted legendary status over the past decade, Martyn was left in the wilderness. Now, aged 67, she has returned to rectify the oversight. The Phoenix and the Turtle is her first album in 13 years, and only her second since Stormbringer! and The Road to Ruin, the pair of classic folk-rock records she made in 1970 with her ex-husband, the late and – her words – "Luciferian" singer-songwriter John Martyn.
Though she remains most closely associated with that relationship, Martyn has always been her own woman. Having left Coventry for London in 1962, aged 15, she immersed herself in the folk scene, a thrift-shop bohemian writing songs and learning guitar from her then boyfriend, Bert Jansch. Her jug band the Levee Breakers released one single on Parlophone, before she was was signed to Deram in 1966. Producer Denny Cordell attempted reverse alchemy by turning her blues edge into pop cheese. "He did my songs in a really over-the-top Europop style," she says. "It was a man's world. The attitude was: 'What are we going to dress you up in?'"
Martyn was offered an escape route by Paul Simon, with whom she was having "an on-off relationship. You could say he had a Napoleon complex. Very intelligent. Moody, but witty." Simon & Garfunkel took her to America, where she appeared as their guest at the Monterey Pop festival in June 1967, performing three songs om the same bill as the Who, Otis Redding ("he thought I was a high-class hooker") and Jimi Hendrix. "It was a blur," she recalls. "I was bricking it and trying desperately not to show it. I shouldn't even have been there; I didn't have a green card. Paul did say: 'If you marry me you can get a green card,' and I thought, well, that's not very romantic."
Reading this on mobile? Click here to watch the video.
When she returned to the States in the summer of 1969, she was indeed married, but not to Simon. Her husband was a golden-haired Glaswegian who had changed his name from Iain McGeachy to John Martyn and released two promising solo albums. When they met, she was a single mother with a young son, Wesley. "Initially I trusted him with my life, and my child," she says. "It was a very quick bonding. I thought, this is my soul mate – and I think he probably was, but John was wounded from the beginning. He mistrusted women because his mother had left him, and he treated them really badly, physically and mentally."
The newlyweds decamped to Woodstock, the upstate New York creative enclave, where Martyn met local residents Bob Dylan – "my hero, my Jewish cowboy!" – and the Band, whose drummer Levon Helm played on Stormbringer!, a warm blend of blues, Americana and British folk. Martyn wrote four songs for the album and four more for the follow-up, The Road to Ruin, recorded back in London. They were folk-rock's golden couple, part of a group of artists on the roster of Joe Boyd's Witchseason production company, which included Richard and Linda Thompson, Sandy Denny and Nick Drake.
"Nick became one of the family," says Martyn. "We'd take the piss to make him laugh. We'd open the door and go: 'Oh no, not Nick Drag again!'" Drake would babysit, crash mealtimes and tag along to the seaside, sitting on the beach with his suit on. "He was the most introverted character I've ever met. Locked in. Sometimes he'd talk, sometimes he'd have a cup of tea and hold it for three hours looking out at sea. I think he felt safe with me, and I tried to take care of him." They began writing a song called Reckless Jane together shortly before Drake died in 1974. Martyn finished it decades later and has finally recorded it, with a classic string arrangement in the style of the late Robert Kirby, who provided arrangements for Drake.
By the time of Drake's death the Martyns had a young daughter, Mhairi; a son, Spencer, followed in 1975. While her husband went solo – too eagerly, she feels – and pursued ever more remarkable jazz-folk concoctions, Martyn was left in their clifftop house in Hastings, holding the babies. "My career was over," she says. "I had my hands full. I did the odd gig with John, and the odd one on my own, but I had no future."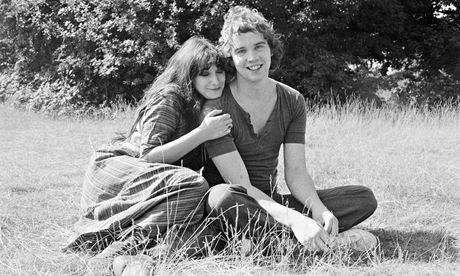 Their marriage increasingly fell prey to his "superhuman" drinking and drugging. "I'd have the odd line of coke, and I smoked grass, but I was never into that death culture," says Martyn. The excess exacerbated his ingrained jealousy and violent paranoia. "He said: 'You'll never get away from me. I will hunt you down and kill you and whoever you are with.' I was terrified of him and he knew it." She finally mustered the courage to leave in 1979. "I slipped my feet into my son's boots and ran to the police station. I could never go back, but it left me having to rely on state benefits. It was hard."
Martyn moved to Brighton, toured with Loudon Wainwright III in the 80s and cut some unreleased tracks with Wilko Johnson in the 90s. Later she made No Frills, a zero-budget acoustic album, and played occasional pub gigs "for no money", but in general music was displaced by more urgent priorities. Spencer slipped into addiction and homelessness, while Martyn has had to cope with depression, stage-three kidney disease and diabetes.
She may walk a little haltingly these days, and her dark eyes convey an inescapable sadness, but creatively she's on an upswing. Though she was shocked and distressed at the time, following John's death from pneumonia in January 2009 she felt "things opened up for me again. Something changed."
The Phoenix and the Turtle, recorded with former members of Los Lobos and Counting Crows, is an affirming testament to her survival instinct. "It's been the best thing for a long time," she says. "It's good to work, it's a great way of escaping your everyday troubles. I'm enjoying this time of my life. I just turned 67, I'm still here, and I think I know who I am now." She taps the album on the table between us. "This is what I do."
• The Phoenix and the Turtle is released on Monday on Les Cousins. Beverley Martyn plays Bush Hall in London on 29 April.