In the white lakeside concert hall in Lucerne, on a sparkling afternoon, an international audience gathered to remember Claudio Abbado. The mood was sombre, since no one could quite yet accept his departure. The Italian conductor died in January at the age of 80. Having conducted the annual festival for 11 consecutive seasons, Abbado was indelibly associated with this Swiss city, a magnet for musicians over the centuries.
As the audience settled into their seats, so the Lucerne Festival Orchestra assembled on stage quietly, men wearing dark ties, women in concert black. Each player tuned with particular care, as if delaying the moment when formally, through music, they would bid their revered maestro (his least favourite word) farewell. Handpicked by Abbado from ensembles across Europe, they had become his friends, as well as close colleagues of one another.
Many had been with him since he set up the orchestra in 2003, after his recovery from stomach cancer. Each summer these star players would gather in Lucerne for three intensive weeks. They could have gone to the beach. Instead they chose to work harder than ever. Abbado asked nothing more of his musicians than that they listen to each other, the simplest yet the hardest demand. Last week, all had travelled from far and wide, interrupting busy concert schedules to be there.
As silence fell – the point at which the conductor would normally make his way on to the platform – nothing happened. The podium remained empty. Then a ghostly, low rumble sounded from cellos and double basses, so quiet you had to strain to hear. With an enormous upward gesture of his right arm, the orchestra's leader – Sebastian Breuninger, a concertmaster of the Leipzig Gewandhaus – lifted his bow to usher in strings and woodwind. The spectral opening of Schubert's Unfinished Symphony had begun.
It was a poignant choice. Abbado conducted this work in the closing event of the 2013 Lucerne festival (and on two previous evenings; a recording of the first is on YouTube), together with Bruckner's Ninth, also unfinished. No one knew it would be his last concert. There were no words of adieu – a self-effacing man, he would never have sought that kind of limelight – and programmes were in place for this year's season, naming him as conductor. Frail though he was, he had survived many skirmishes with death.
In that performance, Abbado had taken the Schubert at an unusually slow pace. No one needed to speak the words "intimations of mortality". Now, the Lucerne players, without their pilot but sure of their course, preferred a brisker approach. The silken perfection of the strings took on a fervent, translucent quality. As the music swelled, so the ensemble moved as one. At the end no one clapped. No one moved. Several players wiped away tears.
With wise planning, words came next; music would have been impossible. The actor Bruno Ganz, a close friend of Abbado's, read from Hölderlin, one of his favourite poets, whose work has inspired composers including Brahms and Schumann, Heinz Holliger and Luigi Nono. In the late elegy Brot und Wein, Christian symbolism is interwoven with Greek mythology, exploring the nature of belief and asking whether the gods who have departed will ever return.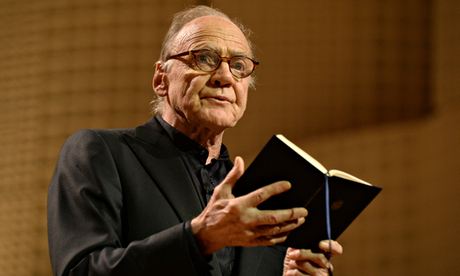 At this point, perhaps with some relief for the visibly affected audience, the concert turned back to the present. The young Latvian conductor Andris Nelsons – anointed but not yet confirmed as Abbado's successor in Lucerne – was there to conduct the remainder. How he must have felt, walking on to fill that hitherto blank space on the podium one can only guess.
Abbado – together with Mariss Jansons, another Lucerne regular – was one of Nelsons's mentors, but he is an imitator of neither. His gestures are bigger and more dramatic, his engagement with the orchestra more chatty and jokey, but still wholly serious. (There was a certain concord, for those few of us who happened to attend both events, in the fact that the night before, Jansons had conducted his Amsterdam Concertgebouw at the Barbican, London in the last piece Abbado ever conducted: Bruckner's Ninth.)
At least Nelsons had the moral support of the German violinist Isabelle Faust, soloist in Berg's Violin Concerto which she recorded with Abbado in 2011. Always an elegiac work, it was dedicated to "the memory of an angel" – Manon Gropius, the daughter of Alma Mahler and the Bauhaus architect Walter Gropius, who died of polio aged 18. Faust plays with steely virtuosity, intelligence and poetry. She can make a pianissimo trill last seemingly for ever.
Never flamboyant, keenly uncompromising, she was a favourite performer of Abbado's and little wonder. One of the concerto's hallmarks is its ghostly opaqueness. Snatches of 12-tone melody dart like shadows, until the moment when a Bach choral, Es ist genug, rises out of Berg's dense underworld, a moment of tonal release.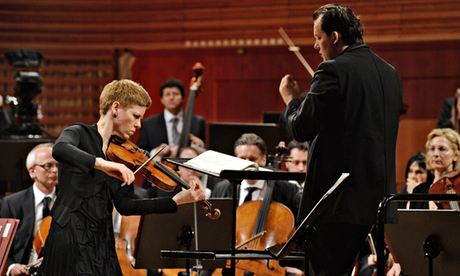 Abbado had no boundaries to his musical passions, but his interpretations of Mahler were a high point of his Lucerne performances. The programme ended with the finale of Mahler's Symphony No 3. The instructions on the score read: "Slowly, tranquil, deeply felt". It opens with the sweetest possible pianissimo string melody, gradually swelling to an anguished fortissimo that is eventually transfigured into grief-filled acceptance.
As the climax approached, all eyes were on the percussionist – Dirk Wucherpfennig of the Konzerthausorchester, Berlin. His task was to raise a pair of vast clash cymbals, locking his hands into the support straps and positioning them ready for the critical moment. A split second too soon or too late, an imperfect crash of the two plates and the entire effect would have been ruined.
For what seemed like minutes, he held each cymbal close to his body, flexing his arms in readiness. Spot on time, the noisy roar erupted exactly as Mahler had written. The player held the cymbals, gleaming and spectacular, up aloft until after the resonance had ceased.
By chance, Wucherpfennig was on the same train as me, rushing back to the airport together with half the orchestra. He admitted it was a terrifying moment, perhaps the most alarming in his career. Was he trying to make a metaphor with that massive, long-held gesture? Yes, he said, that was exactly what he was trying to do. If he had in any sense succeeded, it was worth the nerves, the angst, the arm-ache, the pressure and the emotion of the occasion. He achieved his aim. In his absence, Claudio Abbado could not have felt more present.