It is a perverse measure of success, but some of the most memorable gigs that the Africa Express collective have played since Glastonbury in 2007 have ended with more musicians on stage at the close of the evening than fans left in the crowd. Shows at the Olympia in Liverpool and Koko in London the following year lasted several hours and concluded with the likes of Damon Albarn, Rachid Taha, Baaba Maal and several dozen others joined in a mass, chaotic rendition of Rock the Casbah – while those few dazed and scattered audience members remaining had to contemplate how they'd now get home at 3am.
Plus ça change for this gig in Marseille, which began with a film about the Africa Express jaunt across the UK last year – for which 100-plus musicians commandeered their own train for a week – and ended in a haze of pastis over seven hours later. Several experienced hands were on hand to steer proceedings: Albarn, drummer Tony Allen (from Nigeria), ngoni player Bassekou Kouyate (Mali), guitarist Nick Zinner (US) and singer Jupiter Bokondji (Congo) among them; but they were joined by umpteen others new to the concept, from local rock star Matthieu Chedid (aka -M-) to Kasabian (from Leicester).
Kicking it with @africaexpress in Marseilles - here's just half the set list (or at least what's planned) pic.twitter.com/0nSkcrwHQN

— CasparLlewellynSmith (@CasparLS) October 19, 2013
Serial highlights came mid-show including Fatoumata Diawara's take on her own Salimata, thanks to the savage guitar contributions of Chedid; Django Django's version of Skies Over Cairo, featuring the amazing energy of Marseille-born guest rapper Malikah; a berserk interpretation of the Chemical Brothers' Galvanize that involved oud player Mehdi Haddab and Seye Adelekan on bass as well as assorted Kasabians; and the appearance of Portuguese producer Batida, whose outfit threw whistles into the 4,000-strong crowd and were met with a shrill wall of sound by way of return.
If the energy levels flagged thereafter it was understandable, particularly given that the 80-odd participants had enjoyed (at best) a day's rehearsals, and some including Albarn had only just returned from a week's trip to Mali to make an Africa Express record (due next month). But as the night unfurled, the excitement picked up again with a set from Rachid Taha before climaxing with Jupiter and his band plus (inevitably) dozens of others rushing the stage.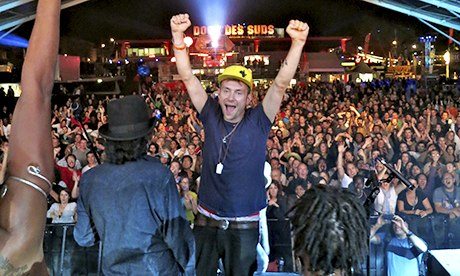 The gig was billed as the climax of Marseille's Fiesta des Suds, an annual event given extra impetus by the city's status as this year's European Capital of Culture. And credit to the diehard Marseillais because come 3am, here they were still dancing.