Kanye West used his own guest verse to propose to Kim Kardashian. Details of the rapper's proposal have emerged, including his use of the 2009 song Knock You Down by Keri Hilson, which includes a verse penned by West.
The rapper's extravagant marriage proposal took place in San Francisco on Monday night, and Tweets, Instagram photos, and eyewitness reports have now painted a picture of the exclusive event. On Monday evening, after flying in from Beverly Hills, West brought his fiancée to AT&T Park, home of the San Francisco Giants. The almost-empty arena had been stocked with the couple's friends and a 50-piece orchestra waited poised in midfield. As the jumbotron scoreboard whined, "PLEEEASE MARRY MEEE!!!" the musicians performed an arrangement of Lana Del Rey's Young and Beautiful, followed by the 2009 Keri Hilson song Knock You Down. That Hilson track features the guest verse by West: "They say I move too quick but we can't let this moment pass us," he raps. "Let the hourglass pass right into ashes / Let the wind blow the ash right before my glasses / So I wrote this love letter right before my classes."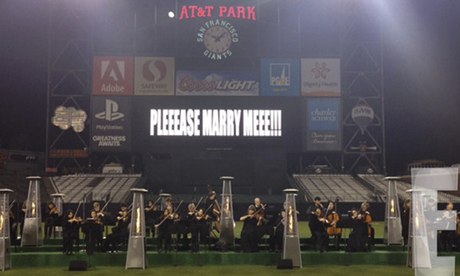 The couple have been dating for a little over a year and welcomed their first child, a baby girl name North West, in June. West's proposal was allegedly taped as part of Kardashian's reality TV series, and also fell on the socialite's 33rd birthday.
Kardashian announced her news by posting a photograph of her engagement ring to Instagram. "YES!!!" she wrote. The bauble is reportedly a 15-carat diamond valued at around £1.5m, in a setting designed by Lorraine Schwartz. While West was given gratis use of AT&T Park, according to E!, renting the arena would usually cost $200,000 (£123,000).
This is West's second betrothal, after an unsuccessful engagement to fashion designer Alexis Phifer. Kardashian has been married twice before: to producer Damon Thomas, from 2000 to 2004, and to American football player Kris Humphries, for 72 days in 2011. A Lorraine Schwartz ring also featured in her engagement to Humphries; that ring later sold at auction for $620,000 (£382,000).
This week, West is due to resume his Yeezus concerts with a concert in Oakland. After launching the tour in Philadelphia on Saturday, the MC later postponed Sunday's gig in Vancouver. Earlier this week, he commented on his decision to use a Jesus lookalike for one of the gig's main sequences: "One of the things that I wanted to really get across with that message is that you can have a relationship with Jesus, that you can talk to Jesus," he told San Francisco's Wild 94.9. "What's awesome about Christianity is we're allowed to portray God. We're allowed to draw an image of him, we're allowed to make movies about him - other religions you're not allowed. So that's what's really awesome about Christianity."