In this weary world there will always be a time when it will be appropriate to stage Philip Glass's Satyagraha, his meditation on nonviolence. When first seen at the Coliseum in 2007, British troops were still in Iraq; when it returned in 2010, Libya was about to go up in flames. Today, Syria is in agony. How we long for a day when this opera's message would seem anachronistic.
And yet how should one approach a piece that, on paper, seems so forbidding, so austere? The libretto is in Sanskrit, the music repetitive, the action slower than a reptile's pulse. The answer lies in the characters' response to the idea of satyagraha: you must surrender to its will. Those who like their opera straight will find this hard to achieve; those who are prepared to go with the flow will begin to see why it has become the most popular contemporary work ever staged at English National Opera.
Glass takes a period in Mahatma Gandhi's life that is often overlooked – the time he spent in South Africa in the early 20th century leading a nonviolent revolt by Indian immigrants against brutally racist repression. But far from merely portraying it, he sees it through different embodiments of the "truth force" that is satyagraha: Tolstoy, Tagore and Martin Luther King – a past, a present and a future. Thus he has three distinct acts to tell a story and drive home a message.
But how do you make a piece of action work over more than three hours of Glass's endlessly repetitive, linear music? ENO's collaboration with the richly imaginative theatre company Improbable presents a solution: you dazzle your audience. Stiltwalkers and acrobats improvise extraordinary stage effects: simple baskets become towering giants, paper transforms into birds, yards of sticky tape present first an impenetrable barrier, then an enormous figure and finally simply fly away. Lanterns of hope hang like stars in the night sky, while a newspaper moon rises up to meet them. We are in a captivating, fantastical dream world.
Watching this on mobile? Click here to watch video
But for all the enchanting effects, the undoubted success of this welcome revival relies completely on tenor Alan Oke's portrayal of Gandhi. He sings with such beauty and humility that although we can't understand his words (there are no surtitles) he convinces us that we do, so total is his sincerity. We feel the terrible vulnerability of the frail man with a will of iron; his torments at the hands of grotesque oppressors hurt us too.
Glass's music may be repetitious but that doesn't make it easy to sing. While the orchestral writing is often highly ornate, the vocal lines contain immensely long phrases where intonation can sometimes slip. Oke coped well with this danger but others, notably Janis Kelly as Mrs Naidoo, slid below the note too often for comfort. Stuart Stratford, who conducted Glass's subtly shifting figurations with mathematical precision, seemed not to notice.
Sarah Pring is splendid as the battling Mrs Alexander; Nicholas Folwell staunch and secure as Mr Kallenbach and Clare Eggington bright and engaging in the vocally stratospheric role of Miss Schlesen, Gandhi's secretary.
The chorus works its socks off throughout this production, consistently superb, whether as passive resisters or hateful oppressors. Kevin Pollard's imaginative costumes, particularly for the "devilish folk" of Durban, look stunning under the warm reds and ochres of Paule Constable's lighting design, revived here by Kevin Sleep.
Satyagraha runs in repertoire until 8 December. It's an almost sacramental event. Give it a go: it's like nothing you've ever experienced.
After the recent protests that met Valery Gergiev at the Barbican, it was a welcome change to see unalloyed adulation greet another Russian on the same platform last week. The violinist Maxim Vengerov, who used a three-year "sabbatical" with a shoulder injury to immerse himself in conducting, directed the Polish Chamber Orchestra in the first of his Barbican Artist Spotlight series.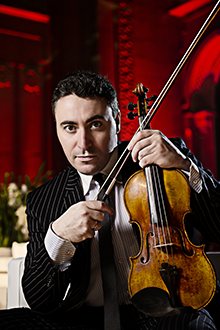 Not that an enormous amount of conducting went on. His programme of Mozart concertos and Tchaikovsky miniatures required only minimum direction in performance; this was very much a showcase for Vengerov's supernatural command of the violin, his technique never less than faultless, his golden tone consistently sweet and mellifluous, even in the chattering brilliance of Tchaikovsky's Valse-Scherzo.
But while this and the Sérénade mélancolique and Souvenir d'un lieu cher thrilled the capacity audience (whose ecstatic applause drew two Saint-Saëns showpieces as encores), the gems of the evening were the understated Mozart concertos 4 and 5. Here, there was abundant evidence of Vengerov's careful work in rehearsal, instilling in his players an elegant restraint that let the works almost float away on gossamer wings.
Vengerov returns in January and February with programmes of chamber music and large-scale concertos. Expect more adulation.
Star ratings (out of 5):
Satyagraha ★★★★
Vengerov/Polish Chamber Orchestra ★★★★