'He's unpredictable; he has his way of playing the orchestra, hearing the orchestra – it's his temperament: nothing is ever the same, he never stops searching." This could be a description of Valery Gergiev, the electrifying 60-year-old Russian principal conductor of the London Symphony Orchestra and one of the most compelling conductors in the world. In fact, these are Gergiev's own words to describe the tempestuous and uncompromisingly original French Romantic composer Hector Berlioz (1803-69), to whom the opening phase of Gergiev's current concert season with the LSO is dedicated.
Gergiev's Berlioz is the latest in a series of explorations by Gergiev and the LSO of the work of selected composers. So far, with series on Mahler and Brahms among others, it has proved a revelatory approach, forging another golden age for the London orchestra. This time, it's hard to imagine greater synergy between composer and interpreter – between Berlioz's feverish imaginative vision and Gergiev's feral music-making.
The famously self-taught Berlioz is the composer who, in the company of brigands, wandered the rocky crags of Italy with a gun in search of authentic inspiration; whose Goyaesque visions drove his 1830 Symphonie Fantastique, the piece that opened and will this Thursday close the series, with its witches' sabbath and march to the scaffold.
"It still sounds unlike anything else," says Gergiev, "still fresh and wild. [Berlioz] was a dreamer, never able to achieve real happiness, suffering from this great fever of the soul in that very romantic way." Indeed, Berlioz, more than any other composer, is defined by that revolutionary romantic moment that produced the art of Caspar David Friedrich, Fuseli and Goya, as well as the poetry of Byron and opium reveries of De Quincey and Coleridge. "Berlioz composed in the days before drug-testing of sportsmen," laughs Gergiev. "He would have tested positive."
Then put this music into the hands of Gergiev, a man who flies the world to give concerts on an outrageous timetable, who conducts with a toothpick or the hallmark flutter of his fingers (having lost too many batons to the audience).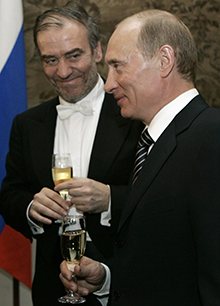 Gergiev's performances have been described by one seasoned LSO violinist as being like "driving a Formula One car, trying to hold the bend", and when a cellist was asked what it was like to transfer from playing under Bernard Haitink to Gergiev, he replied: "It's the difference between granite and lava."
Opening night last week was certainly volcanic: an unforgettable Symphonie Fantastique, after which the musicians themselves pondered what had happened: "It's such a hard piece," said one, "that most conductors will iron it over. Gergiev tells us, 'Play everything that's there.'"
Gergiev, who was raised in North Ossetia, generates a dichotomous, and recently controversial, chemistry in the west. His music-making is adored, but in 2008 he spent time warily justifying his performance of Shostakovich's Seventh Symphony, the "Leningrad", among Russian tanks intervening to defend Russian nationals in Tskhinvali, the shattered capital of South Ossetia – a gesture which to Gergiev seemed self-evident, given his roots.
And since our conversation more controversy has arisen, this time about his supposed support for legislation against the promotion of homosexuality in Russia. A Dutch newspaper even quoted Gergiev equating homosexuality with paedophilia, comments which, an associate of the composer told me, he vehemently denies having made.
Meanwhile, opening night in London last week was preceded by some unofficial pre-concert remarks from the stage by veteran gay rights campaigner Peter Tatchell, and there were further demonstrations outside a concert of Berlioz's Damnation of Faust last Thursday.
Gergiev, who as director of the Mariinsky orchestra, opera and ballet is a state official employing 2,000 people, released this statement in response: "I am aware of the gay rights protest that took place at the Barbican last week… I have said before that I do not discriminate against anyone, gay or otherwise, and never have done, and as head of the Mariinsky theatre this is our policy. It is wrong to suggest that I have ever supported anti-gay legislation and in all my work I have upheld equal rights for all people. I am an artist and have for over three decades worked with tens of thousands of people in dozens of countries from all walks of life and many of them are indeed my friends… This is my focus as a conductor, musician, artist." He is reported to find these present attacks on him baffling, anxious to get down to the work that, before the current row erupted, we convened to discuss: the riveting LSO Berlioz series that concludes this week.
We meet between morning and afternoon rehearsals at the LSO's premises at St Luke's, Old Street in east London. There is a frisson when Gergiev enters the room, as though he were bringing with him the physical reverberations of the last notes rehearsed like a wind through the door. Sandwiches and coffee remain untouched: he's totally immersed in the conversation. He listens to questions, chews on them, replies with intensity; there is no off-the-peg discourse. The look in his eyes is primal, exultant, mischievous.
We talk about Berlioz's visit to Russia in the winter of 1867-8. "The Russians saved Berlioz," he announces, and indeed the French composer was embraced and understood in Russia as nowhere else during his lifetime. "Creatively speaking, we're lucky he was not successful in Paris," he continues. "It meant he became the first European composer to come to Russia, before Wagner and Verdi. When he arrived he was on the brink of losing his mind, and thank God it didn't break him."
Berlioz got on well in the imperial capital of St Petersburg, where French was spoken in educated circles. "Russians understood his music more quickly than the French he was speaking." As a result, Berlioz was and is "iconic" in Russia, says Gergiev; he was an important part of music education in the Soviet Union.
"People in America and western Europe have this view of our life in Soviet times as constantly watching communist propaganda," says Gergiev. "But my memories of watching two channels of black-and-white TV are made of [David] Oistrakh playing Bach for hours, and the great scholars talking about music, as they did at the concerts themselves.
"In the days when we heard great orchestras under conductors such as Mravinsky and Kondrashin, leading intellectuals such as Ivan Sollertinsky would come to the front of the stage before the concerts and talk about Berlioz or Mahler, or whoever it was before the concert. They gave you so much information that the talks were sometimes as important as the concerts. So we knew about these composers, and when I was a student 40 years ago, Berlioz's Memoirs was my favourite book, my inspiration long before I ever dreamed I would one day conduct his music."
It's worth recounting that Berlioz was not really established in the British, European or American concert repertoire before endeavours in the archives and on the podium, respectively, of the singer and music critic David Cairns and the late Sir Colin Davis, who recorded the first ever cycle with the LSO. Even Cairns, in his definitive biography of the composer, talks about how he came slowly and uneasily to Berlioz from the Germanic tradition.
The most immediate impact of Berlioz on Gergiev is in the sounds he wrenches from an orchestra. In Zola's novel L'Oeuvre, the music enthusiast Gagnière talks about how Berlioz "tends to torture his orchestra by over-emphasising the separate character of each instrument. He thought of them as real people."
For Gergiev, "every orchestra needs a particular control – you cannot vote on how the tempi or sonority should be – and you have to work with the musicians, searching for a special way each time. This is what we have to find in rehearsal. But I can't silence Berlioz.
"With Berlioz, he is always there too, his scores are so rich, so varied, something beyond control. What excites me," Gergiev says of the orchestration, "is that everything happens in the moment. In Berlioz's orchestra, two or three volcanos can be erupting in one moment; on the palette there is this extraordinary variety of colours.
"And he never repeats a trick," he continues. "Nothing is ever the same. Symphonies are normally associated with great ideas that are then developed. In a German symphony, this is a unifying, cementing element" – here, Gergiev thunders the opening to Beethoven's 5th – "Da-da-da-DAA – and Beethoven develops that great idea. But in Berlioz it all happens differently, always these transformations, a different dynamic, a different dress. One minute, a yellow dress, next a fur coat. Nothing ever happens for a second time. It's a constant search – that's why it's so edgy, frightening, furious or at other times seductive and lyrical.
The impressionist painter Camille Pisarro memorably described Berlioz's music as "terrifying and suave", and these contrasts are the essence of Berlioz and of the romantic dichotomies between nightmare and sublime. "You can't turn away from Beethoven and you can't outshine Mozart, but something new is happening here. Completely new. It has to do not just with music, but also with theatre and theatricality in music. When Berlioz wrote The Trojans," he says, "he began the process that led to Prokofiev's War and Peace. What strikes you is this vast orchestral imagination –this huge imagination expressed in the instruments – and such a strong theatricality."
Gergiev is mining a rich seam, introducing theatre as well as the "palette" of colours. Zola's Gagnière also makes a point that: "Berlioz brought literature into his music. He is the musical illustrator of Shakespeare, Virgil and Goethe. And what a painter! The Delacroix of music [the highest praise one could heap in France at the time] with his fine conflagration of sounds, the same clashing contrast of colours."
It's not surprising that the theatre in Berlioz has inspired Gergiev. He forged his early career transforming the Kirov Orchestra of St Petersburg into the Mariinsky (it's pre-Soviet name) and securing resources to stop the haemorrhage of Russian talent to the west. He went on to supervise the rebuilding of an entirely new Mariinsky theatre and concert house into what is arguably the world's foremost convergence of talent in orchestral music, opera and ballet.
Gergiev is well known for being inseparable from his four mobile phones. But now he's furious when one rings as he is in full flow: "Damned thing!" He presses the"divert" button. "You know," he says, as he prepares to go back to the rehearsal room, "I don't want to play this music too often, I don't ever want to get used to it."
• This article was amended on 10 November 2013