"We're just getting some snacks. Do you want anything?" When the door creaks open at King's Cross rehearsal space The Joint, Mount Kimbie's Kai Campos is caught mid-transaction at the tuck shop counter. Contrary to expectation, these nocturnal noisemakers are not stuffing their pockets with the kind of essentials normally on the shopping list of fast-rising electronic duos (booze, fags, drugs, Orbital head torches). They are instead purchasing nuts, muffins and crisps. Today, it transpires, the subtly sarcastic and sometimes sombre duo need cheering up. They've spent the last hour trying to rehearse for a Boiler Room session, but Archy Marshall, better known as King Krule, didn't turn up to practise one of the tracks they've recorded together.
Relying on outsiders is a new concept for multi-instrumentalists Dom Maker, 26, and Campos, 27. Although they've been making music since 2008, their offbeat electronica has recently scored them a deal with Warp, home of Aphex Twin, Autechre and Boards Of Canada. It's a step up that has encouraged the duo to develop their intimate groove into something much more expansive, enlisting Marshall on guest vocals and recruiting a full-time live drummer. It's almost as if the laptop-loving Mount Kimbie are morphing into a real-life band.
On their string of EPs and 2010's debut album Crooks & Lovers (all on Scuba's Hotflush label), the duo were masters at tethering youthful rushes of adrenalin to garage-inflected percussion and delicate, lilting beats. In other words, they made music designed for parties in smoke-filled kitchens adorned with burnt tea-towels and unwashed George Foreman grills. New album Cold Spring Fault Less Youth, however, is a little less frivolous. At times paranoid and unsteady, it sounds like the internal battle of someone losing their mind on the dancefloor while simultaneously panicking about the next morning's sales target meeting.

Reading this on mobile? Click here to view
Despite still looking like they've just wasted the first instalment of their student loan on Tesco Value lager, age remains a sticky subject for the pair. "We are getting older," muses Kai, taking a seat in the studio's waiting room. "It's strange: we're getting more confident in what we're doing, and I guess a bit more humble about it, but we're still quite confused. I feel like I don't have any answers. You go through that period when you're a teenager and then you get into your early 20s and you think you might be a little more grounded, but then it goes into flux again. You're supposed to have figured it out by now."
Having met at South Bank University, Mount Kimbie emerged from the south London post-dubstep scene at a crucial time. Initially performing with blubstep poster boy James Blake and touring with the xx ("There is a beautiful use of space and melancholy to their music," gushed Jamie xx recently), their cautiously experimental take on bass music earned them plenty of critical plaudits from unexpected quarters (the Sun awarded Crooks & Lovers five stars out of five). Yet night bus journeys don't last forever, and it was imperative that Mount Kimbie transcended their tag as music to listen to on the way home from the rave.
Step forward Kai, who provides vocals on Cold Spring Fault Less Youth for the first time. "It was a case of, 'If you don't do it now, then what's the point?' I thought, 'If I don't sing when I'm 27 then I'll be 30 when I'm making the next record. I would've said no too many times."
His voice offers a moment of cool composure on an album that often feels restless, littered with jazz rhythms, clanging guitars and King Krule snarling like a dog dismembering a stuffed toy on You Took Your Time ("Well look what I've become/ See these hands, these actions are done"). Cold Spring Fault Less Youth is certainly more sonically scattered than their debut. It is, at points, even quite indie, although it's probably best not to mention that to the pair.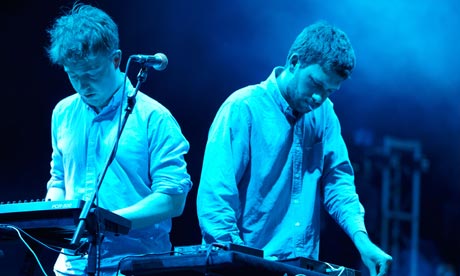 "Out of any comment that I hear, the one that offends me the most is, 'Oh, now you're fucking Coldplay are you?" says Dom. "That really pisses me off because what we do isn't considered like that at all. It's not like we sit down and think: 'Let's change'."
Kai concurs. "It grates on me because it suggests there's some calculation there. Also it ignores the fact that we've distanced ourselves from what was going on around us from the very beginning. People who think we've gone more 'indie' or whatever, those are the people who use music like cultural currency. People like it or they don't, that's what matters."
Before we leave Mount Kimbie to head back to their homes (both have recently uprooted from Peckham to Hackney Wick) Kai begins to explain the album's fragmented title, using a slightly half-baked theory about "crossovers" and "abstract imagery". Eventually fatigued by his own hypothesis, he concludes: "There's not, like, an answer in the title… there's just more questions."
Do they think it's possible that when album number three is complete, when they've reached the ripe old age of 30 and require orthopedic shoes and mobility bath seats, they might finally discover some of these elusive life-affirming answers?
"I don't think so," shrugs Kai. "Anyway, by then we'll probably just sound like fucking U2."

Cold Spring Fault Less Youth is out on Mon