At the end of ENO's new staging of Wozzeck, the last thing you feel like doing is clapping. Carrie Cracknell's powerful production asks for silence; time to absorb the shock of it. Wozzeck and his mates – in as far as he has any – are back from fighting in Iraq or Afghanistan. Coffins, draped in union flags, are carried in, hoisted on men's shoulders – a Royal Wootton Bassett feel (designer: Tom Scutt). Throughout, the contemporary British treatment is bold, unsettling and coherent, although Berg's opera, first performed in 1925, doesn't need this interpretation to seem fresh.
It's amazing how avant-garde the music sounds. It is able to do what no play (Büchner's, upon which it is based, included) can do to the same extent: to express nameless terrors – post-traumatic and otherwise. No wonder the little son of Wozzeck's lover spends most of the opera cowering under the kitchen table.
As Wozzeck, Leigh Melrose is phenomenal. He uses music to escape mental claustrophobia. In addition to his job as a barber, he deals drugs for an intimidating doctor (in every sense, a towering James Morris). Wozzeck has the air of a depressed witness who, until his own final bloody interventions, is unable to participate in his own life. There's an especially stunning moment when he's singing about how the world is not available to him – a thought that leads to a cry for Marie – as if in recognition that his lover is the world to him.
For Marie, this is a kitchen-sink opera. We meet her restlessly moving about in the kitchen of a cheap flat dressed to kill – or be killed. Sara Jakubiak alternates between sexual provocation and shame and convincingly conveys the loneliness of a single parent trying to turn life into an adventure – fairytales as sticking plasters – for her boy. Her marvellous voice has resilience, unlike the character she plays.
The pub where the soldiers drink is authentically tawdry: wall lamps with frilly maroon shades, battered furniture and an elderly barmaid in a leopardskin print blouse. On the wall there's a poster with "Welcome Home Boys" on it. One "boy", Bryan Register's Drum Major, is spectacularly unpleasant: a swaggering thug with shaven head (the music goes into alarmist overdrive when he pulls Marie away for a quick shag – the beginning of her downfall).
Edward Gardner's charismatic conducting allows the music its gorgeous desperado scope without subduing any subtleties: no irony escapes. It's a score that is thrillingly attentive to language: "lust" is allowed an unexpectedly pure note to itself, "sin" is unstable – a troubled treatment of a single syllable. And when Tom Randle's Captain (in superb voice) says the wind is setting his teeth on edge like a "mouse" – he roars. Elsewhere the libretto has an otherworldly quality, invoking "red moon, grey mists". But expressionism is too escapist for this production. Its one fanciful ingredient is that Wozzeck is haunted by Iraqi or Afghan children – silent apparitions.
The evening is charged with potential violence, military and domestic. Wozzeck's crime of passion is, one feels, about to feature in tomorrow's tabloids. Yet this astonishing production is more inescapably intimate than any news story. And in its moving finale we trespass on the most private, stark moment as Marie's son (Harry Polden) walks through the kitchen, past the corpses of his mother and Wozzeck, a brightly coloured backpack slung over his shoulders.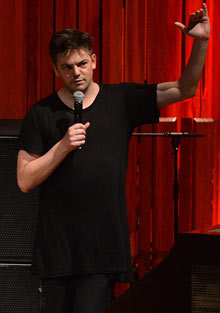 Commissioned to curate a weekend at the Barbican, the pianist, composer and New York-based showman Nico Muhly obliged with a rich, eclectic, informal musical picnic. Happily, the weekend did not deliver on its ghastly title A Scream and an Outrage. At different times and places, Philip Glass's 20 piano etudes were played. At St Luke's on Sunday afternoon, numbers 5 and 6 were performed by Glass himself – a surprise (he gamely stepped in because the advertised pianist was indisposed). Glass told us the etudes were composed over 20 years and that he felt "they all fit together in some strange way".
And so they did, and this sense of their linked life – cadences as unstoppable as time – is what makes them so moving. As to Glass's performance, one felt he was not so much playing as owning the music. Technically, Huw Watkins's playing was superior but less interesting to hear. Glass reappeared later that evening at the Barbican to play Etude No 8 before making way for Muhly, who played with a fantastic sense of the music's inherent drama. Timo Andres rounded off the Glassfest with a spellbinding, interior performance, as if reserving part of what he was playing for himself, keeping us eager for every note.
The weekend's electrifying percussion pieces deserve a cheer too. The So Percussion group were a knockout in Steve Reich's Mallet Quartet, bringing out the piece's obsessive-compulsive quality. Daníel Bjarnason's Qui Tollis was an amazing ear-opener. And Jason Treuting's Oblique Music gave uproar a good name.
Meanwhile, Muhly's own pieces for piano, violin and viola were tremendous: passionate dialogues. Liam Byrne, playing the viola da gamba, gave a glittering performance to match what he was wearing, and proved able to be skittish, throw a tantrum and come to a sweet resolution, all in a brief sequence of notes. I was also taken with David Lang's Death Speaks, made up of 32 instances from Schubert lieder about death – a great idea. It was supposed to be an affirmative piece, and occasionally sounded like a cheerier version of Dido's Lament. I wished only that Shara Worden, dressed like a bride and singing with purity, had clearer diction. Death needed to speak up.