It's the morning after his recent show in the UK capital, and Kurt Vile sits looking crumpled in the foyer of an east London hotel. His hair hangs in long wet tendrils, pressing damp patches on his vaguely-ironed shirt. He fishes around in a plastic bag, pulls out Alka-Seltzer and ibuprofen, and then looks up greenly. "I could hear the sound of an orchestra warming up next to my room all morning," he says slowly, painfully. "And my stomach was churning with the sound of the low tuba."
Vile came to prominence two years ago, with the release of Smoke Ring For My Halo, an album of scuffly, joyous guitar pop. It was, in fact, his fourth solo studio record in a career that has seen Vile locate the perfect intersection between Tom Petty and Pavement, Neil Young and Beck.
Conversation with Vile this morning is at first a little like shucking a particularly truculent oyster; enthusiasm shudders into bewildered frustration, and sentences have barely begun before they seem to suddenly clam up. Peculiarly, it is not the painkillers or the strong coffee that eventually revives him, but the mention of Barney Hoskyns's book Hotel California, a study of the singer-songwriter scene of the LA Canyons in the 1970s, and its influence on Vile's latest record, Wakin On A Pretty Daze.
"Did you read it?" he asks, pale face lifted, eyes suddenly brightening. "You know, just getting deep into that world of artists that I like I find exciting, but this was like the first time [I had read something] that was about the whole scene. You see the whole thing grow. It's tailor-made for my mind."
It led him to the work of Clarence White, guitarist with the Byrds and inventor of the B-Bender, as well as Randy Newman, whom he had previously overlooked. "Now I have this live record of his where he's playing and he goes, 'Won't you tickle me? Won't you tickle me?' That's like the refrain!" Vile sings lightly, in his best Randy Newman voice, and then suddenly looks a touch nauseous.

Reading this on mobile? Click here to view
"Influence is all osmosis," he continues, once he has gathered himself again. "But that book influenced me a gigantic way, and it also influenced me in a subconscious way. I mean, obviously, it influenced me enough to want to go to California and work with Farmer Dave … "
Farmer Dave Scher is one of music's finest steel guitar players (as well as the inventor of a habanero-roasted almond snack named Farmer Dave's Hot Nuts), and appears along with Jennifer Herrema from Royal Trux, Warpaint's Emily Kokal and Stella Mozgawa, among others.
"The idea was for it to be open," he says, "so there was tons of room to experiment with it, and everything just fell into place. Once you just open your mind to not knowing how it will turn out and just be like a receptor to the whole thing, eventually, hopefully, it will be OK."
Wakin On A Pretty Daze is Vile's second album for major indie label Matador, who released Smoke Ring For My Halo, and in style and format (the shortest song here is nearly six minutes long; the longest, over 17) it sounds very much like an artist seeking to reassert his identity. "I proved myself with Smoke Ring," he says. "It was me maturing. I made a good pop record. And all the songs were me, but … "
He shifts in his seat, explaining the unfamiliar pressure of a big label's desire to see him succeed.
"So that was like a growing record," he concludes. "Growing in a lot of ways. But it didn't feel exactly me. I wasn't entirely comfortable or experienced with the scenario, and I feel that this record is just 100% my voice all the time."
Vile grew up in Philadelphia, one of 10 children. He took up the trumpet in fourth grade, learned the banjo at 14, and the following year got his first guitar. After that, music became his principal obsession, with Vile working dead-end jobs just to fund the production of his next CD, his solo projects, collaborations with his War On Drugs bandmate Adam Granduciel, and home-recorded collections with hand-made psychedelic sleeves that he would hand out to friends and other bands.
There were low points, he says. Notably, a period in 2000-2002 where he drove a forklift at a warehouse in Boston. "It was a really fast-paced job, unloading trucks," he remembers. "Though music was my passion, I had a long way to go then and a lot to learn. I got depressed so many times by my blue-collar life, and self-conscious about the fact that I didn't go to college. I was always working super low-end jobs, being the complete opposite of what I wanted to be. But I just fell into it, and I was also sorta shy. It was definitely a pretty rough time."
'I got depressed so many times by my blue-collar life … I was working super low-end jobs, being the complete opposite of what I wanted to be'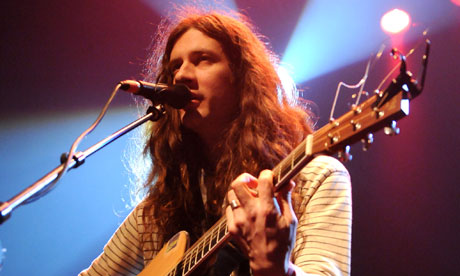 Some of his co-workers provided something of a wake-up call. "This one guy, he was like a lifer, he had been there so long, and he was miserable and he hated his life. So that was a life lesson at an early age for me."
Vile returned to Philadelphia and enrolled at a community college. "I decided I didn't want to have a crappy job like that," he says. "But really I didn't want to go to college, either; I just wanted to play music." He lasted just one semester. "And I realised, 'Oh yeah, this is why I didn't want to go to college!'" He gives a snickery laugh. "Because I was just sitting there thinking about writing songs."
Today, Vile still lives in Philadelphia with his wife and their two young children; the second was born while he was in the middle of mastering the new record. "It was a race," he admits. "It was very intense. And it still is that way. But this time I was prepared, with the experience of having a kid before. I see the record as me trying to put as much into it as I could in the time that I had."
The problem is that Vile's intricate compositions are the result of an extreme perfectionism that makes it hard to ever declare a song finished. "There's so many ways you can play one chord progression that the repetition isn't ever exactly the same," he says. "I feel like it's more dangerous, because you could play for ever without getting bored. But eventually the tape runs out, I guess."
He laughs: "I won't put it out if there's even one little bit of the song that's not right."
He speaks of the resulting to-and-fro with producer John Agnello in the studio. "We know each other enough that he loves me like a brother, but he also thinks I'm crazy sometimes: I'm so obsessive, you know? You can imagine, I guess. There's so many little things going on in these songs. And sometimes I start thinking that something good actually sucks."
I wonder if this ever spills into his home life, how it might affect his role as husband and new father, and he gives a warm, hungover smile.
"I have a different life now with my family," he says. "Because it's such a career thing now. I don't feel that artist nagging feeling inside, I just feel comfortable. I'm sure now I've put out enough music. I'm sure I've proven myself."

Wakin On A Pretty Daze is out in the UK on 8 Apr on Matador. You can stream it at guardian.co.uk/music from Monday