Conversation with Daniel Woolhouse AKA Deptford Goth is peppered with "kind of"s and "maybe"s. His face is largely hidden in a big beard, and the ends of his sentences get swallowed up by laughter. Not the raucous, bellowing kind, more a soft, shy chuckle. At first there's little to suggest he's the man responsible for such an emotionally direct debut as Life After Defo, an album that scoops you up and holds you close on those days when you'd rather tread on a stranger's foot than meet their eye. But, as we meander through the making of the album over lemonade in a Peckham pub, everything falls into place.
First things first, though: Woolhouse is not a goth. The name just came to him one day, before any music did, and he squirreled it away until he needed a title for his Myspace page. "I thought it worked quite nicely with the melancholic nature of the music," he says, "and also because it doesn't make sense, in a way. A lot of band names are essentially just nonsense."
The Deptford bit isn't entirely abstract, though. After finishing art college in Wimbledon, Woolhouse took up a teaching assistant post for a year at a primary school in Deptford. "If someone hadn't said, 'Do you want to make a record?' I'd still be doing that. I really enjoyed it." But London label Merok did get in touch, after hearing his Mariah-referencing track Real Love Fantasy (via Myspace), and brought out an EP in October 2011. Not long after, Woolhouse got started on the album, which he wrote and recorded at home. "It's not my bedroom, so I'm not a bedroom producer any more; I've graduated - living-room producer," he says proudly.
Musically, Life After Defo occupies territory similar to the in-between worlds of the xx and How To Dress Well: tender-hearted pop formed from the shadows of R&B, house and garage. So it makes sense to learn that producer Rodaidh McDonald, an XL Recordings employee who has worked with both, was hired to help apply the finishing touches.

Reading this on mobile? Click here to view
Woolhouse's production also walks between two worlds – that of the physical and the digital – blending his recordings of piano, guitar and keyboards with samples manipulated to make them sound like instruments. "It's quite nice playing with that kind of balance," he says, "not really knowing if it's a digital sound or a real-life sound. I like mixing the two together, it's a nice territory to exist in."
There are crashing drums and gut-stirring chords, fluttering chimes and tactile tones, but it is ultimately the songwriting that provides a magnetic attraction. Strip Life After Defo of its of-the-moment production and you're left with a set of songs that speak straight from the soul. "There's a broad influence of sounds on the record," reckons Woolhouse, "but probably at the heart of every song there is a little old blues singer with a guitar."
Since he grew up in Suffolk, it wasn't blues that nudged Woolhouse to pick up a guitar, but the Britpop era of Oasis and Blur (he was in the Pulp camp). He started writing guitar pop songs ("Just messing around with stuff") in his early teens. "I had a little four-track recorder," he recalls, "and my sister had a little Casio thing with quite a good cello sound on it so I'd use that a lot for choruses." Via his dad's CD collection, he discovered singer-songwriters such as Neil Young and Bob Dylan, and got into Quincy Jones's productions from Michael Jackson's Bad.
While neither have any direct bearing on Life After Defo, you can feel the influence on punch-you-in-the-heart lyrics like, "Never more will I see you in the morning/ Never more will I see you in the night …" on stand-out song Guts No Glory. Finding the right words was paramount. "A concern was avoiding the cliched path of lyrics," he says. "I guess that ends up with it being more honest, because you're not censoring yourself or putting it through this pop thesaurus to gloss it."
The xx set a new precedent for intimate debuts back in 2009, but while the emotional landscape of Life After Defo may resonate in a similar way, it comes from a different time of life. The xx was all about firsts, tentative new emotions, but Life After Defo comes from a place of greater experience. It comes after that titular, colloquial "defo"; after definitely, after the certainty of first love. While at points it sounds like a break-up album, Woolhouse says it's more about transition.
"I think maybe if one thing changes you realise a lot of other stuff you don't need or you can change," he says. "Not in a shedding-your-skin kind of way, but if one thing happens then you start looking at other things." So while past relationships definitely helped shape the album, it is more a testament to the experiences we gain and emotions we collect over time; plus, partly, a positive reframing of the baggage we all drag about. "It's an accumulation or collection of thoughts on the subject," says Woolhouse.
I ask if he's a hoarder.
"Probably. I like minimalism but I also like stuff. I probably need more cupboards. I definitely like holding on to stuff sentimentally. But then I also enjoy getting rid of stuff sentimentally."
Burning things?
"Nothing that crazy. Charity shops. My flat isn't full of carrier bags or anything."
'My parents can listen to it on Spotify if they want. I just feel very awkward telling someone: Look what I did'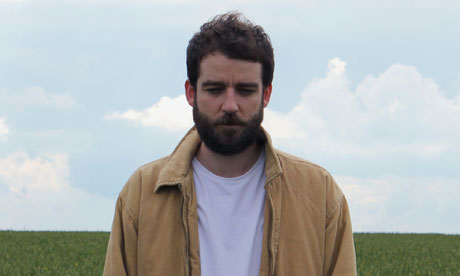 Woolhouse's gentle sense of humour adds to his peaceful demeanour. He's so laid back I don't doubt him when he says that he'd like to make another record, but he'd be happy being a teaching assistant again, too. "I know from people saying to me that I'm not expressive conversationally," he admits. But his work seems determined to say something, to get at something real and true.
Making music, he thinks, "is kind of a way of transmitting those feelings without having to look someone in the eye. I think that's the way I treat it. It's probably the opposite of what I'm like in person, because obviously it's easier to write something down and it be a separate thing from you, and someone can listen to it."
That said, he still hasn't played the album to his parents. "They can listen to it, if they want, on Spotify," he grins. So why hasn't he? "I think I just feel very awkward telling someone, 'Look what I did.'" They do know he's Deptford Goth, though? "They know I'm making some music..."
Well, they probably know now.
Hello, Daniel's parents: your boy's done good.
Life After Defo is out Mon on Merok
Deptford Goth: your five-track primer
REAL LOVE FANTASY
The Myspace track that kicked it all off, Real Love Fantasy finds Woolhouse riffing on Mariah Carey's 1995 hit Fantasy and flipping it into a mournful vocoder slow-jam.
YOUTH II
"Gimme a couple of weeks and I'll get them finished," was Woolhouse's response to London label Merok when it asked if he had any more songs. This lush debut EP was the result; try the title track for size.
PEOPLE GET STILL
This Soundcloud demo finds DG experimenting with Enigma-esque beats and singing about death, in his typically roundabout way: "If I believe in nothing/ Then nothing is gonna get me".
SWIM GOOD
It's not listed on YouTube but a little bit of digging (hint: bit.ly/DeptfordFrank) will unearth a scrappy little mobile phone-shot clip of Woolhouse doing sweet justice to Frank Ocean's heartbroken classic.
UNION
Making the most of his art-school past, the self-directed video to Woolhouse's fuzzy-edged, warm-hearted lead single from Life After Defo sees him wandering around a field holding a bunch of balloons.