"Composers usually exploit my voice when they write for me and the extremes of register and expression I can do. But in George Benjamin's case, I was like: where's the crazy stuff? Agnès is a lyrical, contained role. But then I realised that the crazy stuff was deep inside the part, inside the music," says Barbara Hannigan, the 41-year-old Canadian-born soprano who is singing the lead role in Benjamin's darkly dazzling new opera, Written on Skin, which is currently in rep at the Royal Opera House.
She is also the muse and favourite collaborator of composers from Gerald Barry to Pierre Boulez, from Henri Dutilleux to Michel van der Aa, and was magnetic as a hysterically imperious crockery-chucking Cecily Cardew in Barry's riotous The Importance of Being Earnest, and as the coloratura coquette she created for his The Bitter Tears of Petra von Kant at English National Opera.
But she is also recently starting to do something that no other star soprano has ever attempted: she is conducting. And in some concerts she does both, at the same time.
The catalyst for this musical multi-tasking was Ligeti's Mysteries of the Macabre. In a performance that is a vocal, physical and conductorial tour de force, Hannigan dresses up in PVC and creates some risque choreography for the part of an S&M police chief of supernatural cruelty and perversion, as well as somehow conducting the ensemble.
It's a kind of multi-dimensional virtuosity that contemporary music has hardly seen before. "I was never afraid of doing world premieres," Hannigan says – just as well, given the dozens she has performed over the past 20 years – "but now, with this weird conducting thing, I'm really on a path that's my own. It's like walking on virgin snow: there are no footsteps where I'm going. And I don't mind. I love the fresh white snow in front of me, and I love that it hasn't been dinted yet. It's about taking risks, and if I fail, that's OK."
Hannigan hasn't failed yet. She may only have conducted a handful of orchestras, but they include the London Sinfonietta, and the Gulbenkian Symphony Orchestra. Oh – and the Berlin Philharmonic. Where does the impulse to conduct come from? "I'm bossy," she says. "And I have never wanted to observe the hierarchies of musical life. I find them quite useless. If we're going to make the music achieve the level we want it to, of course there needs to be leadership, but there needs to be dialogue too."
As the central figure in Benjamin's opera, Agnès's emotional journey is at its heart. Set in the 13th century, Written on Skin is a story of illicit passion with a final tableau of murder, suicide and cannibalism. Agnès's husband feeds her the heart of the young artist with whom she has had an affair. "But when it finishes, and when she jumps to her death, she is still a free woman. The opera has a centrifugal force. I see it and feel it in every note of George's score and in the bigger picture of the character. By the end of the opera, it works up such a degree of spin that there's nothing you can do to stop it. It's just …" Words fail Hannigan, and she emits a sound of feral ferocity.
The key that unlocked Hannigan's emotional rawness on stage was her performance as Lulu in Alban Berg's opera in Brussels last year. (She sings the Lulu Suite in London next month.) Lulu is a character of terrifying intensity and exposure for any soprano. The opera sets Wedekind's story of a magnetically attractive woman who is serially abused by almost everyone in her life and ends up being murdered by Jack the Ripper. "There's a little bit of Lulu in everything I do now," Hannigan says. "The morning after the last show, I was in denial that it was over. It was horrible. It took me several months to get over her. It was like I had been left by a lover and I was bereft. She totally eats you up and spits you out. She takes you over. That's how it has to be. And that's how I approach all the music I sing. I don't interpret the music. I just have to be it, I just have to be Lulu, or Agnès."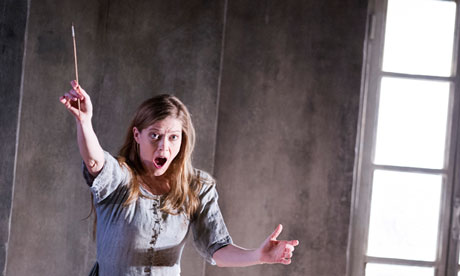 And that means putting on stage some of the darkest and most dangerous human emotions. "When I'm on stage, I'm not showing off my best notes, or whatever. I'm not going out to the public. I'm opening myself up so they can see inside. And sometimes performing like that is really horrible. I can get quite anxious. It does things to your mind, and you can feel incredibly inadequate and nervous. But when you go on stage, what are you going to do? You can't run away. You've signed the deal with devil, and you have to come through. For me, it doesn't get any easier. And in a way I like that, because there's always the chance that sometimes, just for a second, you feel invincible, and you think: yeah, it's true, I do have magic powers! And then they go away again the next day when you're in your practice room." Or maybe not: Hannigan comes closer to having magic musical and theatrical powers than most singers on stage today.
Written on Skin is at the Royal Opera House, London (020-7304 4000), until 22 March. Hannigan sings Berg's Lulu Suite with the LPO and Vladimir Jurowski on 27 April at the Royal Festival Hall, London (0844 875 0073).