It was a fine way to celebrate a 21st birthday: blistering temperatures, beautiful surroundings and plenty to learn from your elders. Some of the leading perfomers at WOMADelaide in Adelaide's Botanic Park were more than a match for their superannuated peers in the world of rock when it came to demonstrating that near-enough eligibility for a senior citizen's card is no barrier to putting on a show. For my tastes, the 64-year-old Jimmy Cliff on Saturday night was a bit too much the showman – particularly with his version of Hakuna Matata from The Lion King – but his contemporary Salif Keita was spellbinding once his band found their groove earlier the same night.
Keita was one of three leading acts from Mali at the festival this year, with a focus on that country because of the political turmoil and jihadist uprising. Vieux Farka Touré may always struggle to escape the shadow of his father, the late Ali Farka Touré, but Bassekou Kouyaté – whose family have played the ngoni for generations – is already well on his way to becoming a true star. His son, Mustafa, is in his band now, and took an impressive solo during their performance on the main stage on Friday night; but the look on his face later when his old man let rip with his instrument, making liberal use of his wah-wah pedal, told its own story. Like everyone in the audience, he just puffed out his cheeks as if to say "Woah!".
Bassekou and co were busy playing throughout the weekend – plus there was an appearance from his wife (and vocalist in the group) Amy at the Taste the World stage, where acts show off their cooking skills, one of the measures of WOMADelaide's civilised demeanour. I especially liked the sound of Novalima's ceviche, and the band of expat Peruvians also excelled on the third stage on Sunday afternoon. Likewise Brooklyn-based Afrobeat outfit Antibalas on Saturday, whose performance was perhaps especially charged because singer Amayo had heard the news the night before that his mother had passed away in his native Lagos; and also Moriarty, a band from France whose parents mostly came from the US, and who sound like they come from the backroads, somewhere way off any interstate.
It was, as well, a joy to get a sense of the rich diversity of musical life in this corner of the planet. The festival began with a traditional kaurna greeting from Stevie Goldsmith and dancers and encompassed a bluesy-take on Aboriginal music from East Journey, who come from the Yirrkala community in North East Arnhem Land; also a performance from Sing Sing, involving acts from across Oceania; vibrant Aussie hip-hop from the Herd; and two of the most talked-about acts in the country.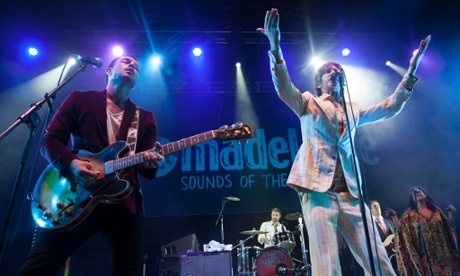 If Stevie Goldsmith represents a tradition that is several millennia old, Melbourne band the Cat Empire who headlined the main stage on Friday night may well stand for the future, with their kitchen-sink appropriation of genres from around the globe, including hip-hop, reggae and salsa. Similarly brave, in their own way, were funk-soul champions the Bamboos on Sunday, who've added a bit of gnarled rock to their schtick thanks to guest frontman Tim Rogers. Both acts drew vast crowds in the relative cool of the evening (it was still sticky in the pitch dark).
With more than 470 performers from 26 countries appearing over the course of the four days, any review could only scratch the surface of WOMADelaide: there was also the much talked about "Blank Page", performance art from the Compagnie Luc Amoros (looked good, even if the political messaging was a bit gauche); lots of buzz for the electro-swing of UK act the Correspondents (not to my taste, alas); the rock of the delicate-looking Algerian singer Souad Massi (inviting some dangerous-looking dancing as temperatures touched 40 degrees on Sunday afternoon); and Balkan swagger of that evening's headliner Goran Bregovic.
Souad Massi on stage, left, @womadelaide and audience seeking shade in 100F heat, right twitter.com/CasparLS/statu…

— CasparLlewellynSmith (@CasparLS) March 11, 2013
Bregovic came within a whisker of stealing the weekend. The Marco Pierre White lookalike is a masterful chef d'orchestre, as they say in other parts of the world; he looked like the boss man in his immaculate silver suit, but stay seated for most of his by turns moving and then uproarious performance, letting his superb 18-piece band - involving, I think, a mixture of authentic Gypsy players such as the Kosovan refugee goc drummer Muharem Redzepi and conservatory pros including saxophonist Stojan Dimovget - get on with it. But for the odd moment when he did calm things down - as with a rendition of his hilarious In the Death Car - he mesmerised, too.
Someone at the festival (was it the band Moriarty?) said that Adelaide has the highest number of serial killers per head of population in the world. I don't know about that. But on the basis of the dancing as Bregovic's set came to a close, there were certainly plenty of bona fide nutters there.
Best of all for this reviewer, though, as previously described, was Hugh Masekela, who headlined on Saturday, but also hung around the festival site all weekend, giving a talk in Speakers Corner and guesting on the Monday with the Soweto Gospel Choir. He showed with his own performance how he has learned to entertain over the years – busting some dance moves, playing famous songs such as Stimela, talking about the environment ("Let's make a resolution that when we see someone shitting on nature, we're going to say 'get off the pot!'"); but it's when he blows softly on his horn that the real magic is there.
"Not too bad for a boy from a shebeen," he said at one point, talking about his career and the distance it stretches from the township in South Africa in which he was born in 1939 – a phrase that might have served notice on his performance. But better came at the very end, when in the heat, he showed more effortless cool. The compere urged further applause "for a real legend", and the 73-year-old, already half-off stage, yelled back: "No one's a legend!"
The Guardian is the media partner of Womad at Charlton Park in the UK in July.