Bliss. Such a simple word, such a difficult state to achieve. When we talk about musical bliss (and no, I don't mean Sir Arthur) we might think, for instance, of the last movement of Mozart's "Jupiter" or his Act 3 sextet in Figaro. Their route to total serenity is, paradoxically, fantastically complicated. Steve Reich understands this. His radiant writing puts his audience on another level not through simple formulation but through rigorous use of canon and counterpoint, ever-shifting metre and imaginative instrumentation. It's such a mistake to label it "minimalist".
Happily, the product of all this complexity is a transcendent joyfulness. Motoric, rhythmic patterns drive the music inexorably towards a sort of ecstasy: it can't help but make you feel cheerful. It certainly had that effect when Reich's UK tour began at the Festival Hall last week. His disciples packed the place and gave him a reception worthy of a rock star, which to some extent he is – the prospect of hearing the world premiere of Radio Rewrite, his reworking of two Radiohead songs, Everything in Its Right Place and Jigsaw Falling Into Place, was enough to sell the place out weeks in advance.
Scored for flute, clarinet, two vibraphones, two pianos, string quartet and electric bass, this is no mere set of variations. Instead, it reworks the songs into five movements, drawing on their harmonies but rarely giving you a hint of their actual melodies. This is not so much a rewrite as a reimagining in Reich's hyperreal style; instantly accessible, instantly enjoyable. The two vibraphones lay a pearlescent luminosity over the insistent rhythm of the faster movements (based on Jigsaw), while the two slow movements (drawn from Everything) are content to move from one block chord to another, enjoying the sensation of the progression while sprinkling a duet for woodwind over the top.
The peerless London Sinfonietta (directed with metronomic precision by Brad Lubman) lapped up their latest commission, which is sure to join Electric Counterpoint and Double Sextet (which we also heard) in the vanguard of their repertoire. But there was one disappointing moment: Reich made only one appearance on the platform, duetting with Sinfonietta percussionist David Hockings in that great feat for hands, Clapping Music. Reich is now 76, and, while his sense of rhythm is as sharp as ever, his clapping was weaker than Hockings's, so the delicious ambiguity of the piece was lost.
There was no ambiguity in the playing of Mitsuko Uchida in the same hall the following night. She led us through the charming forest of Schumann's Waldszenen but never descended into bucolic sentimentality, her delicate taste particularly refined in the impressionistic Vogel als Prophet. There is nothing refined, however, about the frantic opening of Schumann's Piano Sonata No 2. Uchida's manic intensity in this and the final rondo was terrifying to behold, relieved only momentarily by her deliciously liquid reading of the song-like andantino.
If I had to choose one peak in the evening above all others it would be Uchida's wondrous handling of the suspensions in the first of the five miniatures that make up Schumann's Gesänge der Frühe. They pierced the heart with their elegiac tenderness.
Like Steve Reich, the British composer Gabriel Jackson understands a thing or two about the complex route to bliss. His Ave Dei patris filia, given its world premiere by Peter Phillips and his Tallis Scholars at their 40th-anniversary celebration last week, is a great burst of ecstatic praise to the Virgin, sopranos soaring into the heavens and tenors and basses commenting, embellishing and interjecting throughout. It's a mark of Jackson's facility that he fashions a totally new work grounded in the choral tradition of Taverner, Tallis and Fayrfax. A major achievement.
Eric Whitacre, today's hottest property in choral writing, was in the audience to hear the premiere of his own new work inspired by that wondrous 13th-century Parisian jewel box, Sainte-Chapelle. Angels in the stained glass sing the Sanctus, first in long, sinuous quasi plainchant and then gradually dividing into more and more parts, creating tone clusters that dazzle like shafts of sunlight through the windows. From modest beginnings the music unfurls to become ever more complex, rich and rewarding. Another hit from the charismatic Mr Whitacre.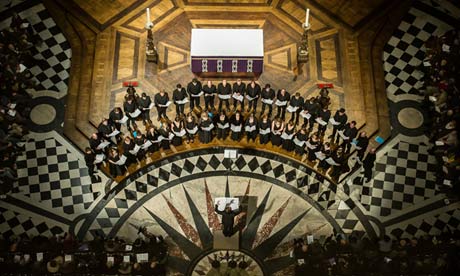 It was sung, like other Tallis, Byrd and Allegri items in the programme, with the grace, precision and authority that we have come to expect from an ensemble that has done so much to re-establish the music of the Renaissance. Phillips has the uncanny ability to select just the right voices to fashion a perfect, vibrato-less single instrument. They closed, appropriately, with Tallis's 40-part motet Spem in Alium, but not before we heard its new 40-part companion piece, I have thee by the hand, O man, by Robin Walker. It's a brave composer who takes on such a challenge, and while the piece is overlong and occasionally muddy, its closing pages build a lasting monument in glorious, polyphonic sound. Bliss, indeed.