I am sitting in a small estate car, which is tailing a black 1980s Jaguar XJ, in which Nick Cave is pretending to chauffeur Ray Winstone along Brighton seafront, eavesdropping on their conversation via a listening device. They are supposed to be discussing the transformative possibilities offered a rock star as opposed to those offered an actor – Cave has previously expressed the opinion that, unlike an actor, a rock star can never truly remove the mask they have created for themselves, even when offstage – but the conversation seems to have gone slightly off-piste. It has shifted from Cave's early career in Melbourne ("You never wrote a song on the beach? But you're an Australian!" splutters an incredulous Winstone, not perhaps entirely au fait with the oeuvre of the Birthday Party, which was famously light on carefree paeans to the sunkissed sands and bikini-clad lovelies of St Kilda) and has now settled on the unlikely subject of fish and chips. Like so many things, Cave attests, they are of a superior quality in his homeland to those in Britain: "The fish and chips over here are fucking terrible," he complains. This suggestion appears to sting Winstone's sense of national pride. "If the fish and chips are so fuckin' good in Australia," he snaps, "why don't you fuckin' move back there?"
Eavesdropping on Cave and Winstone arguing about fish and chips while pretending to drive from Brighton to Rottingdean feels a deeply odd way to spend a wet Wednesday afternoon, but then an atmosphere of strangeness seems to have attached itself to 20,000 Days on Earth, artists Iain Forsyth and Jane Pollard's feature documentary about Cave. For one thing, it has thus far been shot in secrecy. It was already long underway when Cave released his 15th album with the Bad Seeds, Push the Sky Away. The pair, who first worked with Cave on the video for his 2008 single Dig! Lazarus Dig!, began shooting at the singer's invitation during the writing sessions for the album. "They filmed everything," he says. "They had a camera set up in my office when I'm just writing the first lines of things, picking out the first melodies on the piano. That's kind of why I let this go in the first place because you just don't have cameras on bands doing the actual thing. In the past, I've let cameras into the studio, but we've basically already finished the record. So you get shots of people sitting around in the control booth, listening to music."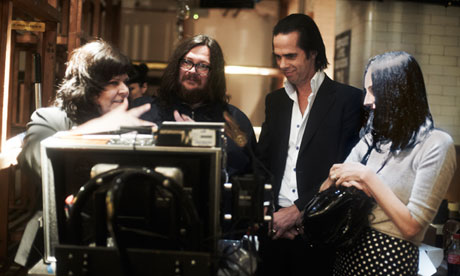 Nevertheless, Cave made no mention of the film in the interviews he gave to promote its release earlier this year. "I think one of the reasons why we didn't talk to anybody about this is because we didn't know exactly what it was going to be before we started making it," says Pollard, sheltering from the rain in a Winnebago parked by Brighton marina. "We had an ambition, and we said to Nick: 'Just trust us.' And it's only now through actually beginning to shoot it and see what's happening that I think he's beginning to see what we meant. Every time we show him rushes, it's like: 'Good, I get it now, all right, that makes sense.'"
It seems surprising that Cave agreed to a documentary at all. It's de rigueur for journalists who meet him to note what a charming and funny interviewee he is, largely because there was a significant proportion of his career when he was anything but. Nevertheless, there's no mistaking that he's also a guarded interviewee, keen to protect his privacy, weary of having the details of his past raked over and fond of telling journalists to "Google it" rather than retell old stories. What made him think a documentary was a good idea? There's a very long pause. "I don't really know if it is a good idea," he says. "I'm extremely reluctant to be filmed. But I trusted Iain and Jane enough to give them complete access to the studio and they've just expanded the idea into a feature-length, cinematic-style documentary. The thing is, they presented something that wasn't just telling the Nick Cave story we do or do not know. It's their idea. I'm just sort of being blindly told what to do."
20,000 Days on Earth certainly takes an unconventional approach. "The thing that seems so kind of prevalent in contemporary music docs is that they're all about getting behind something, revealing something, taking away the mask, taking away the myth," says Forsyth. "The important thing for us was not breaking the mythology," which fits with the duo's work as visual artists: they have in the past restaged both David Bowie's final performance as Ziggy Stardust and the Cramps' 1978 gig at Napa Mental Institute, and made two films about the emotional potency of mixtapes. 20,000 Days on Earth was influenced, they say, by One Plus One – in which Jean-Luc Godard intercut film of the Rolling Stones recording Sympathy for the Devil with staged footage involving black power militants and an actor purporting to be the personification of democracy – and The Song Remains the Same, the oft-derided Led Zeppelin movie featuring lengthy fantasy sequences in which the band members rode to the rescue of fair maidens and climbed mountains on quests for self-enlightenment. "A kind of odd failure of a film," laughs Pollard. "But its strangeness is brilliant, its ambition is just glorious. There's a kind of drive, or at least a push, to just create a new language for how you might consider rock music, or the rock star. I mean," she adds quickly, "it's not going to be Nick on a white horse with, you know, a sword. Although he'd love that."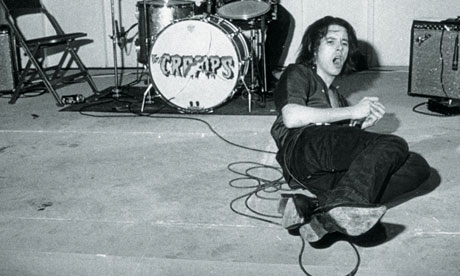 Inspired by an unused line in Cave's songwriting notebook, in which the singer had worked out that he was precisely 20,000 days old when work on Push the Sky Away commenced, the film tells the story of a fictionalised day in his life, filled with scenes devised by Forsyth and Pollard "as kind of constructed real situations in which Nick can improvise, we don't script at all": writing in his office, having lunch with his main songwriting collaborator Warren Ellis, and visiting the Nick Cave Archive, which exists – alongside those of Barry Humphries and Dame Nelly Melba – at the Melbourne Arts Centre, but was shipped to Brighton for filming. "There's some incredible photographs, a series of slides of a Birthday Party gig in Germany where a guy jumped onstage and actually pissed on the bass player Tracey Pew," says Forsyth. "And Tracey Pew punched him offstage. Nick talks it through, almost like a football commentary." Driving between his various destinations, Cave explains: "The car becomes this place of imaginings, I guess, where the thoughts I'm having materialise in the forms of people that have played some part in my story." Hence Ray Winstone, who starred in The Proposition, for which Cave wrote the screenplay: another passenger turns out to be his one-time duet partner Kylie Minogue.
For all the talk of artifice, the film seems remarkably intimate. The rushes I see contain a scene of Cave eating toast in front of the television with his 12-year-old sons Arthur and Earl, the cosy domesticity only slightly undercut by the fact they're watching the bloodsoaked closing scenes of Scarface: "Say hello to my leedle friend," they chorus together. Another scene features Cave visiting a psychoanalyst: not, he swiftly points out, a regular occurrence in his everyday life. "The interview went on for two days," says Pollard. "We thought it might take a day for him to settle in. How wrong we were. Within minutes, it was completely guard down, doors open." Cave describes the experience, a little surprisingly, as "a pleasure": "You know, I haven't done much of that sort of thing, but he was a very clever guy. I have absolutely no idea what they got. I mean, I have a vague recollection of what I said, but what it looked like, I don't know. There's certain things within this film that I have no idea how they're going to go. But you've got to take risks. I mean, there's so many documentaries out there about people working in the arts that you just kind of sleep through. You know, what I don't want is a documentary that gives …" His voice trails off. "You know, I want the whole thing to be imaginative and interesting and … I don't know. Fuck, I don't know what my hopes are, to be perfectly honest.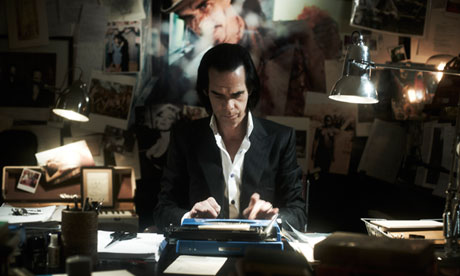 "I really like the idea behind the documentary, even though some of the scenes are kind of terrifying. There's a lovely balance between what's set up and what's ad-libbed. Scenarios are set up and then allowed to run in a free, unrehearsed way. There's something about the way they go about things, you don't really notice the cameras." Plus, he adds, "they make you look good. Which is really the main thing, right?" And he heads back to the Jaguar to prepare for driving Kylie Minogue from Brighton to Shoreham.