The prospect of Madama Butterfly may make you cringe, but a well-fashioned production can devastate. Every ounce of humanity at its worst is compressed into the opera's final minutes: betrayal, racism, sexism, suicide and, by today's standards, underage sex. These are only headlines. The full tale flickers with subtlety and shadows. Puccini is praised for tunes and sentiment. You don't hear so much about his sense of the zeitgeist, his canny grasp of psychology and the meticulous details of his musical invention.
When you experience Butterfly in the theatre, only the visceral impact matters. Opera Holland Park's new production packs a punch so hard it leaves you winded. Lavish theatricals, bigger names, a glossier orchestral finish, an absence of peacocks: all these needs can be satisfied in mainstream opera houses. Yet nothing guarantees the kind of emotional intensity found in this straightforward, well-sung staging, directed by Paul Higgins, designed by Neil Irish and conducted by Manlio Benzi.
Opera Holland Park's wide stage has been drawn in with plain, Japanese-style screens to suggest Butterfly's house. Apart from a sliding door at the rear, nothing in the set moves or changes. The look is traditional. Visual touchstones set the tone, from Pinkerton's American naval attire and Sharpless's three-piece suit to the stars and stripes draped to terrible effect – involving Butterfly's illegitimate child – just as the new world is about to behave ignobly towards the old.
The French soprano Anne Sophie Duprels, fragile but wiry in physique, powerful and communicative in voice, sang the title role. She looked striking in her white bridal kimono and moved gracefully, adorning the minimal designs. Her agitation in the orchestral intermezzo, as she waited for Pinkerton's ship to make its promised return, was almost unbearable. Joseph Wolverton relished his top notes and skilfully portrayed Pinkerton as the feckless dullard we know him to be. David Stephenson's Sharpless, well-intentioned but impatient, and Patricia Orr's Suzuki, fervent and troubled, led a strong cast.
Benzi and the City of London Sinfonia, even in this awkward, partly open-air acoustic, focused on the bold variety of Puccini's score. I must have heard the insistent drum beat as we head towards the final crisis many times. Never before has it sounded as menacing as here, as if continents were being split asunder. It's the kind of motif you expect to find in Shostakovich, depicting the advance of the Red Army and the destruction of Europe some half a century later. But this is Puccini in 1904, describing a broken heart.
The season had opened the previous week with Mascagni's Cavalleria rusticana and Leoncavallo's Pagliacci – Cav and Pag – that double dollop of bleak but tuneful Italian verismo which helped pave the way to Butterfly. The director Stephen Barlow had updated these 19th-century fin-de-siècle works to Sicily, 1944 and Calabria, 1974 respectively. Yannis Thavoris's sets used heaps of first wooden then blue plastic crates, hardly beautiful but giving a visual unity which was underlined by having Pag opening as if at the exact point where Cav left off – with a crowd surrounding a body.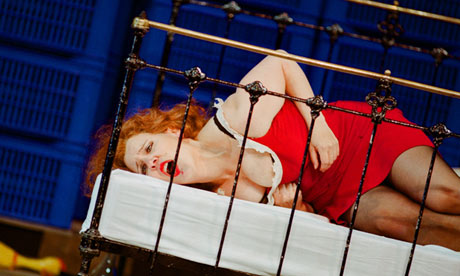 This unevenly cast double bill had the bonus of Peter Auty pouring his soul out as Turiddu, then as Canio, paired with baritone Stephen Gadd as Alfio and Tonio. Auty's Vesti la giubba (On with the makeup), the famous tenor aria in which the smiling clown's tears sob through the falling lines of the music, floored this listener. The poor orchestra, conducted by Stuart Stratford, sounded cold. For that they had our empathy. But Julia Sporsén shone as the blowsy, kohl-eyed Nedda, who has offered her fading talents to every spiv and crook in small-town Calabria with tragic consequence. Her story is archetypal. She could have stepped out of the current plot line in Ambridge.
The 66th Aldeburgh festival – more of which next week – has its own cast of characters past and present, led by Britten, whose centenary falls this year. Another guiding light is the French pianist Pierre-Laurent Aimard, artistic director, with Colin Matthews as guest artistic associate. Bringing his European sensibilities to the programme, Aimard has ensured that the provincialism Britten himself dreaded has no place here. This may infuriate the locals but it reassures music-lovers in search of seriousness and quality.
Aimard delivered a spellbinding survey, Piano Century: 1913-2013, starting with two volatile Sarcasms by Prokofiev and ending with the mesmerising cloud trails of Ligeti's Automne à Varsovie, via Ives, Bartók, Marco Stroppa and George Benjamin. This marathon comprised more than two dozen works and 22 composers in all, each introduced by Aimard with flair and insight, and played dazzlingly.
Inevitably it all sounds a bit of a list, and really he needed several days rather than an exhausting three hours to make his points. Yet it remained fascinating as he demonstrated the hedonism of Debussy, the economy of Webern, the organisational powers of Stockhausen, the spectral colours of Tristan Murail and the layered, time-obsessed whirrs, ticks and tocks of Harrison Birtwistle's Harrison's Clocks No 2.
In unspoken elegy, the entirety felt like a homage to Elliott Carter (1908-2012) who died last November, and a legacy from whom supported this concert. Aimard played Carter's 90+, a quasi three-part invention, as well as Berceuse for Elliott by Colin Matthews, a simple lullaby rocking the much-loved centenarian towards eternity.